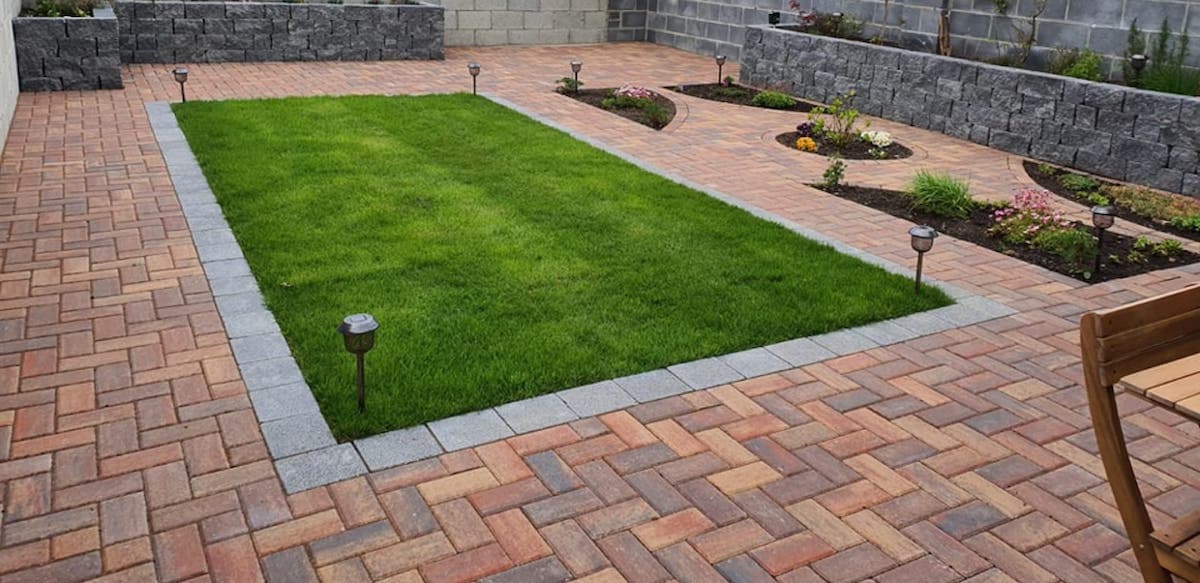 WELCOME TO DRIVEWAY PAVING YOUR PROFESSIONAL PAVING AND LANDSCAPING SPECIALISTS IN LEOPARDSTOWN
The Driveway Paving team is your premier choice for top-notch paving and landscaping services in Leopardstown. We are a dependable and reputable contractor dedicated to providing a wide range of competitively priced, high-quality paving services in Leopardstown Our expertise extends to the installation of premium driveways, paving, and patios, featuring a diverse selection of surface materials, including granite, tarmac driveways, limestone, porcelain paving, Cobble lock, Indian sandstone, concrete slabs, gravel, asphalt, and imprinted concrete.
View Our Galleries
Enhancing both the aesthetic charm of your property and its market value, a meticulously maintained, high-quality driveway serves as a valuable asset. If your current driveway appears worn out and lacks lustre, we invite you to get in touch with us. Allow us to present you with an ideal solution tailored to your budget and specific needs.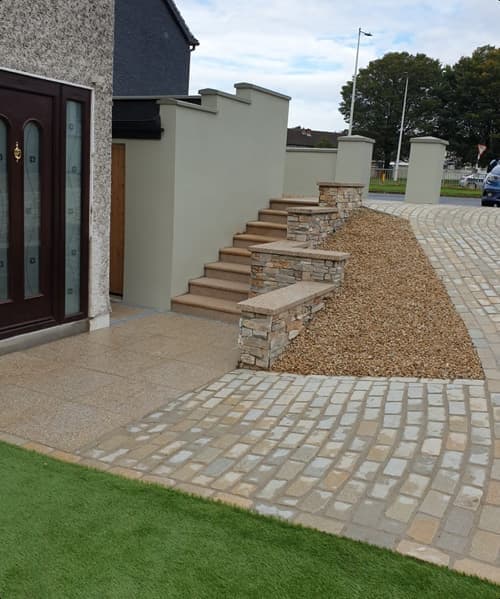 We Guarantee Unbeatable Quality And Prices!
Our team is comprised of highly trained and experienced professionals dedicated to providing top-notch results at budget-friendly rates. We exclusively procure premium materials from Ireland's most reputable suppliers.
Allow us to turn your outdoor area into something truly exceptional. We're here to turn your vision of an outdoor living space into a concrete reality.
Reach out to Driveway Paving in Leopardstown today, either by phone or email, to receive a complimentary quote with no obligations.
Get a quote
Cost of Paving A Patio

This is the main information you will require while planning your garden construction project. In this post, we will give you all the information related to patio paving costs. Our wide range of suggestions and our vast experience of patio paving...

Cost of Paving a Driveway

So you're planning on paving your driveway, but you're unsure as to how much you need to budget for it? It can be difficult to find information on the cost of paving a driveway online and this is due to the fact that every job is so different...

Ultimate Guide to Patio Paving

You are interested in having patio paving installed at your property but you don't know where to start. This is a guide to help you learn more about patio paving available in Dublin and help you in deciding on the best patio design...
From our Driveway Paving Q&A Section
Ready to start your project?
Get in touch with us today and we can discuss your requirements.
We offer free quotations, so why not contact now!
Testimonials
"Highly recommend"
Hired Driveway Paving to do my back patio. Couldnt be happier with the result. From start to finish Tony was easy to communicate with, answering any queries we had. The job was completed in good time and all tidied up after. Highly recommend

Samantha Healy
More Testimonials
Why Choose Us For Your Paving Project in Leopardstown
Driveway Paving is a proud member of the National Guild of Master Craftsmen.
We are a fully registered company specialising in paving, patios, and landscaping.
You can choose from an array of driveway and patio surfaces for your home. We supply and install in your home suited to your requirements. From natural stone granite, sandstone, and limestone, high-end porcelain to versatile cobble lock and concrete paving slabs.
We have earned a solid reputation for our pristine service and quality workmanship. Our project results speak for themselves.
Every project from start to finish is finished efficiently and we never compromise the quality of our work.
We can demolish sheds, build sheds, build walls and fencing. We work alongside an electrician so every aspect of your garden project will be completed at once with little disruption.
We use only high-quality and reputable suppliers for our paving materials such as Kilsaran, Roadstone, Double l concrete, and All Stone.
Customer service is hugely important to us, and we want you to be completely satisfied with your home.
We don't ask for deposits up front, all money is paid on completion of the project.
Our attention to detail is second to none and we finish a paving or patio project to the highest standards.
We offer free no no-obligation quotes and a call out to your home to discuss your dream home project.
Loading...
About Us
Driveway Paving is a Dublin based paving contractor that serves Dublin, Kildare and surrounding areas. We offer a wide range of paving and landscaping services at affordable prices. We offer a complete service; consultation, design, supply and installation. As we are fully registered and have many years of experience in all aspects of paving, you can rest assured that you are guaranteed that the work will be carried out to the highest of standards. We use only the best quality materials supplied by Kilsaran, which have been producing quality products for over 50 years. We take great pride in our work and aim to ensure that our customers are always 100% satisfied with our service.
Copyright 2023 - Driveway Paving | All Rights Reserved