Patio Paving – A Guide to Create Patios
You are interested in having patio paving installed at your property but you don't know where to start.
This is a guide to help you learn more about patio paving available in Dublin and help you in deciding on the best patio design and paving contractor to carry out the work on your garden.
We discuss patio paving designs, type of paving slabs available in Dublin, DIY paving vs paving companies. But also how to choose a paving for patio contractor and how to install patio paving.
Irish Patio Designs
There are many different patio paving products available and we will discuss the main ones available for patios in Ireland.
To get some inspiration for your Patio design you can check out our Gallery page as well!
Concrete Slabs
Concrete paving slabs are a very popular option for your garden patio paving project. Part of the appeal of these slabs is that they are available in a variety of colours such as: charcoal, grey, curragh gold, rustic, buff (yellow). You can have a look at the range of colours on the Kilsaran website. So you are sure to find the perfect tone to suit your patio project. These slabs are lay on sand for paving and jointed with silica sand making them an affordable option for your garden.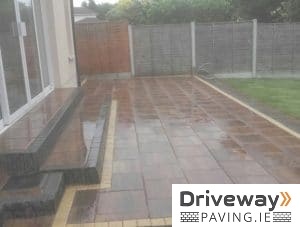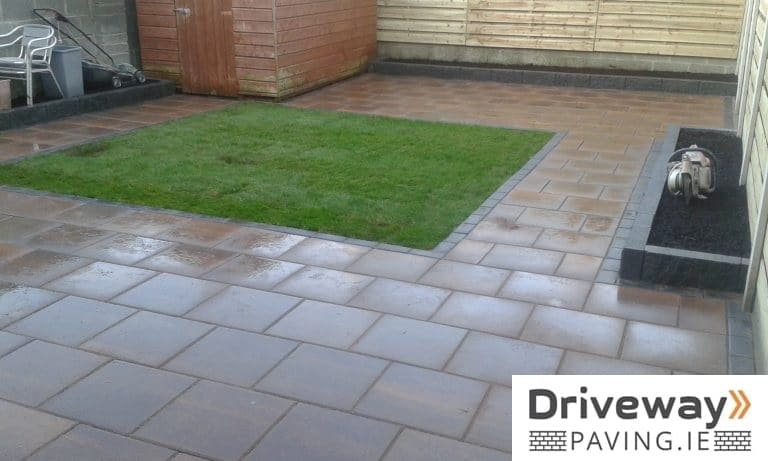 Natural Stone Patio Paving
Natural stone paving is a slightly more expensive patio option. Due to our expert laying process, you will have no weeds and thus a low maintenance patios for years to come. We lay the natural stone with wet sand and cement and joint it with wet mortar mix also so no weeds can grow through the joints. With natural stone you are guaranteed a durable, low maintenance patio. The types of patio slabs we provide are limestone, sandstone like Indian sandstone, granite, porcelain and quartz.
Limestone Paving in Ireland
Limestone paving is available in Yellow, Grey and Black. It is a low maintenance, long lasting and beautiful patios paving option.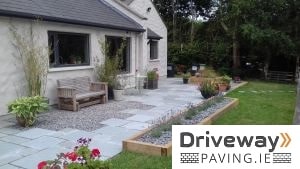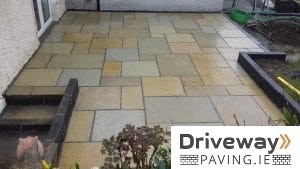 Sandstone Paving
Sandstone Paving is available in a variety of colours; Mint, Grey, Raj Green, Modak, and more so you are sure to find a colour to suit your paving project. Sandstone is very attractive with earthy tones throughout each slab.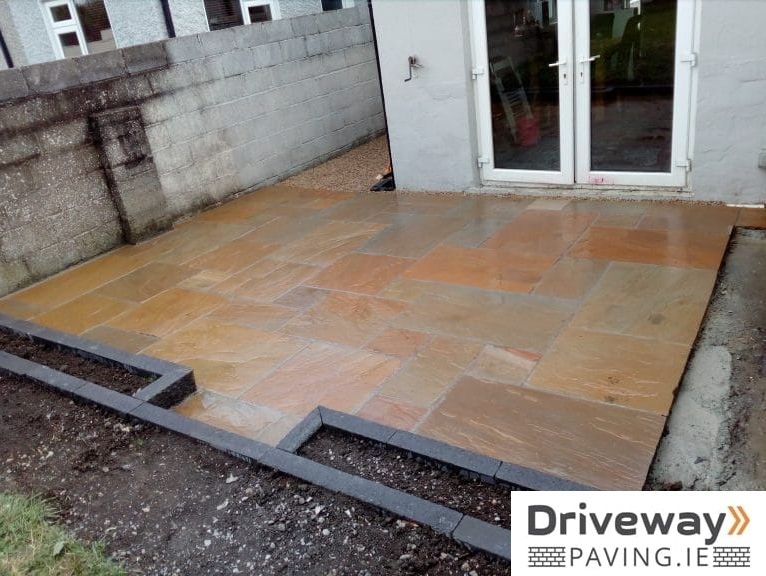 Granite Paving
Granite Paving is available in Black, Silver and Yellow and is a very popular choice for natural stone due to its renowned durability. It is a very hardwearing stone that will clean up like new time and time again.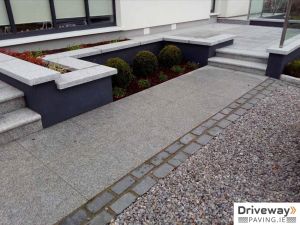 Porcelain paving
Porcelain paving is one of the higher budget options for patios but not without reason. Its highly attractive aesthetics coupled with its strength and durability make it a great option for a patio you want to last the test of time. It is available in several colours; Beige, dark grey, black, taupe, ivory, light grey, coffee, silver, cream, bianco, white.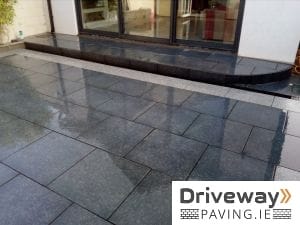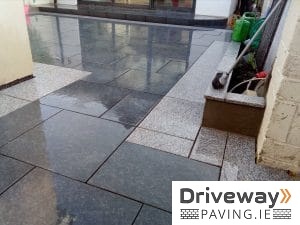 Quartz Paving
Quartz Paving is also on the higher end of the paving price range but it will add a special elegant touch to your garden. A very sophisticated patio paving option, quartz is also very durable.
Cobblelock / Brick Paving
Cobblelock is a manufactured material similar to concrete slabs, but is available in a smaller size. The cost and installation process is similar to those of concrete slabs. Due to their variety of sizes and shapes there are many different laying patterns to choose from. Below are some examples of laying patters for rectangular cobblelock.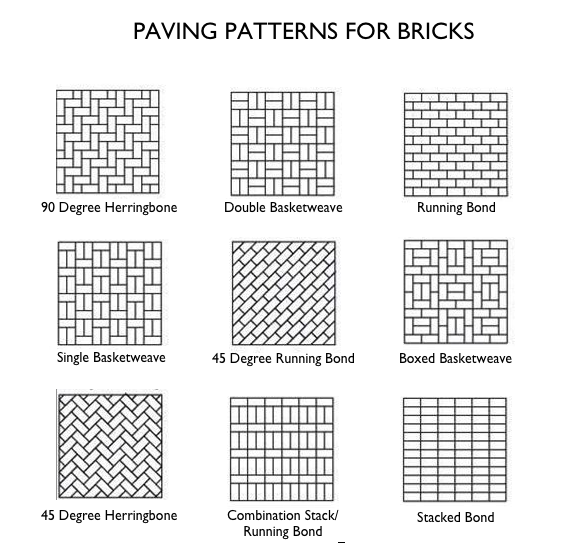 We hope you have found this information helpful. In summary, the main types of patio paving are concrete manufactured paving and natural stone paving. Depending on your taste and budget, we hope we have helped you in your decision on which paving is perfect for your patios project. If we have missed any types please let us know and we will update this blog to include any additional paving products.
Is Patios Paving a DIY Job or is it best to Leave it to the Paving Companies?
Maybe you have been visiting paving suppliers and have seen a vast array of paving displays. Have you been watching youtube videos on how to pave a patio and feel like the challenge? Or do you feel it's too much for you and better leave it to a trusted paving contractor?We will discuss the tools required for the job and the process involved in installing a patio to help you DIYers who want to tackle your patios yourselves. For those who feel its a bit out of their comfort zone, we will give practical advice on how to choose a high quality paving contractor.
Patio Paving Tools
Below is a list of the tools you will require to commence your patio paving project. These are the general tools required no matter what type of patio you plan to lay (unless otherwise mentioned), whether it is concrete slabs lay on sand or natural stone lay on sand and cement. We have also put a short explanation after some of the tools to clarify their use and help you get a handle on the job ahead.
Consaw or angle grinder (this will be used for cutting the paving)
Suitable blade for your chosen paving stone (this is important to get right as not all blades will cut any type of paving, you need to buy the blade specifically suited to the paving material you are using).
Plate Compactor (used to compact the base before laying your paving)
Screeding bars (used to level the sand before laying concrete slabs, not necessary if laying on wet mortar)
Wooden rake (used to level the base material)
Metal rake (used to level the base material)
Pick (to break up the ground and roots of bushes etc when preparing the ground for the base material)
Tape measure
Builders marker
String line
Shovel
Sledge hammer
Rubber hammer (used to tap down the paving slabs into place, the rubber head ensures the slab isn't damaged)
Mallet
Claw hammer
Cement mixer (to mix the mortar if laying on sand and cement)
Block splitter (this tool breaks cobbles into smaller pieces, only used with cobblelock, for slabs you must use a consaw or angle grinder as previously mentioned)
Level
Trowel
Sponges
Wheelbarrow
Safety Boots
Dust Mask
Paving Materials
Now you have the tools, its time to order or collect your paving materials. The materials required will of course depend on the type of patios you have chosen to install and also on your existing garden (whether there is stone or grass, drainage required etc.) Below is a list of general materials. Remember, not all may be relevant to your garden or you may require other additional materials not listed here.
Hardcore (804)
Paving Sand
Mortar sand
Silica sand
Cement
Aco drains
Recessed manhole covers
Recessed AJ covers
Gulley risers
How to install patios, how to do paving?
So lets get into the work! How do you go about installing the patio now that you have all your tools and materials ready to go? We will talk you through it step by step. We will discuss the laying of a natural stone patio as it is the more difficult and most comprehensive description we can give you. The laying of a concrete slab patio will vary somewhat as it will be lay on sand, but is an easier job.
Natural stone slabs are thinner than manufactured concrete slabs and thus need to be lay on sand and cement to prevent movement and cracking. For this blog we will assume that the existing ground for the patio is grass.
So firstly you will need to dig away the grass. Depending on the size of the area you may need a mini digger or you may manage to dig it by hand with a shovel. You will need to dig to a depth of between 3 and 5 inches, depending on what level you would like your patio to finish at.
Installing Hardcore and Drainage
Once the area has been dug to the required depth, you install hardcore (804). At this stage you may also need to install drainage. This will depend on existing drains in the area and the fall of the level you will put on your patios.
It is very important to ensure your patio will fall slightly towards either drainage channels, gulley drain or a lawn area which has good soakage. If there is no drain to connect to, you can create a soakaway. A soakaway is a deep hole lined with membrane, and filled with drainage pebble to soak the water that runs off the patios.
Next you must compact your hardcore using a plate compactor, making sure to compact every part of it paying special attention to around the edges. Its important to have your levels correct from this stage so you have a level base to lay your slabs. Now you are ready to lay your paving slabs.
Ready to lay your patio
Firstly mix your wet sand and cement mix using an electric cement mixer. If you are installing a brick border to your patio you should install that now, before your slabs. then your slabs should be lay keeping the lines square with your house ideally.
If you are flexible about the size of your patio a handy tip to save you work and to look better would be to measure your patio to end in full slabs so you don't have to cut pieces of slabs. This will only work with square or rectangle patios. Any variations on shape will usually involve cuts, which are manageable but may prove a challenge to a DIYer.
Once ready to lay your slabs, you spread your wet sand and cement in the area where one slab will go, at a thickness of 20-30mm, ensuring the spread it evenly. Then you lay your natural stone slab, pressing it down evenly, then hit it down with the rubber hammer to the level required. Once all your full slabs are lay its time for the cutting.
Make sure you are wearing your personal protective equipment when you attempt to use a consaw or angle grinder. Mark the slab using your marker and then cut it to shape with your saw. Natural stone produces quite a bit of dust so ensure you are wearing a dust mask.
Once all your slabs are lay you are ready to point your slabs. If you must walk on the slabs before they have dried make sure you don't walk at the edges, only walk in the centre of the slabs so as not to disturb the cement bed.
Pointing Natural Stone
For the pointing you can either put cement in the joints one by one using a trowel or you can brush it in wet and hose off the excess. Our preference is the second method as the mortar gets deep into the joints and sticks very well. It can go wrong, however, if you don't keep your slabs wet. So if your unsure you can use the first method (you put wet mortar into each joint and then smooth with a sponge).
For the wet brush in method you mix an extra wet mortar mix. Before spreading it you need to wet all your slabs, then spread the mortar everywhere, ensuring to get it into all the joints. Then you allow it to go half dry in the joints, while you keep the top of the slabs wet by sprinkling water every so often. Once the joints are semi dry, you hose off the excess using a water hose and soft sweeping brush. Make sure your slabs are very clean before leaving the pointing to dry fully as you don't want dry cement staining your patio.
Now you can stand back and admire you great work. Now all that's left is to tidy up and return any hire tools and have your skip collected. You are ready to enjoy your new patio area. We hope that helped you and don't hesitate to contact us if your have any queries regarding laying patios.
How to Find a Patio Paving Company?
If you have decided that the DIY patio or DIY driveway pavers project is not for you then not to worry, there are many companies out there like ourselves that are more than happy to do the work for you. But how do you choose the right one? If you search patio paving companies on google, you will find many companies offering paving services. Here is our advice to ensure you choose a trustworthy paving company.
You may prefer a local paving company so you can view their work so in that case a useful search in google would be 'patio companies near me' for example.
Points to Consider
Some points to consider would be whether the company offer a free quotation (this way you have nothing to lose). You can get a quote so you know if their services are within your budget without paying any fee. The first contact with the company is important.
Whether it be by email, over the phone or in person its important that you feel they are professional and trustworthy, always trust your instincts. References are also important so don't be afraid to ask for a few contact numbers for previous customers to help you get an insight into their work.
Pricing
Of course the price will be an important factor in your decision on which paving company to choose. Its a good idea to get a few quotes so that you can compare, but dont always go for the cheapest straight away. Some things can be too good to be true. Make sure you check out their references and previous work before making any hasty decision based on a 'special offer' or 'this week only' price.
If someone knocks on your door offering their services, there is no need to make a decision there and then. Take their details, and you can check out their references and get some other quotes to compare before making a decision.
Make sure your quotes are like for like, for example one company may offer a natural stone patio with cement pointing for a quoted price, and another company may offer to beat that price but may be giving you an inferior product such as concrete slabs lay on sand. So do your research to ensure you're getting a competitive quote for a quality paving job.
Lastly be aware of 'special offers' for example if you are quoted €3000 and get a call a few days later saying they can do it for €2000, where did this reduction come from? The materials involved in paving are sold at a reasonably steady rate so this large reduction can only be explained by either an overpriced initial quotation or cutting corners in the second quotation.
Conclusion about Our Guide to Patio Paving in Ireland
We hope that our guide has helped you. We aimed to give you an insight into the types of patio paving and designs available to you here in Dublin. For those of you hoping to do your paving project yourself we have given some information on tools required and the paving process. For those who want to hire a company weve given some practical advice on how to find a trustworthy local paving company.
And as you can imagine, we at Driveway Paving can provide you with many options of patio design and installations in Dublin!
Keywords you may be looking for: patio paving Ireland, Dublin Patio Contractor, limestone paving Ireland, sandstone paving Ireland, aco drain Ireland, rubber paving slabs Ireland, wet brush Ireland, porcelain paving Ireland, Indian sandstone.