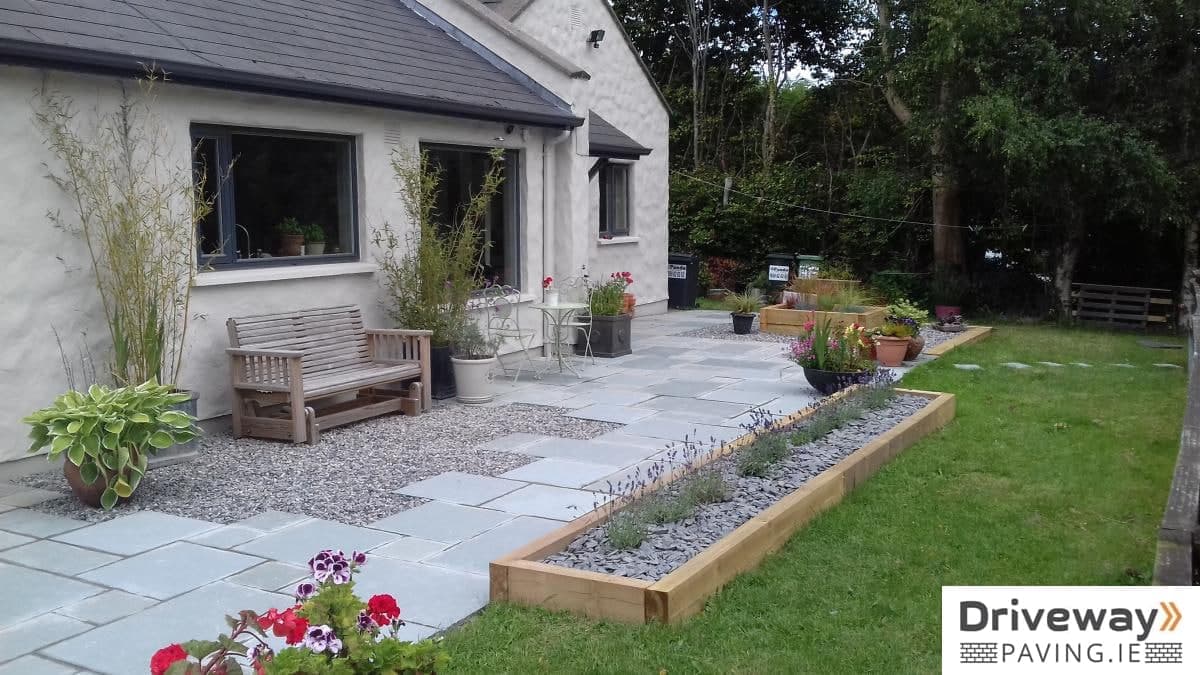 Testimonials
Please find below some clients' testimonials and their experiences.
Jonathan Bayley, Clondalkin
I would like to express my thanks and gratitude to Driveway Paving Dublin for the fantastic job they did on my back garden. The first photograph shows the state that my garden was in before the work began.
I moved into my house in 2005 and spent the 10 years up to 2015 paying my mortgage and working on improving the inside of my house so as a result the outside, front and back garden were left, almost neglected.
Here is Our story with Driveway Paving Dublin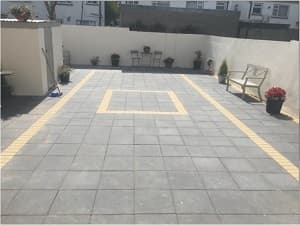 Day 1:
I decided to remove the big shed at the rear of the garden (white), keep the one at the side (concrete) and pave the entire garden for easy maintenance in the future. Driveway Paving arrived on day 1 at 8am. By the time I arrived home from work at 6pm, the sheds were completely removed, skip full outside my house and two tonnes of sand was sitting in the front garden. He continued to work until the sand was gone and left my house at 10pm.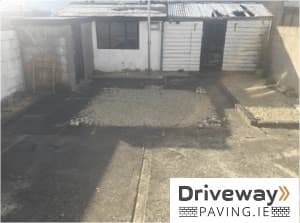 Day 2:
Driveway Paving Dublin was back at my house at 8.30 on the second morning. The second day included leveling the entire garden in preparation for laying the paving stones… A huge amount of work went into getting this part of the job correctly. Everything from organising a skip, sand, paving slabs, cement etc was organised by Driveway Paving with absolutely no fuss or hassle to me.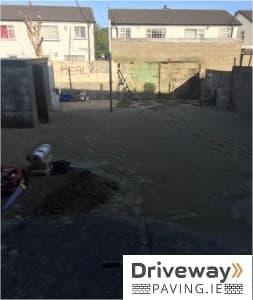 Day 3:
Again an 8.30 start, the priority today was to finish off leveling the ground and to plaster the walls. When work finished at 8.30pm the ground was sanded, level and ready for laying the paving stones, all walls were plastered. He laid blocks on one of the side walls which was uneven.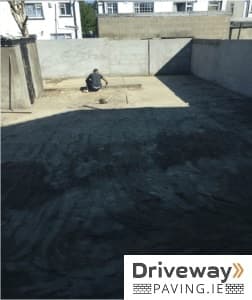 Day 4:
The paving stones were completely laid on the fourth day and the preparation was done for painting the house front and back.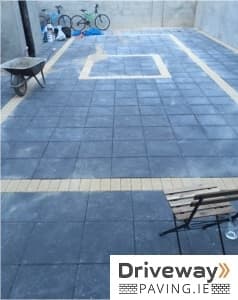 Day 5:
Driveway Paving painted the house on the fifth day and completed a couple of small jobs that had popped up around the garden.
I have left a couple of extra photographs to show the extra touches I have made to the garden in the few weeks after the work. I am absolutely delighted with the work that was done, and done in five days at absolutely no fuss to me personally.
The garden I now have is fantastic and life changing a many ways. I highly recommend Driveway Paving to anyone who is considering having similar work done. They are very nice to deal with, trustworthy and show a very high commitment to detail in their work. I will certainly be using them again in the future.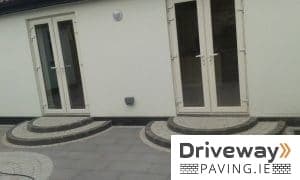 Sally O'Flaherty, Blackrock
'They came highly recommended from a friend of mine. And I was delighted that I chose them to complete my project.'
Driveway Paving completed the paving in both my front and back gardens. From start to finish I found them very professional and helpful. They came highly recommended from a friend of mine. And I was delighted that I chose them to complete my project.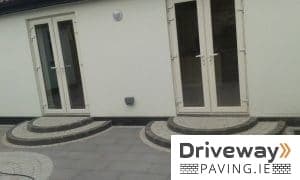 I had slabs installed in my back garden with a beautiful circle in the centre and semi circle steps, all designed by Driveway Paving.
At the front I had cobblelock installed with added features such as a flower bed, bin area and even parking spaces marked out using a different colour cobble - which I thought was a very nice finishing touch as we run a business from home and have customers parking regularly.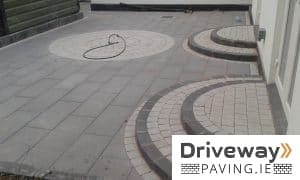 The whole project was finished on time with no fuss to me and did not disturb the running of our business. I would highly recommend Driveway Paving as they were professional, very helpful and competitive in their pricing.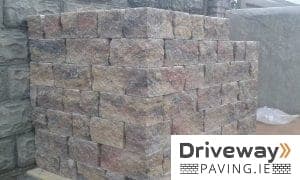 Pat, Castleknock
'Thanks again, it was a pleasure to have you working on our garden and I will have no hesitation in recommending you for any similar work.'
I want to say a sincere thanks to Driveway Paving for their advice and guidance in transforming our garden into a beautiful showpiece. Their recommendation to use granite for the patio and paths has so much enhanced the entire project.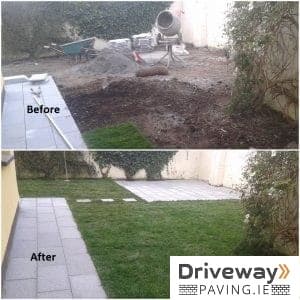 The roll out grass has left us with an instant lawn; which has grown so much in 3 weeks. Our garden has been admired by neighbours and friends and we are really enjoying it with this lovely weather. Thanks again, it was a pleasure to have you working on our garden and I will have no hesitation in recommending you for any similar work.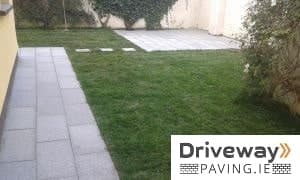 Frankie, Swords
'Super job, thanks so much guys, excellent service and an excellent price that could not be beaten.'
After numerous overly expensive quotes to get my back garden done, I came across Driveway Paving on Done Deal. They came out straight away, and made one or two changes to what we wanted and started within 1 week.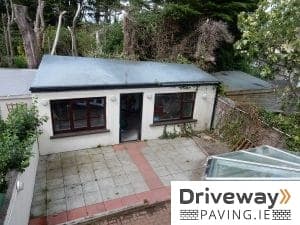 The guys made the job look easy, and nothing was a hassle. They laid Indian Sandstone, and built 3 large raised bricked beds, new drainage and plastered/capped and painted the surrounding walls.
The job was done in 4 days and was exactly what we wanted and more. It has opened up the back garden and has made such a difference. And it's completely dog-friendly which is what we needed.
I would have no doubts recommending Driveway Paving and I will have them back in the Spring to do my front garden. Super job, thanks so much guys, excellent service and an excellent price that could not be beaten.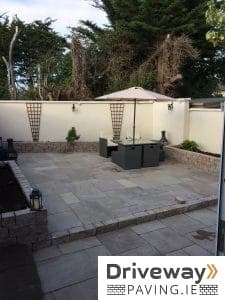 Seamus, Sandyford
' I can't recommend them highly enough! '
Driveway Paving Dublin installed a patio and driveway for me. When they came to see my existing garden, it was really in need of an overhaul. I had a concrete driveway that was cracked and sunk and my back garden was overgrown and had no patio area. This did not phase them at all.
After all the measurements were taken, I was shown samples and given ideas for both areas. I was given prices for each option so I could see what I could afford. I was pleasantly surprised that natural stone paving was within my budget and opted for a yellow granite patio and a limestone driveway.
Compared to other prices I had received from other paving companies; Driveway Paving Dublin was able to offer me natural stone options for a price equal to their competitors offering manufactured concrete products.
The job was completed within the timeframe and budget we had agreed and I am delighted with the results. I can finally enjoy my garden and my driveway looks lovely too.
All I can say is Driveway Paving Dublin are well worth a phone call.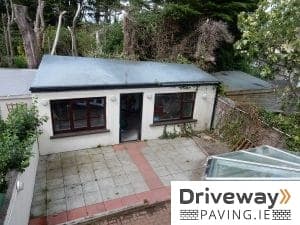 Ready to start your project?
Get in touch with us today and we can discuss your requirements.
We offer free quotations, so why not contact now!
Testimonials
"Highly recommend"
Hired Driveway Paving to do my back patio. Couldnt be happier with the result. From start to finish Tony was easy to communicate with, answering any queries we had. The job was completed in good time and all tidied up after. Highly recommend

Samantha Healy
More Testimonials
Loading...
About Us
Driveway Paving is a Dublin based paving contractor that serves Dublin, Kildare and surrounding areas. We offer a wide range of paving and landscaping services at affordable prices. We offer a complete service; consultation, design, supply and installation. As we are fully registered and have many years of experience in all aspects of paving, you can rest assured that you are guaranteed that the work will be carried out to the highest of standards. We use only the best quality materials supplied by Kilsaran, which have been producing quality products for over 50 years. We take great pride in our work and aim to ensure that our customers are always 100% satisfied with our service.
Copyright 2023 - Driveway Paving | All Rights Reserved