Cost of paving a patio is the most useful information you will require while planning your garden construction project. In this post, we will give you all the information related to patio paving costs. Our wide range of suggestions and our vast experience of patio paving installation makes us your greatest asset while planning your patio.
From the planning and design to the paving of your patio we are here to provide you with useful tips. In general, the paving materials and the size of your patio are the main factors in determining the cost. Other issues that can increase the cost of paving a patio, are the degree of complexity and the preparation of the base. Driveway paving can provide you with competitive quotations and the highest quality to be found in Dublin.
Gravel Patio Paving and Cost
Gravel is the most affordable outdoor paving material and can be installed quickly and relatively easily. Its natural and casual appearance makes it the ideal option for cottage gardens, pathways, and many other uses.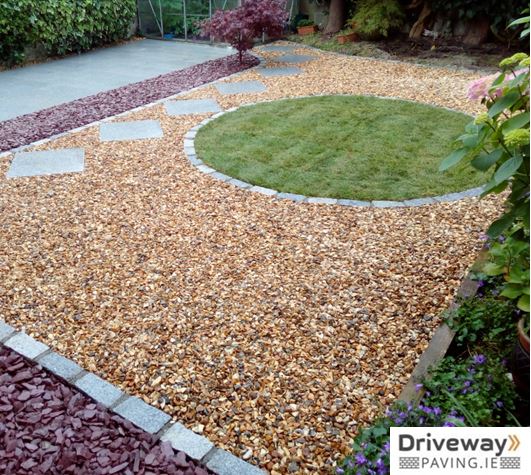 For your patio paving there are a wide range of gravel colours (from light grey to earthy red), textures (angular and rough or round and smooth), and sizes (ranging from 1/4″ to 1″) to choose from. Gravel also provides excellent drainage, allowing water to readily flow through it which is useful when a permeable surface is required due to lack of drainage systems or requirements of planning permission.
And what about its durability? Gravel paving patio will last a lifetime as you can repair and replenish it on an ongoing basis. When laid over landscaping fabric it will help block weeds too. Gravel is also less vulnerable to damage from seasonal freeze-thaw cycles.
The cost of gravel paving patio can vary from 50 euros to 80 euros per square meter. The biggest factors of the discrepancy are how far the gravel has to be carted, whether via a side entrance or through the house and the existing ground surface.
Tarmac Patio Paving and Cost
Tarmac paving is a cost-effective, easy to maintain, and durable material that can handle all types of vehicular traffic. So if you are seeking to improve the look of your home and to add some kerb appeal, you should consider a tarmac paving patio. Moreover Patio paving with tarmac rarely needs maintenance.
Tarmac is comprised of bitumen material mixed with mineral aggregates ; and that makes it the ideal material for surfacing roads and outdoor areas. Tarmac is available in black color, various finishes and combination choices with paving and concrete. The finish of your tarmac will depend on the size of the chipping picked.
Driveway Paving uses only industry standard and approved products when it comes to your tarmac. That is why we can guarantee you a long-lasting and beautiful finish to your tarmac patio paving.
The cost of tarmac paving patio installation varies from 50 euros to 80 per square meter. However, this is a rough estimate because the final quote will depend on a variety of factors which we will determine following a site visit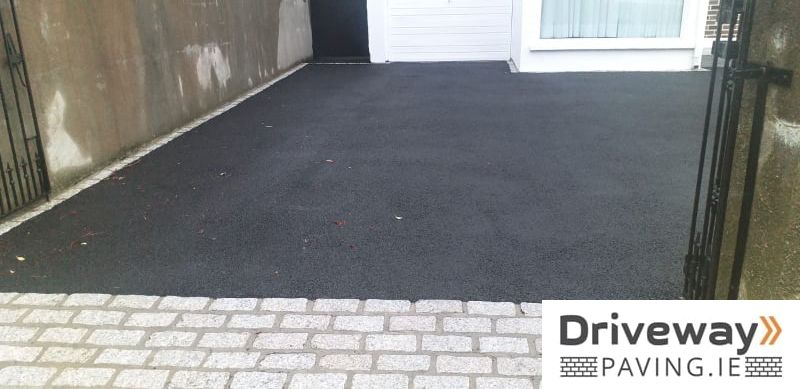 ---
Another post you may like about Patios: Our guide to patio paving in Ireland!
---
Concrete Patio Paving and Cost
Below, we present you the five methods of concrete based patio paving which Driveway Paving offers. From cobblestone to large paving slabs, there are many options to choose from. Moreover, concrete pavements are durable and require very little maintenance, and they have the lowest life-cycle costs and are resistant to most chemicals. Regardless of where you live, concrete is suitable to any type of weather conditions. This is why more homeowners that live in extremely hot or extremely cold climates are opting for concrete in their garden construction projects.
Concrete Paving
Concrete paving is a popular outdoor flooring option and an amazing choice for adding practical flair to your patio. Formation of concrete stone paving is achieved by molding a mix of stone, sand, cement, and water before being left to cure. The result is strong, durable paving with endless color and surface texture options. Its combinations can help to create a contemporary or traditional look to your patio.
Finally, depending on the job that you want to have completed the costs for concrete paving vary from 60 to 80 euros per square meter. When it comes to the cost of paving a patio concrete paving is on the lower to middle end of the scale.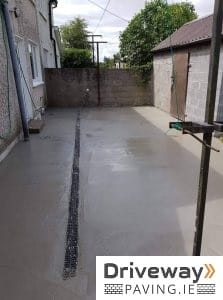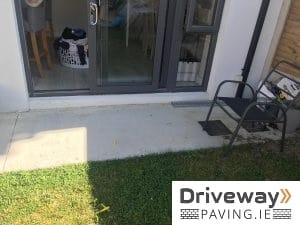 Imprinted Concrete Paving
Imprinted concrete paving is a popular decorative technique for driveways, patios, and paths currently used in Britain and Ireland. The process involves laying the concrete screed, applying a surface color in powder form and then imprinting a pattern on the surface by means of special textured mats. And once the concrete has gained sufficient strength, the surface is sealed.
In addition, colors tend to be somewhere in the black-brown-buff-red part of the spectrum, although there are greens and blues. Often a lighter shade and a darker shade are combined to give the impression of extra ´depth´ to the surfacing. For example, an ashlar stone effect surface might feature a darker brown base color with ´highlights´ done in a buff.
Imprinted concrete paving can look very attractive, and will require almost no maintenance other than sweeping and re-application of the sealant every 2-4 years.
Finally, prices for imprinted concrete paving are variable from 75 to 95 euros per square meter, making it a relatively affordable option when considering the cost of paving a patio.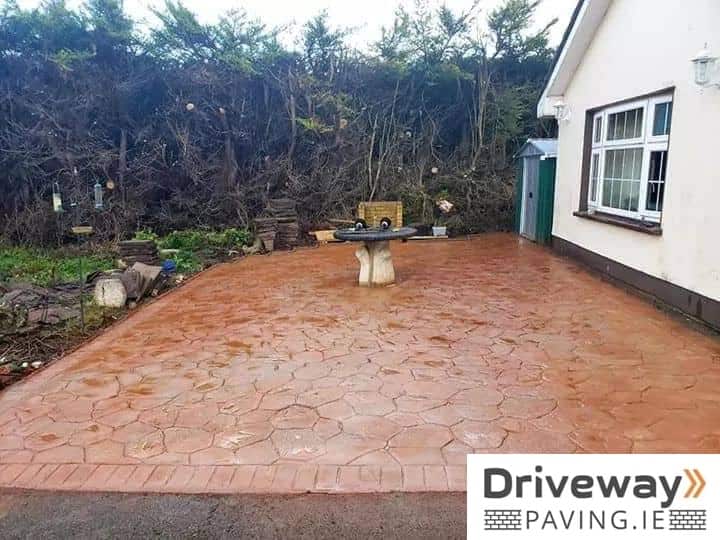 Concrete Slabs Paving
Concrete slabs paving are ideal for contemporary or traditional patio projects. Also, slabs are available in a variety of shapes, styles, patterns, and colors, giving the homeowner plenty of choices to create a unique patio that complements their house and landscape. The benefit of concrete slabs is that you can remove and replace them individually. Also, concrete slabs do not require a curing period, once installed they are ready to use.
Costs to install concrete slabs vary from 70 to 90 euros per square meter.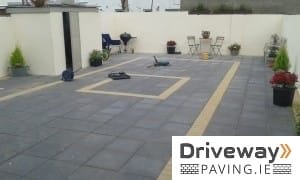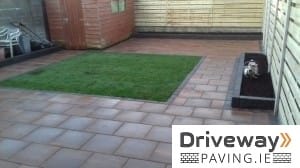 Concrete Manufacture Slabs
Concrete manufacture slabs come in many forms and can be used to provide great thermal comfort and lifestyle advantages. Indeed, conventional concrete has high embodied energy and has been the most common material used in slabs. But there are different types of concrete slabs and some of them may be more suitable to a particular site and climate zone than others.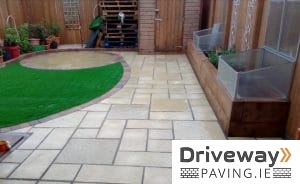 On a higher price level, the cost of paving a patio with concrete manufacture slabs falls between 75 and 95 euros per square meter.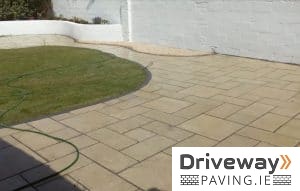 Block Paving Concrete Finish
Block paving concrete finish paving provides a hard surface that is aesthetically pleasing, comfortable to walk on, trafficable, extremely durable and easy to maintain. Paving blocks are fully engineered products, manufactured in factory conditions, ensuring consistency and accuracy. And laid with an edge restraint over a granular bedding course, individual blocks interlock to act compositely which can distribute large point loads evenly.
Concrete paving blocks are available in an almost endless variety of shapes, thicknesses, top layers, colors and are able to follow actual tendencies in pavements. One of our popular suppliers is Kilsaran.
Accordingly, the cost of paving a patio with block paving concrete finish is between 75 and 95 euros per square meter.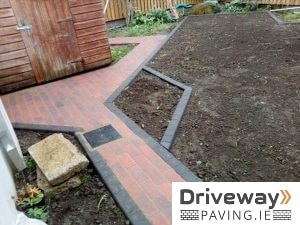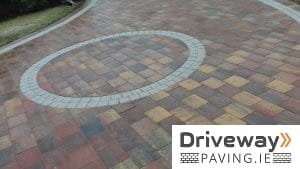 Block Paving for Granite Finish and Cost
Block paving granite finish paving combines durable finish standards, sturdiness, high durability, scratch-proof and heat-resistant features. In order to achieve the desired finish, the block must first go through a finishing process where it starts on an automated conveyor system that makes it through the various finishing stages.
Granite finish blocks are available in a multitude of colors (black, silver and buff-yellow), sizes and thicknesses. Due to that, its cost of paving a patio vary from 85 to 100 euros per square meter.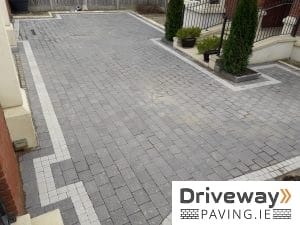 Sandstone Patio Paving and Cost
Sandstone paving can make an elegant and gorgeous patio. So some homeowners use the pavers to make pathways that connect multiple outdoor entertaining areas or a swimming pool to a patio. The fact that sandstone is naturally porous gives it an advantage against other materials. When water splashes on top of the pavers, it pools on top and forms puddles that make the pavers slick.
It is available in multiple colors, from light buff through to beige, silver grey and shades of dark brown and black. Within each shade group, you then have complementary tones and bands of color. These appear subtle when dry and then become much more vibrant when wet.
Each square meter for sandstone paving patio costs between 90 and 110 euros.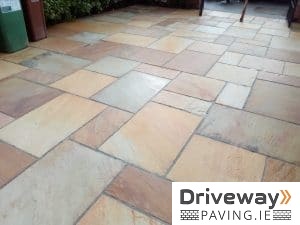 Cost of paving a patio with limestone
Limestone paving is rather similar in appearance to sandstone but tends to have a flatter surface with less riven edges and more of an orange-peel texture to it. One of the great advantages of limestone paving is that it may be placed both externally and internally.
Limestone is available in a number of different finishes, including polished, honed and unpolished for varying degrees of reflectivity.
Available colors in limestone tend to be more limited than sandstone with four main color choices of Grey, blue-grey,black and yellow. Costs of paving a patio with limestone vary from 90 to 110 euros per square meter.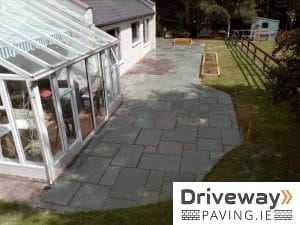 Cost of paving a patio – granite
Granite paving is famous for its durable nature and it looks great on patios. The speckled, textured finish of granite makes it ideal for our wet climate as it's not slippy. It gives you more grip than many other paving options when the paving is wet.
However, granite paving slabs are very heavy and, consequently, require professionals with long experience for the installation. We at Driveway Paving can ensure you the highest work quality available in the Dublin market.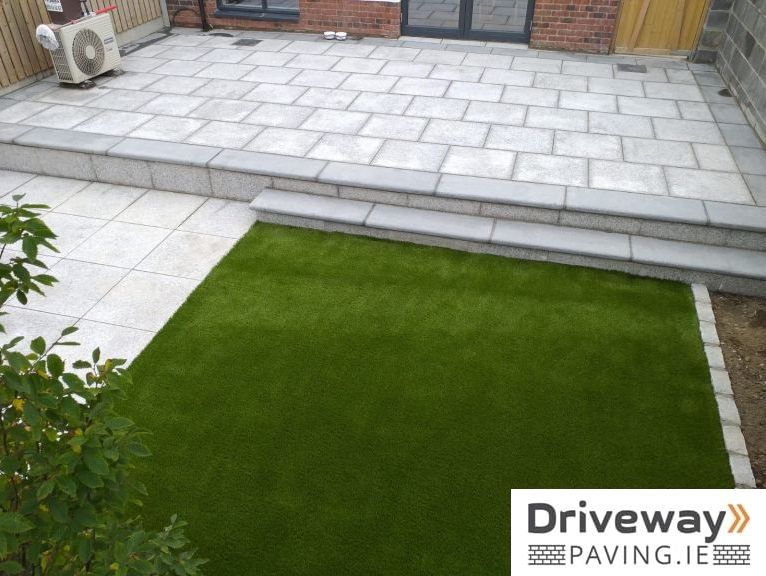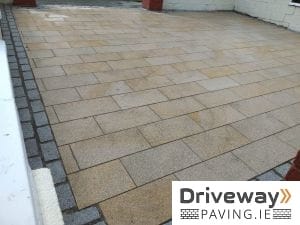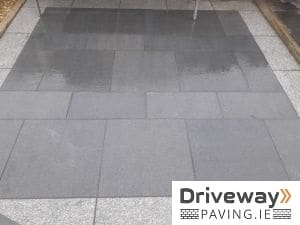 Granite paving is available in a variety of tones. Silver granite costs from 100 to 120 euros per square meter and yellow and black granite cost from 120 to 135 euros per square meter.
Cost of paving a patio – Quartz
Quartz crazy paving is a popular technique that involves the use of irregularly shaped bricks, delicately positioned together to make a unique surface. It requires a great level of skill to lay the pavers that we at Driveway Paving have.
Benefits associated with crazy paving are its uniqueness, as no two patios can be the same. Also, crazy paving can be aesthetically pleasing if correctly laid. As there is little to no upkeep required to keep the stone in good shape quartz crazy paving is easy to maintain.
The size area that you need to pave will reflect the price you will pay. And the cost of paving a patio with quartz will range between 110 and 130 euros per square meter.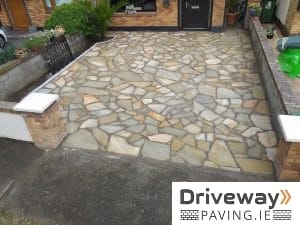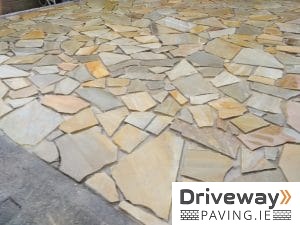 Travertine Patio Paving and Cost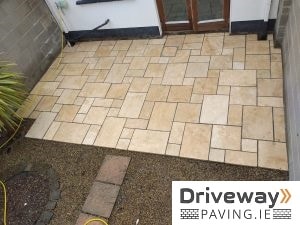 Travertine paving is similar to limestone. Pavers made of travertine have a non-slip surface finish as they have a high coefficient of friction. This means that they will provide a safe walking and play surface area for the whole family.
It comes in colors that vary from dark brown to palest white, with finishing options that can be customized to match your outdoor space.
The cost of a travertine paving patio varies from 110 to 130 euros per square meter.
Porcelain Tiles Patio Paving and Cost
Porcelain is durable and indeed water-resistant. That makes it an ideal choice for patios. Super-fine porcelain clay and fired at a higher temperature than ordinary ceramic tile create porcelain tiles. Porcelain tiles are dense and tough and made for today's demanding applications both indoors and outdoors. Because of its denser state, porcelain is water-resistant. Also, scratches or chips of any sort can not create any damage to it.
You can easily find porcelain tiles in a wide range of patterns and textures that resemble brick, stone, rock, concrete, etc. It is available glazed and unglazed, high-gloss and refined or textured to resemble natural stone.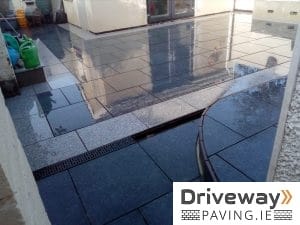 On the above characteristics, depends the cost which ranges from 130 to 170 euros per square meter.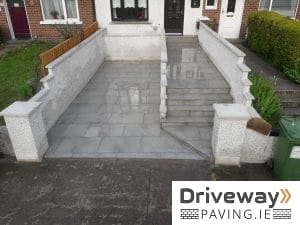 Granite Cobbles Patio Paving and Cost
Granite cobbles paving appear more and more in the garden and landscapes of residential properties. Because it is a natural stone, it is able to blend in so well with plants, trees, and flowers. Enabling people to create a space where one can enjoy their natural surroundings while extending the space of the house.
Durability, low maintenance, safety, aesthetics, and non-combustibility are some of the benefits you get when choosing granite cobbles paving for your patio.
Finally, the cost for silver, yellow and black granite cobbles varies between 140 and 180 euros per square meter.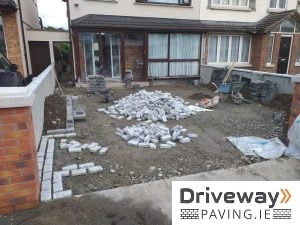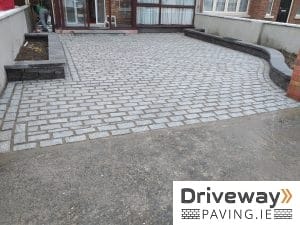 Artificial Grass and Cost
Artificial grass is a beautiful patio option. At Driveway Paving, we use only the best synthetic grass in the market that simulates natural grass in the best way possible. Its installation in between pavers and other hardscapes can create a beautiful visual symmetry to your landscape. And by brightening up your hardscape it creates a beautiful design aspect to your patio.
Furthermore, it does not penetrate the ground like cleats for natural grass. It actually leans on top of the surface. That is why it offers many benefits for the consumer. It saves both money and time and is an excellent landscaping option.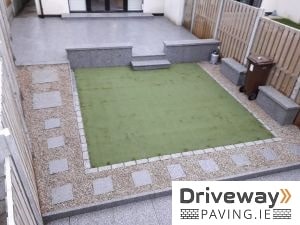 Installing artificial grass cost ranges between 55 and 75 euros per square meter depending on the thickness of the grass. The most economical option is 10 mm thick and the most expensive, which has the highest quality, is 40 mm thick.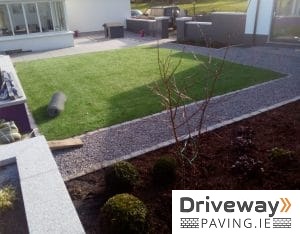 Roll-on grass and Cost
Roll on Grass are patches of pre-grown sections of grass that give you a garden for all the family to enjoy instantly. One advantage of this method is that once you lay it properly it grows really quickly. Further, the grass joints can knit together within a week or even less, depending on your local climate conditions.
Last, the costs vary from 25 to 40 euros per square meter and mostly depends on how much preparation has to be done before the installation.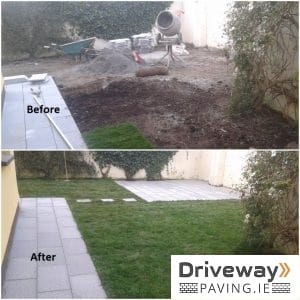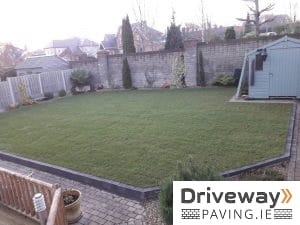 Cladding for Patio and Cost
Cladding is the application of one material over another to provide a skin or layer. In the patio, cladding provides a degree of thermal insulation, weather resistance, and to improve the appearance of buildings. Some of the most common types of cladding are natural stone cladding, manufactured cladding and brick slips. Also, the construction industry uses stone veneer, tiles, and slabs as wall cladding materials.
Undoubtedly, you can beautify your backyard patio by creating a feature wall and use a range of cladding stones for wall cladding and fix patio seating around it to create a dazzling look. Covering low garden or backyard walls with stacked stones gives a natural appearance and enhances the sensations as well as comfort when right stone types, colors, and styles are applied.
So, cladding walls' and flowerbeds' costs vary from 120 to 150 euros per square meter.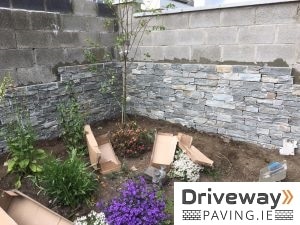 Fencing and Cost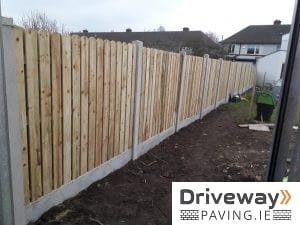 Fencing creates a unique and timeless impression of patio space and is an essential element for a decorative touch. Also, there are way more pros than cons when it comes to putting up a barrier on the outskirts of your garden. And some of the advantages of patio fence are to protect your privacy, to look after your garden, to secure your property from robberies and it can act as a noise barrier.
All things considered, the costs of fencing vary from 150 to 200 euros per panel. The price depends on how much preparation it requires, the type of fencing (supply only, or fitted), type of fencing materials, concrete delivery (if needed), the surface of the area to fence and fence height.
Prices
To sum up, the cost of paving a patio varies from 45 euros to 180 euros per square meter. As you can see from our price catalog, the material of your choice is the most significant factor determining the cost.
A holistic solution for your garden includes fencing, cladding, artificial grass, and roll-on turf. Driveway Paving has long experience in all of these applications and offers competitive prices for the market.
For a detailed and more specific quotation call Tony and he will visit to offer you an onsite valuation. Contact us now!
Cost of Paving a Patio (Price Table)
Summary of price guide below. Please note these prices are for medium to large projects of 90+ sq metres, For smaller projects the cost per metre is usually more.