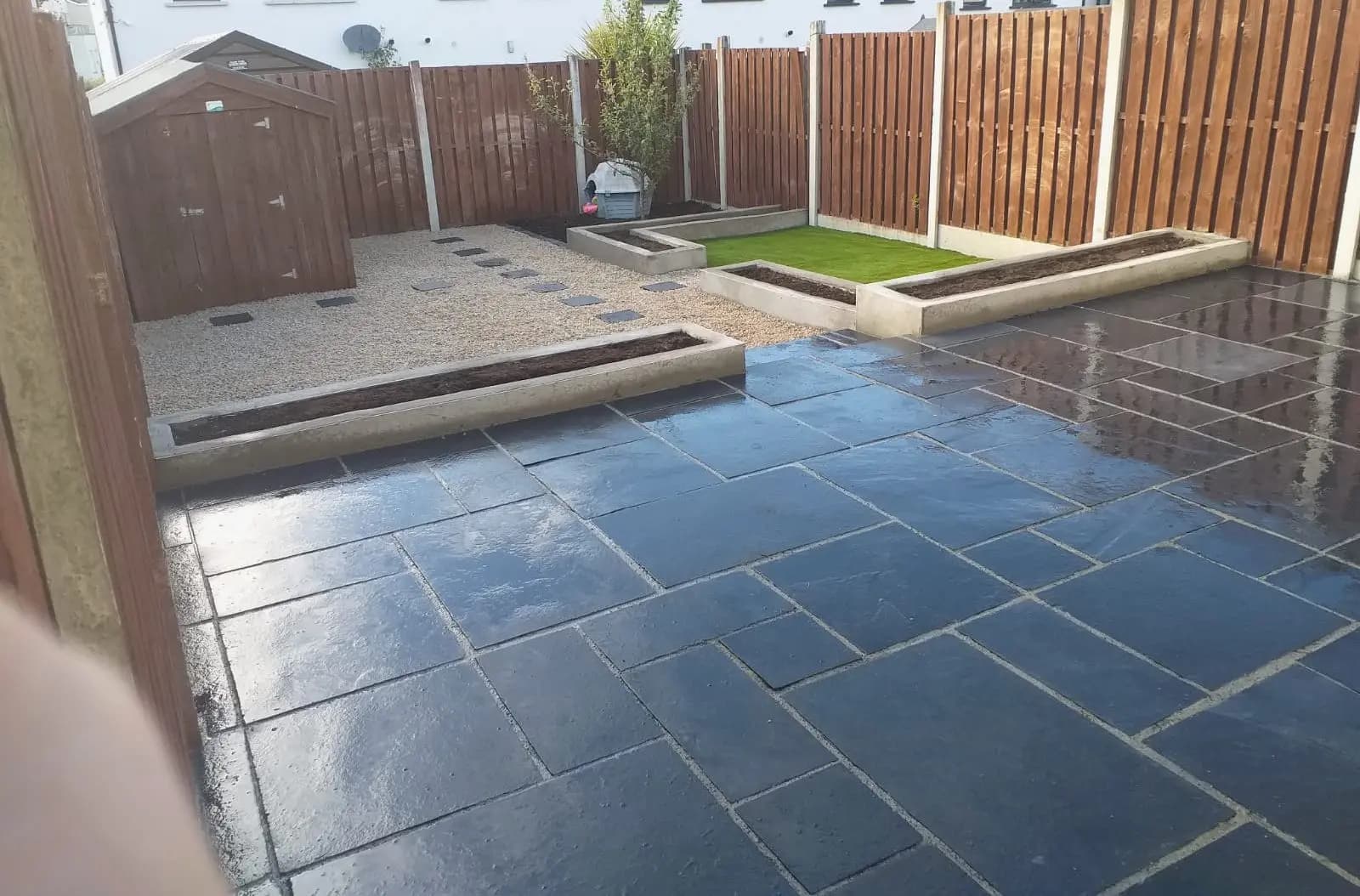 Limestone Paving
Dozens of house owners in Dublin have chosen limestone as the main material for their patios. They have trusted us to design and pave their property. Call us for your installation!
Limestone is a beautiful natural stone paving option that is growing in popularity. It is well known for being a high quality and hard wearing stone. Limestone Paving is ideal as an option for your patio or driveway paving project. Limestone comes in a variety of colours and shapes so you are certain to find one that suits your taste and enhances your property.
Limestone paving is available in 4 colours
Yellow Limestone
Grey Limestone
Blue Limestone
Black Limestone
We often recommend the bright yellow limestone for small patio or driveway areas as it gives the effect of making the area look bigger.
The grey colour is ideal for both small and large patios and driveway areas as it is neither too bright nor too dark.
The black limestone we recommend in larger patios and driveways as it is quite dark and can make small areas look smaller.
Limestone paving comes in a variety of sizes to suit your taste
Limestone paving is available in mixed sized patio pack or in individual sizes.
The patio pack consists of 4 sizes:
300mm x 300mm
300mm x 600mm
600mm x 600mm
600mm x 900mm
The individual size packs are available in:
300mm x 300mm
300mm x 600mm
600mm x 600mm
600mm x 900mm
With such a range of sizes available this natural stone is versatile and offers a range of laying designs, such as straight line pattern, brick work pattern or mixed pattern designs. The range of limestone available can be seen on show in Double L.
With such a beautiful stone it is essential that they are installed correctly to ensure you will have a perfect job for years to come. Here at Driveway Paving we lay and joint our natural stone with wet sand and cement mortar. This ensures each slab is bedded correctly and will not come lose with wear. The joints in between the slabs is jointed with our wet mortar method. This ensures an even stronger job as tge wet mortar helps to bind the slabs together. It also creates a paving space that is very low maintenance as it prevents weeds growing through the joints.
Equally as important as correct bedding and jointing is the strength of the base. Thats why we use a plate compactor to vigorously compact the base hardcore before we lay the paving.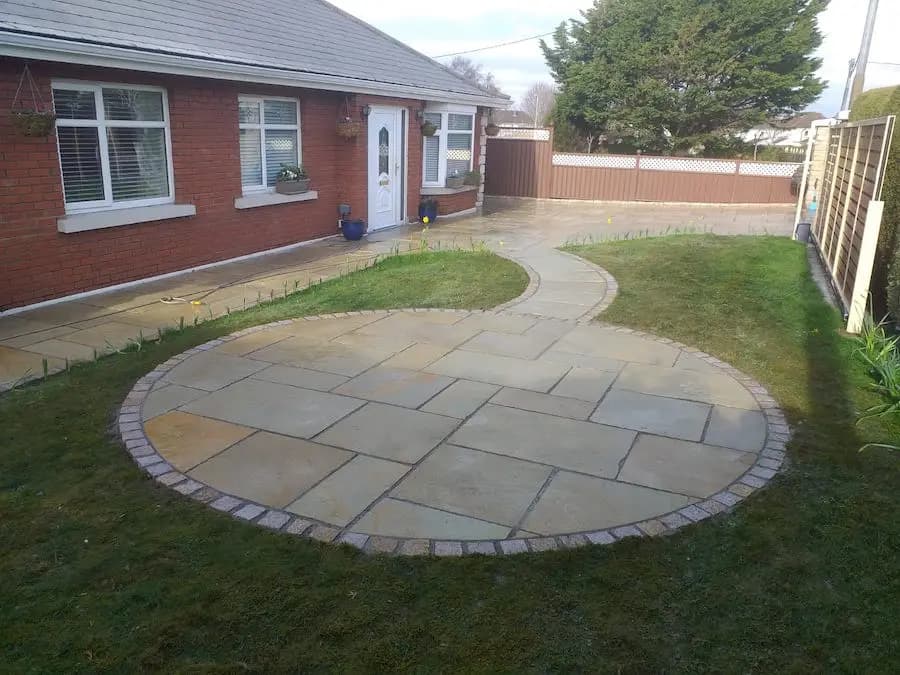 Why choose Limestone paving?
Hard-wearing – Limestone Paving is a hard wearing natural stone.
Unique – One of the most appealing aspects of natural stone is its uniqueness. Unlike manufactured stone which will be all uniform, natural limestone slabs are derived from nature and thus every slab will have its own unique texture ans colour shading.
Non – slip – Limestone is naturally a non slip material thus making it safe for use on driveways and patios.
Versatility – With its wide range of colours and size variations, you are sure to find the ideal solution to complement your property and suit your taste.
Non-porous – the surface of limestone is less porous than sandstone and thus is more resistant to moss growth. As a result it needs less maintenance making it a great option for a low maintenance patio or driveway.
If you would like to enquire about a quotation for installation of a limestone paving patio or driveway in your home get in touch now. For your convenience we have many ways to reach us. You can use our newly installed whatsapp button on our homepage. Alternatively, you can call us on 0852175888 or email us at info@drivewaypaving.ie. We look forward to hearing from you.
Why not have a browse of our completed limestone paving jobs in our limestone gallery.
If you would like to learn more about paving, why not check out our Paving questions and answers page.
Why not have a browse of our completed limestone paving jobs in our limestone gallery.
If you would like to learn more about paving, why not check out our Paving questions and answers page.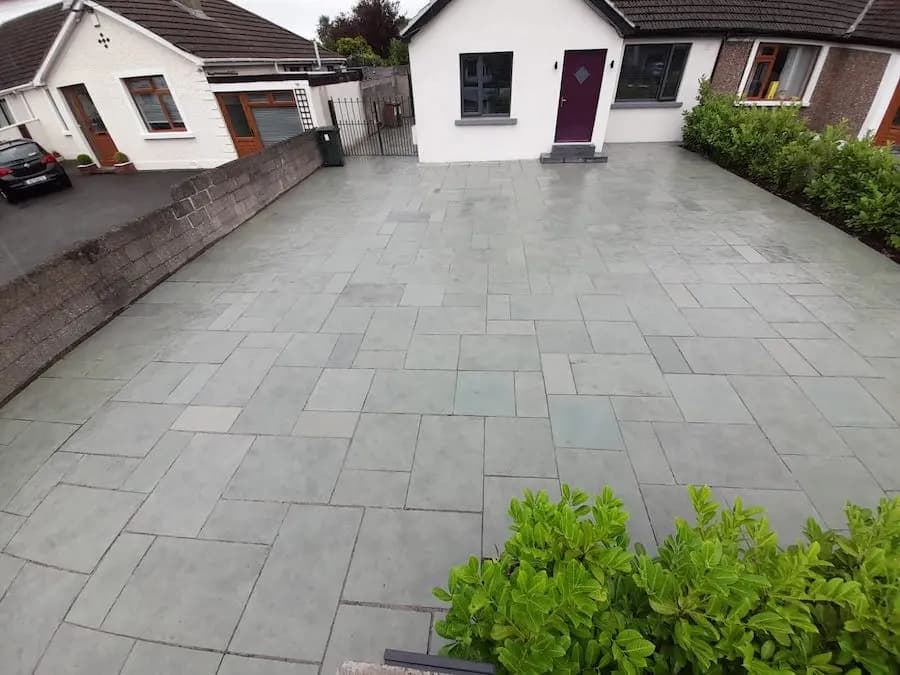 Ready to start your project?
Get in touch with us today and we can discuss your requirements.
We offer free quotations, so why not contact now!
Testimonials
"Highly recommend"
Hired Driveway Paving to do my back patio. Couldnt be happier with the result. From start to finish Tony was easy to communicate with, answering any queries we had. The job was completed in good time and all tidied up after. Highly recommend

Samantha Healy
More Testimonials
Loading...
About Us
Driveway Paving is a Dublin based paving contractor that serves Dublin, Kildare and surrounding areas. We offer a wide range of paving and landscaping services at affordable prices. We offer a complete service; consultation, design, supply and installation. As we are fully registered and have many years of experience in all aspects of paving, you can rest assured that you are guaranteed that the work will be carried out to the highest of standards. We use only the best quality materials supplied by Kilsaran, which have been producing quality products for over 50 years. We take great pride in our work and aim to ensure that our customers are always 100% satisfied with our service.
Copyright 2023 - Driveway Paving | All Rights Reserved