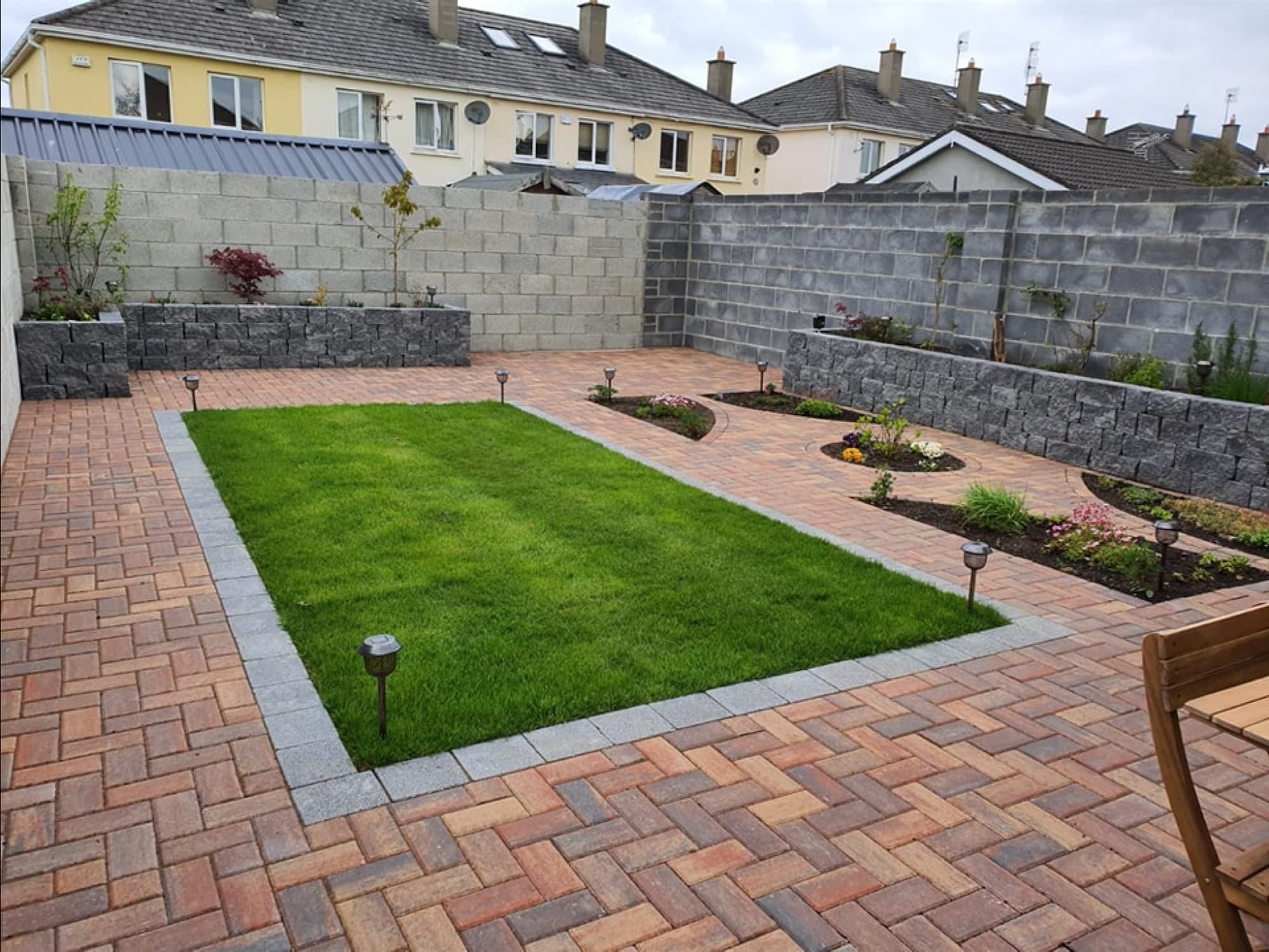 Paving Top 5 FAQ
We aim here to answer all of your paving related questions. These are some of our most commonly asked questions with regard to paving but if you have any other relevant questions please dont hesitate to contact us by email or here. We will aim to answer you directly or publish here as information for all our potential customers. Any question you have, from gravel types, tarmac installation, to cost of repointing, we will do our best to answer your query.
1. How much does a paved driveway cost?
The cost of a paved driveway in Dublin will be dependent on many variables.
These include:
The existing ground
Current drainage
Drainage required
Size of the area to be paved
Your chosen paving material
The final level required and its relation to the current level of existing ground
Location may also have a minimal affect
In our Dublin paving driveway price guide we have discussed a range of different options, their pros and cons and their cost. It will give you an idea of what budget you may require to have your desired driveway installed. Why not have a read of our cost of paving a driveway blog?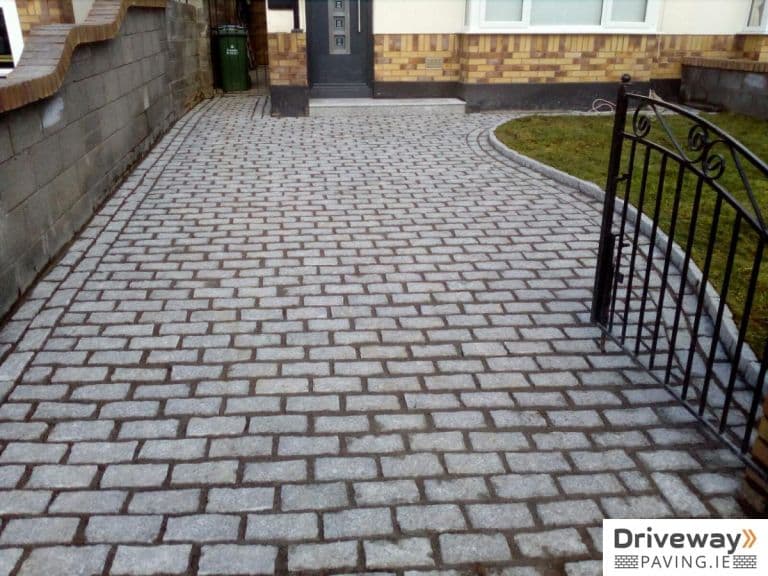 4. How do you lay paving slabs?
Would you like to tackle a paving project yourself rather than employ the services of a paving contractor? Do you have some DIY skills and experience and like a challenge?
Doing a DIY paving project in Dublin can save you some money if you have access to someone with the tools for the job. Otherwise, with the cost involved in acquiring the required tools either by purchase or rental, you may soon find its more feasible to hire professional registered paving contractors to install quality paving slabs in your driveway or garden.
So lets assume you have access to the tools you require and are ready to tackle your paving slab job yourself. Where do you start? You will need to create a list of all materials needed and set about finding a quality paving supplier such as Kilsaran. The type and quantity of materials you will need vary depending on the type of paving and the size of the job. A materials guide can be found on our blog the ultimate guide to patio paving.
Firstly you will need to prepare the ground. What depth you need to dig will depend on existing soil conditions, the type of paving to be installed, the type and amount of traffic that the area must tolerate and the required finished level of your new paving.
Next you need to install hardcore to the required depth and compact it with a plate compactor. Ensuring the hardcore is levelled and compacted well is vital to provide a good base for your paving slabs to prevent sinking in the future.
Then you will need to spread a small amount of paving sand over all area and level it well as this is the final levelling stage before installation of the paving slabs. This stage is for concrete paving slabs. Below is the alternative method for natural stone slabs.
If you chose natural stone you will need to lay them with wet sand and cement. This can be somewhat difficult so if you dont have much experience with the use of cement it may be best to leave this to the paving professionals.
After you have lay all your full sized slabs you need to cut the rest to fill the gaps using a consaw or angle grinder with a special blade specifically for your chosen paving style.
If at any stage you find that the DIY job is getting overwhelming, you can always avail of a professional paving service such as Driveway Paving, a Dublin based Paving contractor. We specialise in quality installation or driveways and patios and paving Dublin. You can contact us by email or via our contact form.
2. What is cobblelock?
Cobblelock is a word you will come across many times as you search your wide range of paving options available in Dublin. Cobblelock is also referred to as brick paving, block paving, brick pavers, block pavers and cobbles. Cobblelock is a popular and affordable paving choice for driveways, carparks, pathways and foot paths.
Cobblelock paving comes in a variety of colours, sizes and styles. Some rectangle designs in 200mm x 100mm such as Kilsarans' Slane brick, some multisize designs like Kilsarans' Mellifont or Lismore ranges. All ranges of cobblelock come in a range of colours, from black, to lighter grey to colours like red and rustic. Another variable with regard to cobblelock is the finish on the surface of the brick. This can be standard finish or granite finish. The granite finish costs a little extra but the colour is more durable than its standard finish counterpart. The finish is designed to immitate granite paving and comes in silver and black colours.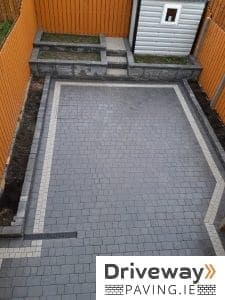 3. How much does a brick driveway cost?
The cost of a brick driveway in Dublin will depend on a variety of factors, such as those outlined in question 1, regarding cost of a brick driveway. On our Dublin paving driveway cost blog you will see our cost for brick driveway can range from €55 to €70. We have a wide range of options to choose from and your choice will effect the overall cost.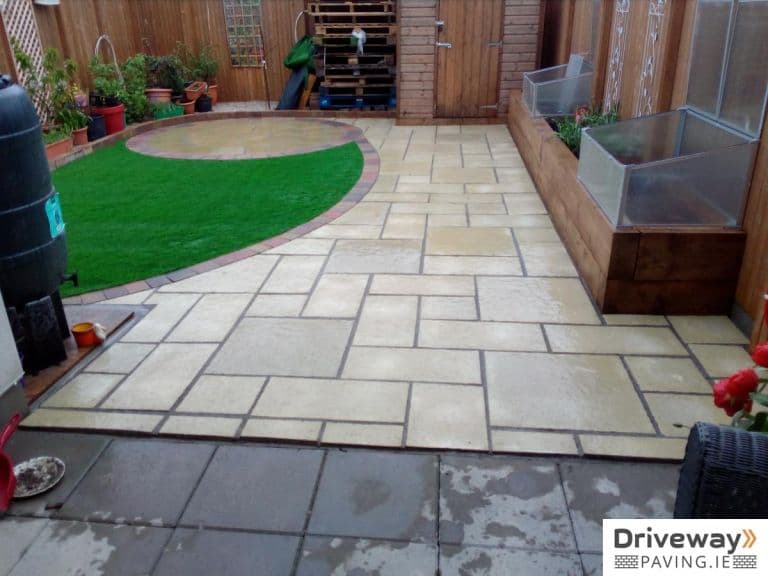 Ready to start your project?
Get in touch with us today and we can discuss your requirements.
We offer free quotations, so why not contact now!
Testimonials
"Highly recommend"
Hired Driveway Paving to do my back patio. Couldnt be happier with the result. From start to finish Tony was easy to communicate with, answering any queries we had. The job was completed in good time and all tidied up after. Highly recommend

Samantha Healy
More Testimonials
Loading...
About Us
Driveway Paving is a Dublin based paving contractor that serves Dublin, Kildare and surrounding areas. We offer a wide range of paving and landscaping services at affordable prices. We offer a complete service; consultation, design, supply and installation. As we are fully registered and have many years of experience in all aspects of paving, you can rest assured that you are guaranteed that the work will be carried out to the highest of standards. We use only the best quality materials supplied by Kilsaran, which have been producing quality products for over 50 years. We take great pride in our work and aim to ensure that our customers are always 100% satisfied with our service.
Copyright 2023 - Driveway Paving | All Rights Reserved