1. What is the best patio paving?
Many of our Dublin based customers ask us what material we would recommend for their patio. Our answer always takes into account many factors, so there is not one 'best' type of paving on the Dublin paving market. No matter what type of paving you choose for your driveway or patio its essential to use high quality materials from a well known and trusted supplier. Of course, for our customers here at Driveway Paving and Patio contractor, we always want to find both the best garden paving products available while also offering affordable prices.
When choosing your garden patio material there is a wide range available on the market in Dublin. A basic list would include: concrete slabs, cobblelock or brick paving, indian sandstone, limestone, granite, porcelain, quartz, as well as concrete and gravel.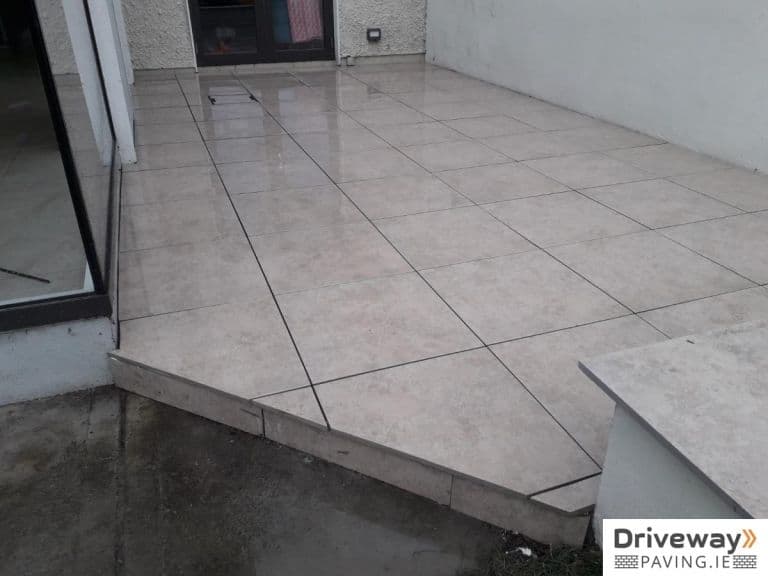 When it comes to quality and durability, porcelain and granite would be topping the list but then they are at the higher end of the price scale; you pay that bit extra for their exceptional quality. So depending on their budget constraints some customers may find concrete to be a more affordable yet long lasting paving option for their garden.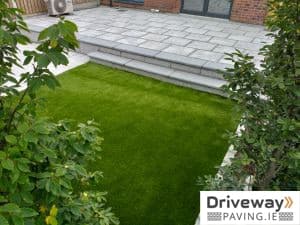 Limestone and sandstone are also very popular and durable patio materials in the mid range of the price scale. Gravel comes in below natural stone paving in terms of cost but requires more maintenance as over time weeds may make their way through it affecting the overall aesthetic appeal of your garden.
4. What steps are involved in laying patios?
All the patios we undertake to install will involve the following detailed stages:
1. Design, consultation and quotation provision.
2. Preparation, digging ground, removing soil, laying and compacting hardcore base, installation of required drainage.
3. Laying of paving material: on either sand or on wet mortar mix depending on the chosen paving. Grouting, installation if steps, landscaping etc.
4. Finishing touches: discussion with client to ensure complete satisfaction with the professional service from design to completion.
5. Payment: payment is required in full on completion of the job and when our client is completely happy with the result. We dont ask for any deposit or downpayment in advance and we would highly recommend our customers to be skeptical of any contractor who requests payment before commencing work.
2. How much does it cost to put in a patio?
In short, the cost of paving a Dublin patio can range from €50 to €150 per square metre from start to finish. The cost will depend on a wide range of factors from chosen paving materials to the condition of the existing ground.
The cost includes preparation of the ground, supplying materials, installation of your chosen patio material and finishing touches.
If you would like a material specific breakdown of cost for our paving material options have a read of our blog: Cost of Paving a Patio.
5. How do I lay pavers to make a patio?
If you would like to attempt to lay your own patio in your garden we offer some information here to help you. Firstly, ensure you know the steps involved which we outlined above in question 4. If you set out fully prepared with lots of expert information you will hopefully enhance your property with your efforts. You will need to source high quality paving materials, from suppliers such as Kilsaran or Double L concrete.
Its important to study paving designs, you can view some examples in our gallery or simply google 'patio designs' and you'll get a huge range of options. You can choose a mixture of hardscaping and landscaping or go for a fully paved patio. Once youve chosen youre desired material and supplier youre ready to set a start date. Next you must rent or buy all required tools. For information on which tools you will require have a read of our patios guide here: The Ultimate Guide to Patio Paving in Ireland.
If you find at any stage that the thought of installing your own patio is just too overwhelming or not worth the stress, you can contact us at any stage to avail of our expert patio installation services. If you have already completed some of the steps, such as buying materials, preparation etc, our quotation will be lower to reflect this so don't fret, your hard work on your patio hasn't gone to waste.
3. How long does it take to lay a patio?
The short answer is 1-5 days, depending on the size and complexity of the paving project.
An average 40 square metre indian sandstone patios in Dublin take us about 2 days from start to finish. We aim to complete the job from start to finish with the least amount of disruption to your household as possible.
Ready to start your project?
Get in touch with us today and we can discuss your requirements.
We offer free quotations, so why not contact now!
Testimonials
"Highly recommend"
Hired Driveway Paving to do my back patio. Couldnt be happier with the result. From start to finish Tony was easy to communicate with, answering any queries we had. The job was completed in good time and all tidied up after. Highly recommend

Samantha Healy
More Testimonials
Loading...
About Us
Driveway Paving is a Dublin based paving contractor that serves Dublin, Kildare and surrounding areas. We offer a wide range of paving and landscaping services at affordable prices. We offer a complete service; consultation, design, supply and installation. As we are fully registered and have many years of experience in all aspects of paving, you can rest assured that you are guaranteed that the work will be carried out to the highest of standards. We use only the best quality materials supplied by Kilsaran, which have been producing quality products for over 50 years. We take great pride in our work and aim to ensure that our customers are always 100% satisfied with our service.
Copyright 2023 - Driveway Paving | All Rights Reserved