Gravel Driveways FAQ
Welcome to our Gravel Driveways FAQ page, where we answer our customers commonly asked questions and take the mystery out of planning your Gravel Driveway installation in Dublin.
1. How much does it cost to gravel a driveway?
Often the first question to cross people's mind when thinking of hiring a driveway and patio team to install their gravel driveway is what cost will be involved. An expertly installed gravel driveway in Dublin or surrounding areas will set you back somewhere in the region on €45 – €65 per square metre, from start to finish. We, here at Driveway Paving, are highly experienced registered driveway contractors that will ensure you get a top quality gravel driveway at an affordable price.
The price we will provide you with will depend on a variety of factors:
The existing surface in the area
The preparation work required
Access to the area
The size of the area
Design of the area, borders, paths, steps etc will effect the quotation
The type of gravel you choose
The amount and type of vehicular traffic the area must endure
You can have a read of our cost of paving a driveway blog, where we outline all our driveway options and their relative costs. The blog gives a price range for each option for typical sized areas and of course the larger the area the better deal we are able to offer our customers.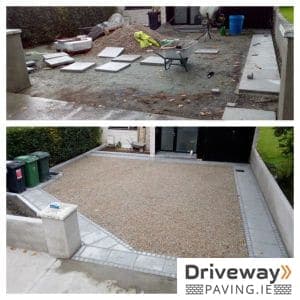 4. How long do gravel driveways last?
Properly installed and maintained gravel driveways can last for 100 years. Gravel driveways really do stand the test of time. There is truly no expiration date on gravel driveways as any worn down areas can easily be replenished with some extra gravel and it will blend it perfectly with the existing driveway. With correct installation carried out by a quality paving service, there will be no drainage or sinking issues with your gravel driveway. Its also worth noting that you should source your quality gravel from a reputable supplier such as Double L.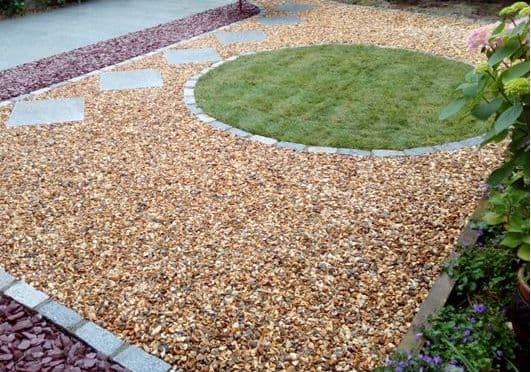 7. How do I make my gravel driveway solid?
As with any paving installation, the base is always the vital factor to get right as this will prevent sinking and drainage issues in the future. In order to achieve a solid gravel driveway you must first prepare the ground correctly. Firstly, dig away the existing soil, to a depth of 8-10 inches depending on the current soil conditions.
Then you must install the first later of 804 hardcore, 3 -4 inches deep and compact it using a plate compactor or a vibrating roller (for large areas). If the weather is particularly dry, we highly recommend to wet the hardcore as youre compacting it. Thats a trick of the trade that will ensure your driveway base is solid and able to withstand both vehicular and foot traffic. Then install the second layer of 804 hardcore at a depth of 2-3 inches and repeat the compacting process. Then spread the dust layer and finally spread and rake your chosen gravel on top. Follow these steps and you will make a solid gravel driveway.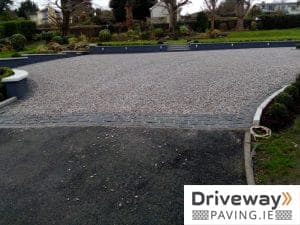 10. How do I keep my gravel driveway clean?
Your gravel driveway can be kept clean and looking its best with just a little bit of regular maintenance.
The following actions should keep your gravel driveway looking pristine:
Removing leaves in Autumn – This is especially important if there are overhanging trees in the vicinity of your driveway. You can rake, pick up or use a blower to remove leaves and debris, particularly in Autumn when debris will be plentiful from trees and bushes.
Raking the surface – in order to keep your gravel driveways smooth and level, some light raking of the surface will be required. Pay particular attention to areas where the car wheels pass often or that experience regular foot traffic.
Monitor and repair potholes – Over time and with regular traffic potholes could form in your gravel driveway. Once formed they fill with rainwater and further errosion occurs deepening the pothole. As soon as you see one forming, you should rectify if to prevent worsening. If its in the surface layer of the gravel simply raking it back level should suffice. If its deeper and into the base layer, you may need to add some hardcore, compact it and then add more gravel on top. You should be able to prevent these deeper potholes with some regular upkeep and raking.
Replenish gravel as needed – Over time with regular driving and wear you may find you need to top up your gravel. Gravel driveways are very easy to replenish as you just buy a small amount of your chosen gravel and spread it on the surface and rake it in. This will keep your gravel driveway looking fresh and new.
Control weeds – good weed control will help keep your gravel driveways looking like new. If you follow the previous steps on removing debris and raking you shouldnt have too many weeds. For the few weeds that do manage to make their way onto your driveway, simply hand pulling them is an effective way to manage your weed control. If you've neglected your gravel driveway for a while and weeds have gotten out of control, all is not lost. Spray a good weedkiller to kill off the weeds. Once dead and wilting you can rake them off the surface of your driveway. If you have many overhanging trees, shrubs amd flower beds surrounding your gravel driveway, your driveway may be more vulnerable to weed infestation. In these instances we recommend spraying a good weedkiller once or twice a year as a preventative measure as an addition to your regular maintenance routine.
13. How do I keep my gravel driveway from sinking?
With proper installation of the base in the first instance there should be minimal sinking of your gravel driveway. If some sinking occurs with time its easy to rectify. If the sinking is only 1-2 centimetres we recommend topping up the ares with new gravel to bring it back to the desired level.
If the driveway has sunk by more than 2cm its best to remove the top layer of gravel (keep it to one side for later), install more hardcore and and compact it well, theb reinstall the gravel you had set aside on top of the newly laid hardcore to bring the level back to the desired level. By replacing hardcore rather than just topping up the gravel you prevent the gravel layer being too deep and causing the problems outlined in question 9 such as sinking of car tyres and difficulty walking of the surface.
We hope we have answered the majority of your gravel driveway queries. If you have any further questions dont hesitate to contact us via our form or by mobile (0852175888). You can also use our Whatsapp button at the bottom of any page on our website.
2. Which gravel is best for driveways?
When asked which gravel is best for driveways we would recommend a 14mm – 20mm size gravel. Smaller than that and the stones have a tendency to get stuck in the grooves of runner shoes and car tyres. We dont find larger stones to be suitable as they are more difficult to walk on and dont create a smooth driveway surface.
Theres a wide range of options for gravel driveways in different colours and stone types that come in our recommended size range such as:
Wicklow Granite
Golden Flint
Plum Stone
Donegal Quartz
Plumstone
Clonard Gold
Ballykane
Curragh Pebble
Beach Pebble
5. What is the cheapest gravel for driveways?
The cheapest gravel for driveways in Dublin is called Driveway Pebble. It comes in an average 14mm size. Its a mix of a variety of grey shades and tones. Insert image. Driveway Pebble is a popular choice for large driveways that can be costly if done in some of the other gravel types. For these large projects, Driveway Pebble can be both an attractive and affordable option.
8. How much will a tonne of gravel cover?
A tonne of gravel should cover between 10-20 square metres, depending on the depth at which you spread your gravel. How deep to spread it will depend on the size of the pebble you chose (larger pebbles cover a bigger area due to air gaps) , the location (back patio or front driveway) and the type of traffic the gravel area will experience.
11. What is the cheapest type of driveway?
The cheapest type of driveway available in Dublin are gravel driveways. Gravel driveways cost somewhere between €45 and €65 per square metre depending on the size and the gravel type chosen. This is the cheapest option for driveway installations. In most cases it will be cheaper than cobblelock, tarmac, concrete, and natural stone paving.
3. Is a gravel driveway cheaper than concrete?
Yes, a gravel driveway will usually be cheaper than concrete. However every job is different so it will depend. There can be exceptions to this; for example if the gravel driveway was accompanied by other paving paths, paving borders, paving steps etc and the concrete was standard and straightforward with no additional designs. Gravel driveways are a very popular and affordable option in Dublin. We highly recommend getting a quotation for each of the options and then make the choice that suits both your taste and budget.
6. Can I get a free quote for a gravel driveway?
Absolutely. Here, at Driveway Paving, we offer free estimates and quotations. Theres a variety of ways that you can avail of our free quotes to customers. You can call us on our mobile 0852175888 to discuss your gravel driveway installation project over the phone. Alternatively we highly recommend you whatsapp or email us (at info@drivewaypaving.ie) with photos of your driveway and ideally measurements too and we can get back right away with an estimate.
We can do site visits also, whether before or after receiving a phone, whatsapp or email quotation.
9. How thick should a gravel driveway be?
A gravel driveway should be lay at a depth of 30mm-50mm thick. It will depend on the project, as there will be different requirements for a driveway and patio. Any deeper than 50mm and the wheels of a car will sink and the gravel will displace too easily. Any less than 30mm and after time the gravel may spread apart where the car drives and expose the hardcore base underneath. With any gravel surface that receives regular vehicular traffic, particularly with turning involved, some infrequent raking will be required to keep the gravel level and looking pristine. How often this is required will depend on the direction and amount of traffic travels on the gravel driveway.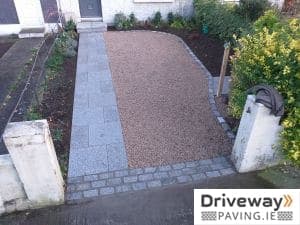 12. Do I need fabric under gravel driveway?
As part of the gravel driveway installation preparation we install a layer of weed control fabric or membrane. Whether you need it or not to prevent weeds is not a straightforward answer. If you have dug out the soil and prepared your base correctly the likelyhood of weeds growing up from underneath is minimal. However installation of a fabric membrane can help to prevent a few weeds that may make their way through the base layers. The membrane can also help seperate your driveway from the soil underneath to prevent binding with the soil over time and thus maintain better drainage in the future.
What many people dont realise is weeds most often grow in the top layer of gravel with superficial roots. They need organic matter to grow in. So basically if leaves or debris fall on your driveway and decompose, creating patches of compost under your gravel layer this is where the weeds will grow. Thus the effect of a weed memebrane is negligible in this situation as its far below the roots of the weeds. Whats most important is the steps outlines above in question 10; where you remove leaves and debris and regularly rake your driveway to prevent this layer forming and thus you inhibit the growth of weeds.
Ready to start your project?
Get in touch with us today and we can discuss your requirements.
We offer free quotations, so why not contact now!
Testimonials
"Highly recommend"
Hired Driveway Paving to do my back patio. Couldnt be happier with the result. From start to finish Tony was easy to communicate with, answering any queries we had. The job was completed in good time and all tidied up after. Highly recommend

Samantha Healy
More Testimonials
Loading...
About Us
Driveway Paving is a Dublin based paving contractor that serves Dublin, Kildare and surrounding areas. We offer a wide range of paving and landscaping services at affordable prices. We offer a complete service; consultation, design, supply and installation. As we are fully registered and have many years of experience in all aspects of paving, you can rest assured that you are guaranteed that the work will be carried out to the highest of standards. We use only the best quality materials supplied by Kilsaran, which have been producing quality products for over 50 years. We take great pride in our work and aim to ensure that our customers are always 100% satisfied with our service.
Copyright 2023 - Driveway Paving | All Rights Reserved