1. How much does it cost to concrete a driveway?
The cost to concrete a driveway will depend on a wide range of factors. In our cost of paving a driveway blog we discuss this topic, and we provide price details of a range of paving options for driveways, including concrete.
4. How thick does a concrete driveway need to be?
The short answer is the average concrete driveway will need to be between 4 and 6 inches thick.
Choosing the correct thickness to install is an important part of our job. If we install too thin of a concrete layer it could crack or sink in the future. If we install a layer thicker than required we are adding additional unneccesary costs to our customers quotation.
So on what factors do we base our decision?
The amount and type of traffic the area needs to tolarate.
The existing ground.
The type of soil, peaty or waterlogged soil would need additional depth and strength of concrete.
7. How long does a concrete driveway last?
A high quality concrete driveway should last 30+ years. Its lifespan is directly proportional to the quality of installation at the outset. A poorly installed slab of concrete and an expertly installed one may look similar initially but as time goes on the poorly installed job will start to show its faults through cracks in ita surface. Hence we must stress the importance of hiring an experienced and reliable concrete contractor for your Dublin project.
2. Is imprinted concrete cheaper than paving?
Another commonly asked question we get is to compare the cost of pattern imprinted concrete driveways with block paving. In our experience, there isn't much a difference in cost between the two paving options. Thus it's better to base your decision on the product being fit for purpose, to help you decide whether imprint concrete or block paving is a better option for your driveways.
Pattern imprinted concrete driveways are a low maintenance option for concrete driveways Dublin. Imprint concrete driveways are a high quality driveway solution that will last for years to come. The only maintenance required is repainting the surface every 3-5 years. How often this is required will depend on the colour you choose, the weather conditions and the traffic the surface receives.
5. Does a concrete driveway increase home value?
A properly installed concrete driveway will certainly increase home value. The driveway provides the first impression that any potential home buyer sees. If the driveway is unkempt and in disarray it can be immediately off putting for a potential purchaser or at least will likely urge them to make a lower offer as they take into account the cost and effort they will need to exert to remedy the driveway situation. The influence of a good first impression can't be over emphasized and an aesthetically appealling driveway does just that. This sets the tone for the rest of the viewing and will likely result in a higher offer on your sale property.
So why choose a concrete driveway from all the available options? A concrete driveway is a neat and tidy option while not stretching your budget too far. When selling your home you may not want to overspend on an extravagant driveway display yet want something attractive and affordable. A concrete driveway will be ideal for this purpose. By showing potential customers that the driveway is completed this ticks another box on their list and as it's a durable material won't need to be redone for many many years.
3. What is cheaper for a driveway asphalt or concrete?
Asphalt, tarmacadam and concrete driveways all cost similarly to supply and install. So neither asphalt or concrete is consistently cheaper for a driveway. However this is only true for standard finish concrete. Where imprint concrete is installed, asphalt or tarmac would indeed be a little cheaper.
The cost of imprint concrete driveways will depend on:
The size of the area to be concreted
The preparation required, existing ground
Drainage, both existing and required
The colour you choose
The design you choose
The amount and type of traffic the printed concrete surface will experience
Location of the job
If you require a quotation for a high quality asphalt or concrete driveway, you can contact us by phone 0852175888 or via our contact form. We offer all types of concrete and tarmacadam driveways and patios installation services. We provide free quotations both via whatsapp and on site in Dublin. We use only the highest quality concrete from reputable suppliers such as Roadstone so you can rest assured you are getting the best.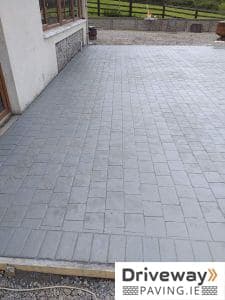 6. What is the best low maintenance driveway?
In our opinion and many years of experience in installation of driveways and patios, the best low maintenance driveway would be concrete. When installed correctly by a paving service experienced in their field, a concrete driveway should need virtually no maintenance. Of course sweeping loose dirt and debris may be required and a light powerwash now and then to keep the surface looking its best. However, it is not at risk of having any weed problems, sinking, drainage issues or discouloration over time, making it the best low maintenance driveway option on the Dublin paving market.
Ready to start your project?
Get in touch with us today and we can discuss your requirements.
We offer free quotations, so why not contact now!
Testimonials
"Highly recommend"
Hired Driveway Paving to do my back patio. Couldnt be happier with the result. From start to finish Tony was easy to communicate with, answering any queries we had. The job was completed in good time and all tidied up after. Highly recommend

Samantha Healy
More Testimonials
Loading...
About Us
Driveway Paving is a Dublin based paving contractor that serves Dublin, Kildare and surrounding areas. We offer a wide range of paving and landscaping services at affordable prices. We offer a complete service; consultation, design, supply and installation. As we are fully registered and have many years of experience in all aspects of paving, you can rest assured that you are guaranteed that the work will be carried out to the highest of standards. We use only the best quality materials supplied by Kilsaran, which have been producing quality products for over 50 years. We take great pride in our work and aim to ensure that our customers are always 100% satisfied with our service.
Copyright 2023 - Driveway Paving | All Rights Reserved