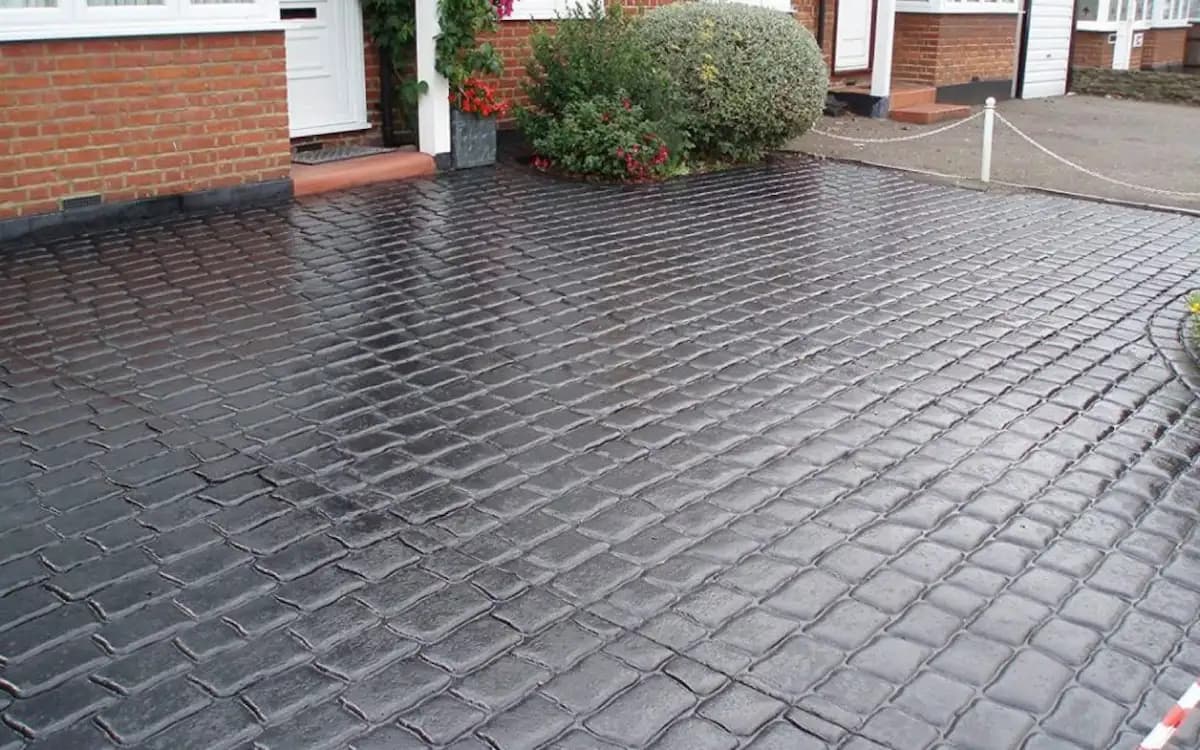 Imprinted Concrete
Our many years of experience in imprinted concrete constructions and the wide variety of designs and colours in which the imprinted concrete is available can lead to tailored to your wishes result. Let your imagination work, and call us to realise your dream patio in Dublin and the surrounding areas!
Here at Driveway Paving, we offer imprinted concrete installations in Dublin at competitive prices. Imprinted concrete is a specific style of concrete. The unique look of imprinted concrete is achieved by dyeing and stamping standard concrete while its wet, using special dyes and stamping mats.
Get a quote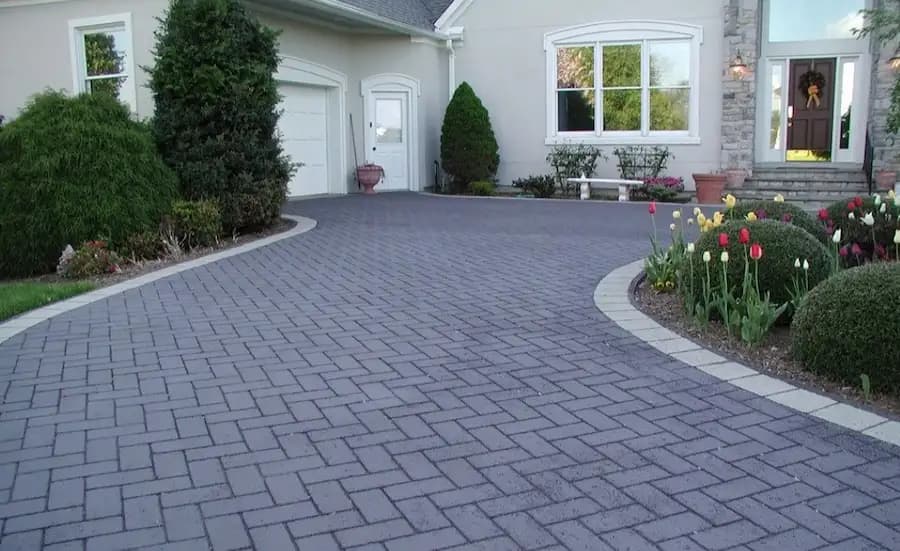 Imprinted concrete - types
One of the most appealing aspects of our printed pattern concrete is the wide range of styles available, from a variety of print designs to a variety of attractive colours.
Designs
We have a wide variety of printing mats available and each creates a unique design for your driveway or patio. The designs are created to imitate popular paving styles. We have a rectangular print mat to imitate cobblelock as seen in the photo above. We have hexagonal style prints to imitate terracota style tiles, crazy paving style prints and many more.
View our gallery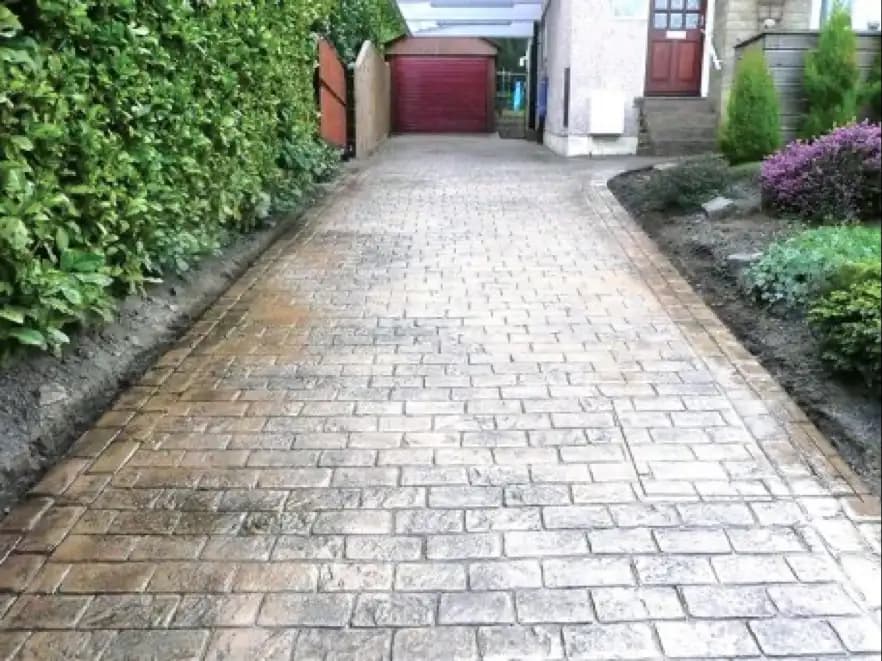 Colours
Further to our wide range of designs, we can provide a selection of colours :
Black / Charcoal
Grey
Red
Avon Stone
Bideford Buff
Biscuit
Brick Red
Charcoal
Deep Red
Deep Tan
Mahogany
You are sure to find a colour to your liking and that compliments your home.
Borders
With printed concrete you can choose a border in a different style print to give a finished edge look to your drivewat or patio. Often our customers will choose a border of shape and size similar to the central stamp but in a different direction lile in the job pictured below. These borders are popular amongst our customers getting printed driveways.
Get a quote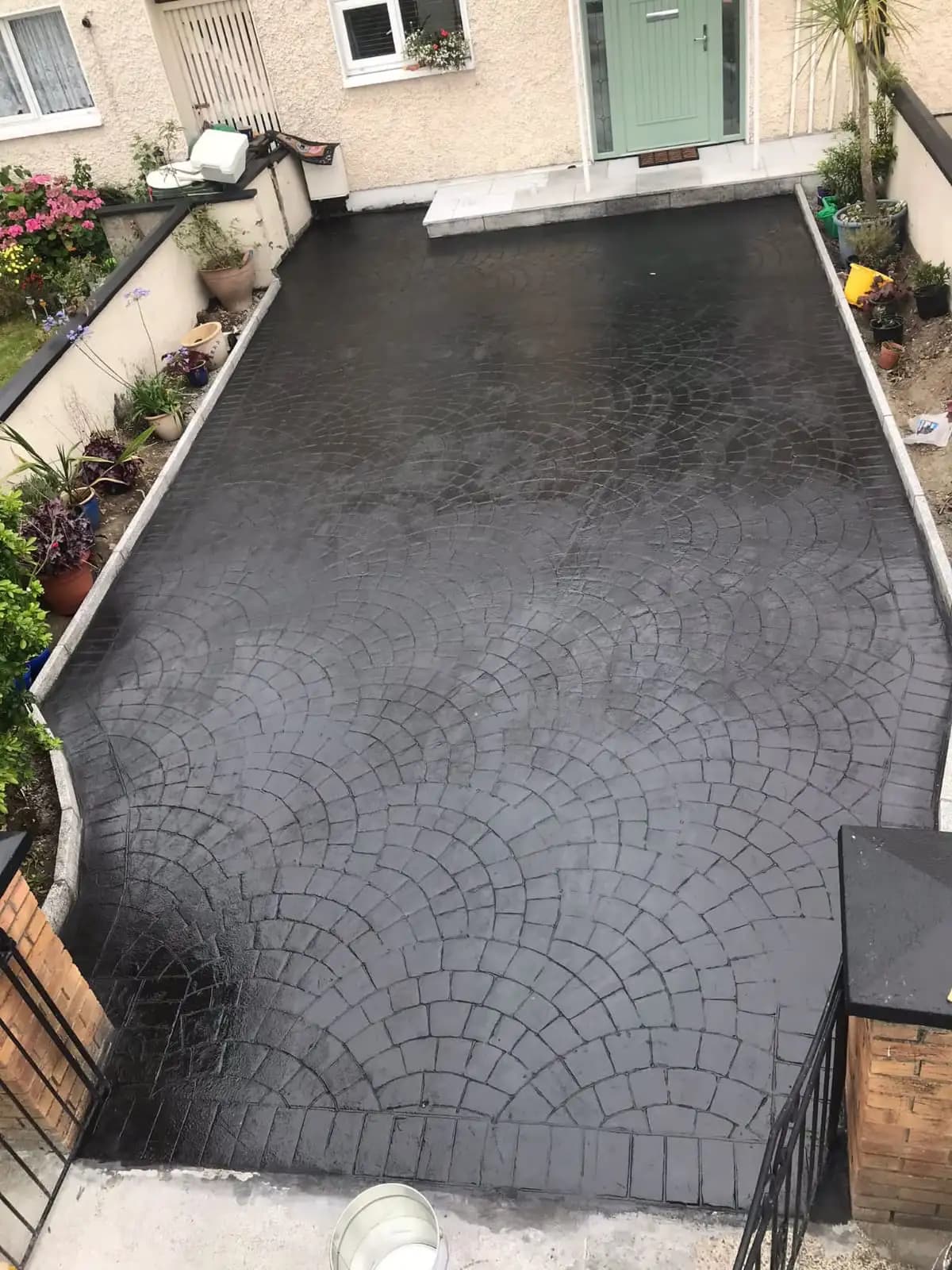 Benefits of imprint concrete
Durability – Concrete is one of the most durable driveway and patio options available in Dublin and imprinted concrete has all the same properties as standard concrete while also being more aesthetically pleasing. Your initial investment will seem miniscule as time passes and you get years and even decades of low maintenance use of your concrete area.
Low maintenance – Imprinted concrete is a low maintenance option. The colour you choose will have an effect on how low your maintenance is. The standard grey concrete printed is virtually maintenance free. Depending on the amount of debris that accumulates on the area, some regular sweeping, and a light powerwash should keep it looking pristine. For other colours, they will require resealing every few years if you like to keep the colour looking vibrant.
Weed resistant – One of the best properties of concrete is its weed resistance. Its impossible for weeds to grow through it and once its keep reasonable clear of soil, no weeds will grow on top. This makes it a very appealing option for driveways and patios.
Get a quote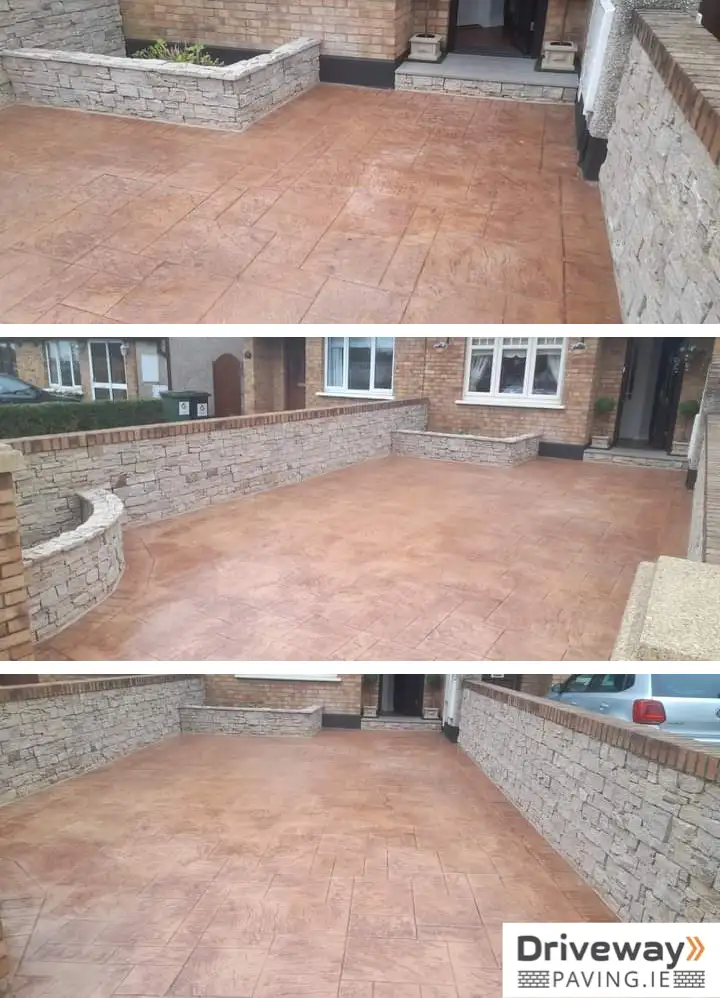 Aesthetics – One of the drawbacks of standard concrete is its lack of versatility when it comes to colour and design. The perfect solution for this drawback was created – imprinted concrete. From colour to design and borders, there combinations are endless to create a unique pattern for your home.
Fast installation – Imprinted concrete is relatively quick to install. Once we commence work on your job, we work only on your job, no chopping and changing between jobs. This minimises disturbance to your home.
No sinking – One or the risks with paving is that if its poorly installed it can sink. There is no risk of sinking with concrete thus giving customers addes peace of mind.
Get a quote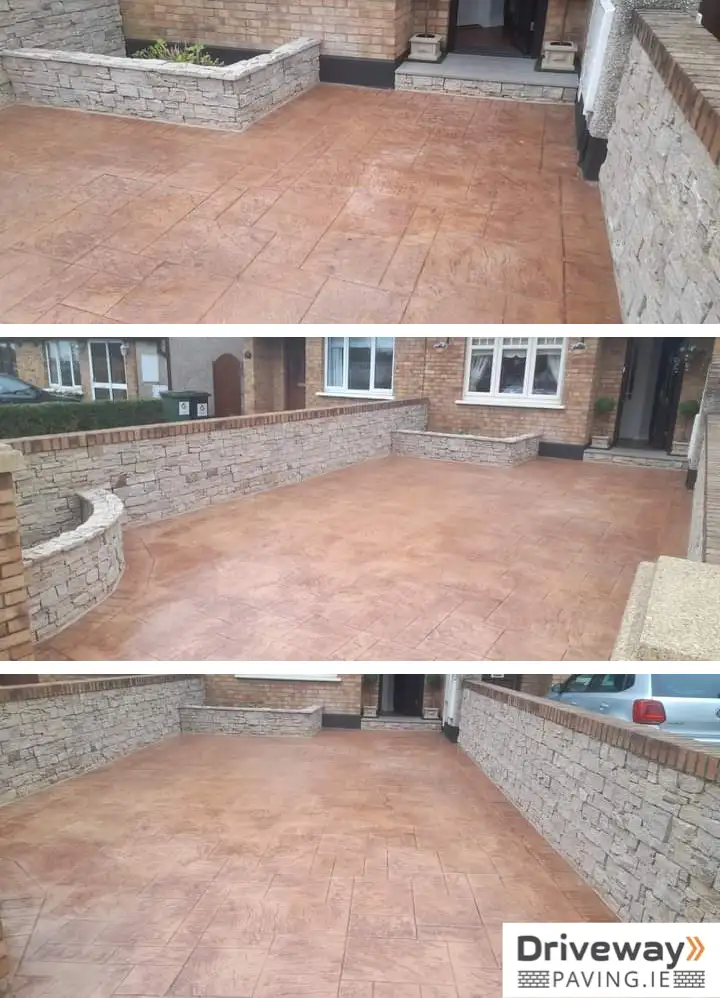 If you decide you would like to consider imprinted concrete for your driveway or patio, we will discuss your available options and offer advice on what might best suit your current landscape.
If you require a free quotation for imprinted concrete, get in touch now via our contact form. Alternatively give us a call or text on 0852175888. You can also reach us by email at info@drivewaypaving.ie.
If you want to learn more about imprinted concrete have a look at our blog in which we discuss imprint concrete in depth.
Click here to view designs and colours blog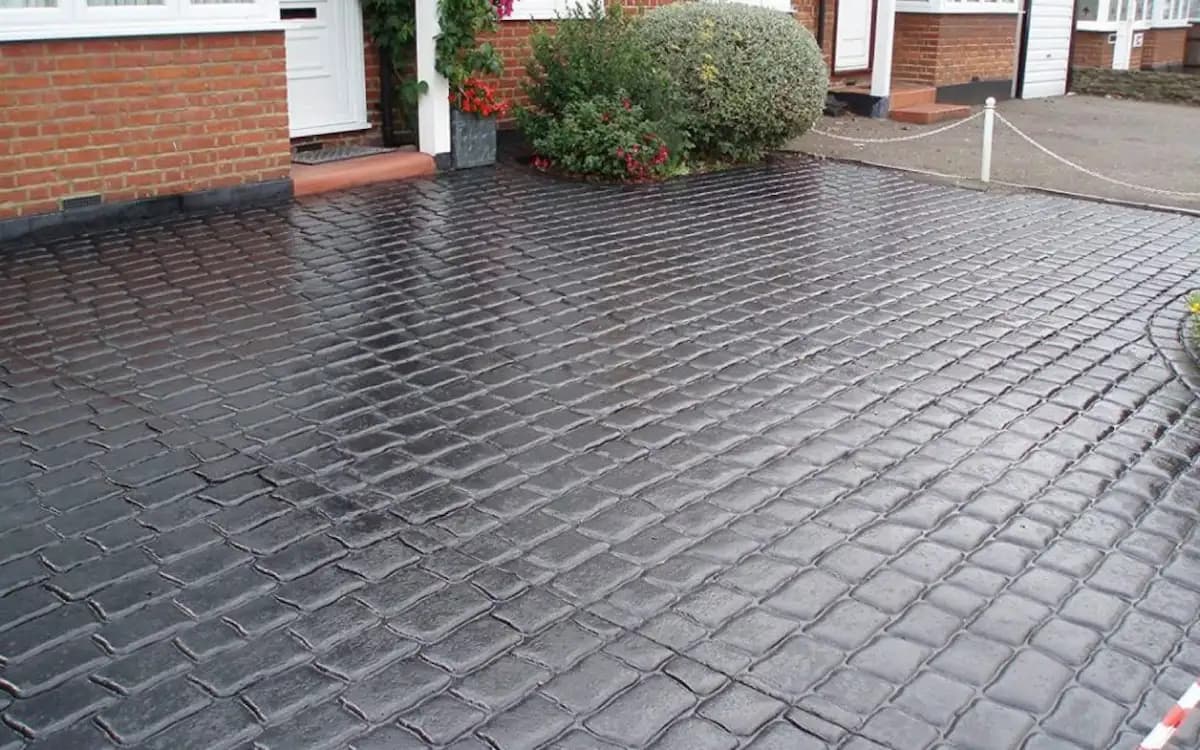 Ready to start your project?
Get in touch with us today and we can discuss your requirements.
We offer free quotations, so why not contact now!
Testimonials
"Highly recommend"
Hired Driveway Paving to do my back patio. Couldnt be happier with the result. From start to finish Tony was easy to communicate with, answering any queries we had. The job was completed in good time and all tidied up after. Highly recommend

Samantha Healy
More Testimonials
Loading...
About Us
Driveway Paving is a Dublin based paving contractor that serves Dublin, Kildare and surrounding areas. We offer a wide range of paving and landscaping services at affordable prices. We offer a complete service; consultation, design, supply and installation. As we are fully registered and have many years of experience in all aspects of paving, you can rest assured that you are guaranteed that the work will be carried out to the highest of standards. We use only the best quality materials supplied by Kilsaran, which have been producing quality products for over 50 years. We take great pride in our work and aim to ensure that our customers are always 100% satisfied with our service.
Copyright 2023 - Driveway Paving | All Rights Reserved