Garden paving dublin
Garden Paving – An Introduction
As part of the exterior of your home, your garden, patio or driveway is the first area of your home that people usually see. An attractive and well-maintained garden gives your home a distinctive appearance, making it stand out from other houses on the street. The best way to ensure that your home's outdoor area is as tasteful as the inside is by paving your garden, driveway, or patio in line with modern garden paving trends.
Want to know how paving can help elevate your home's landscaping? Worry not! Driveway Paving and Patios has compiled the ultimate guide to garden paving in Dublin, complete with answers to any frequently asked questions.
Why You Should Choose Garden Paving for Your Home?
A paved driveway or patio serves as a solid investment in your property in terms of resale value and also has many lifestyle benefits.
Property Value:
Imagine you view 2 similar  houses and are deciding which to buy. One has a messy poorly maintained driveway and overgrown garden. The other boasts an attractive entrance and drive along with a patio and maintained garden which can be used as another large living area. I know I will happily pay extra for the one that is ready to live in and I can enjoy the home both inside and out. Investing in garden paving will help sell your house faster abd also fetch a higher price.
Living Space:
Are you an outdoor person? Like having friends over in summer or just simply like the tranquility of green space. Then garden paving can have huge benefits for your mental and physical health. Getting outdoors is proven to lower stress levels and what better place to get out than into your own back garden. Paving, flower beds, steps, paths, fencing are all aspects of a good garden paving plan and all taken care of by Driveway Paving when you trust your project in our hands.
In terms of physical health, outdoors had benefits for your breathing due to fresh air and if you tend to do some gardening it is great exercise. Many of our customers have found themselves overwhelmed by their overgrown or messy gardens. Once we have completed an overhaul and created a workable and livable space for them, many have told us they fell in love with gardening again, along with outdoor entertaining.
The Visual Appeal
Perhaps the greatest reason why paving is so popular is because of the variety of colours, shapes, and patterns available in paving materials. Paving styles can be entirely customised to complement the design and colour palette of your home. The pure aesthetic appeal that a neat row of pavers provides your home is an important factor to consider; it is distinctive, eye-catching and ultimately increases the value of your house.
Disadvantages of Garden Paving
Cost
A properly installed, professional driveway job can often be quite expensive which can be the deciding factor for many homeowners. However, if you're willing to invest in the design and landscaping of your home, a paved exterior is bound to serve you for a long time and give you a good return on your money, and a better quality of life.
Paving Materials – A General Guide
Whether you are redoing your home exterior or investing in garden paving for the first time, it is important to have general know-how of some common paving materials, so that you can choose the most suitable one according to your unique needs. Below is a guide on some of the most popular garden paving materials in Dublin.
Paving bricks
A standard, classic style and warm red, grey or black hues- you can never go wrong with brick paving. A typical 4 by 8-inch brick can also be arranged into distinctive, fun patterns of your liking, and one popular reddish colouring compliments the greenery of a garden beautifully. Brick paving also works well with other hardscapes and can be used with wood decks and other paving materials. it is also commonly used for border of grass edging, paths and larger slabbed areas.
Gravel
Being easily available, gravel is a solid option when it comes to permeability. it is ideal for filling in spaces in paths and patios.  Gravel is a very popular driveway option as its lower cost than other options particularly for large spaces. For gardens its popular for paths and also flower beds. For flower beds we lay membrane down, then gravel next and plant shrubs of flowers in holes pierced in the membrane.  This method creates a beautiful yet easy to maintain flower bed as weeds are inhibited between the plants.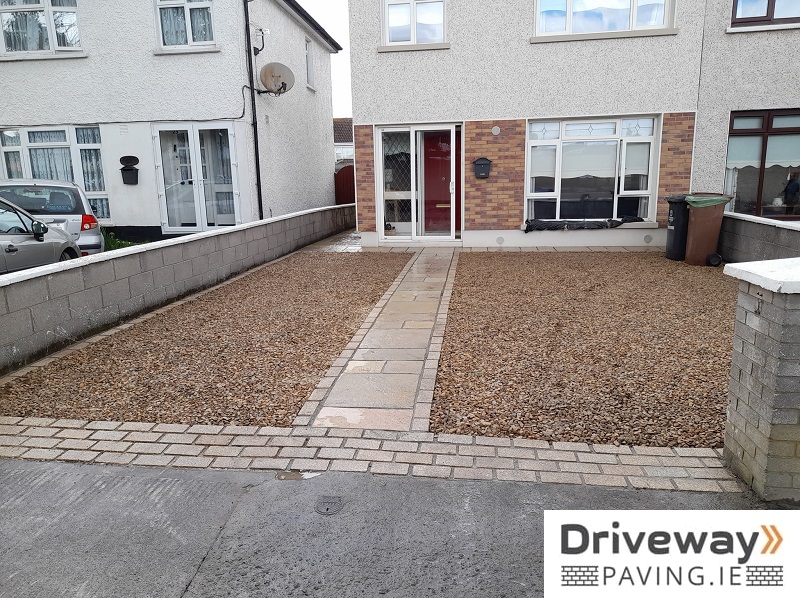 Travertine
If you're a homeowner in Dublin with an outdoor garden pool, this is the best paving material for you. It is easier to maintain than most stones, stays cool to the touch, and is the ideal poolside lining material as its non slip.
Limestone is a natural stone paving option. Its very popular as its easy to maintain once installed correctly. Generally available in yellow, grey and black theres an option to compliment most homes and garden areas.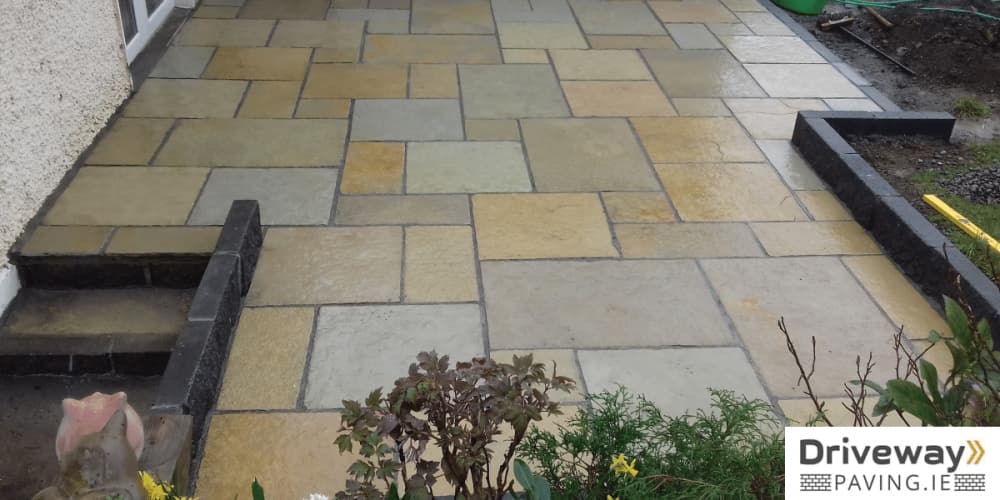 Although granite is one of the most expensive options on this list, it is one of the toughest and most durable paving materials. As it is highly sustainable, resistant to wear and tear, and lasts for several lifetimes, investing in granite paving is quite worth the cost. It cleans up well even after being left untended for long periods.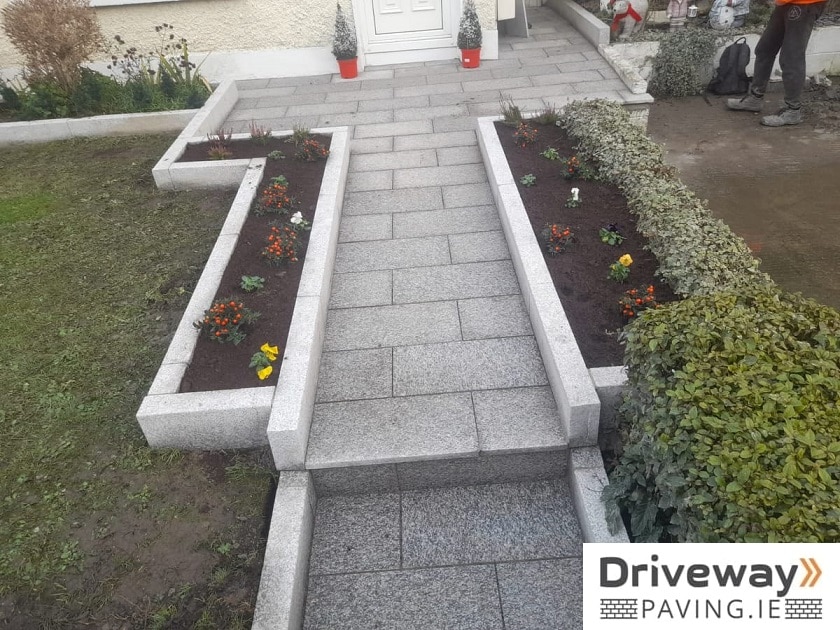 Top Paving Contractors in Dublin
Driveway Paving and Patios are one of Dublin's finest paving contractors. With a highly skilled team, years of expertise in the field, and a top material supplier partnership all under our belt, we are your best bet if you're looking to achieve the garden outlook of your dreams. Be it patios, gardens or driveways, granite, stone or brick, Driveway Paving combines technique, experience and hard work to offer you a complete service, all for competitive prices!
People Also Ask
How much does it cost to lay a patio / driveway in Ireland?
The general cost to lay a patio or driveway in Ireland lies between 45 euros to 150 euros per square meter. However, the cost of paving varies considerably depending on several factors:
The size of your garden/ patio/ driveway
Your choice of paving material
The design
When looking for garden paving in Dublin, it is important to decide on a budget and weigh all your options. Try and determine whether the cost you are paying is reasonable for the end product, and make your decision accordingly.
Its important to note these price ranges are for areas of 90 sq metres and above. Smaller projects do tend to cost more per metre.
What is the best garden paving?
The best garden paving material is typically natural stone or limestone, because of its appearance and durability. However your final choice will depend on many different factors, below is a list of the most popular garden paving options in Dublin:
Natural Stone
Limestone
Sandstone
Brick
Concrete slabs
Granite
Porcelain
What is the best paving for driveways?
The best paving for driveways is commonly said to be either block paving or cobblestone, however we offer customers a wider range including natural stone driveways. When searching for driveway paving ideas in Dublin, you may need to look for materials that are especially suited for driveways, as these areas are exposed to a large amount of weight, pressure and activity every day. Typically, the type of paving can be decided based on your needs.
Block Paving, as it is specifically designed for vehicle overrun and is extremely durable.
Cobblestone, with high resistivity to wear and tear and small sizes, these stones are optimal for paving driveways.
People are often surprised to hear that we install natural stone slabs on driveways. They were often thought of as only for patios. Once correctly installed with the correct base, full mortar bedding and jointed with mortar natural stone slabs are extremely hard wearing as a driveway surface. Theyre also low maintenance as the installation method prevents weeds in the joints.
In short, we urge you to maintain your garden the way you would any other part of your house. If done correctly garden paving can create an extra living area, for dining out, entertaining guests, a gym area, kids play areaor even grow your own organic vegetables in raised beds.  If you do decide to avail of our services, garden paving in Dublin will become much easier and more effective.
Feel free to contact us with any questions you may have or to obtain a free quote. Reach out on 0852175888 or email us at info@drivewaypaving.ie
You can also use our contact form