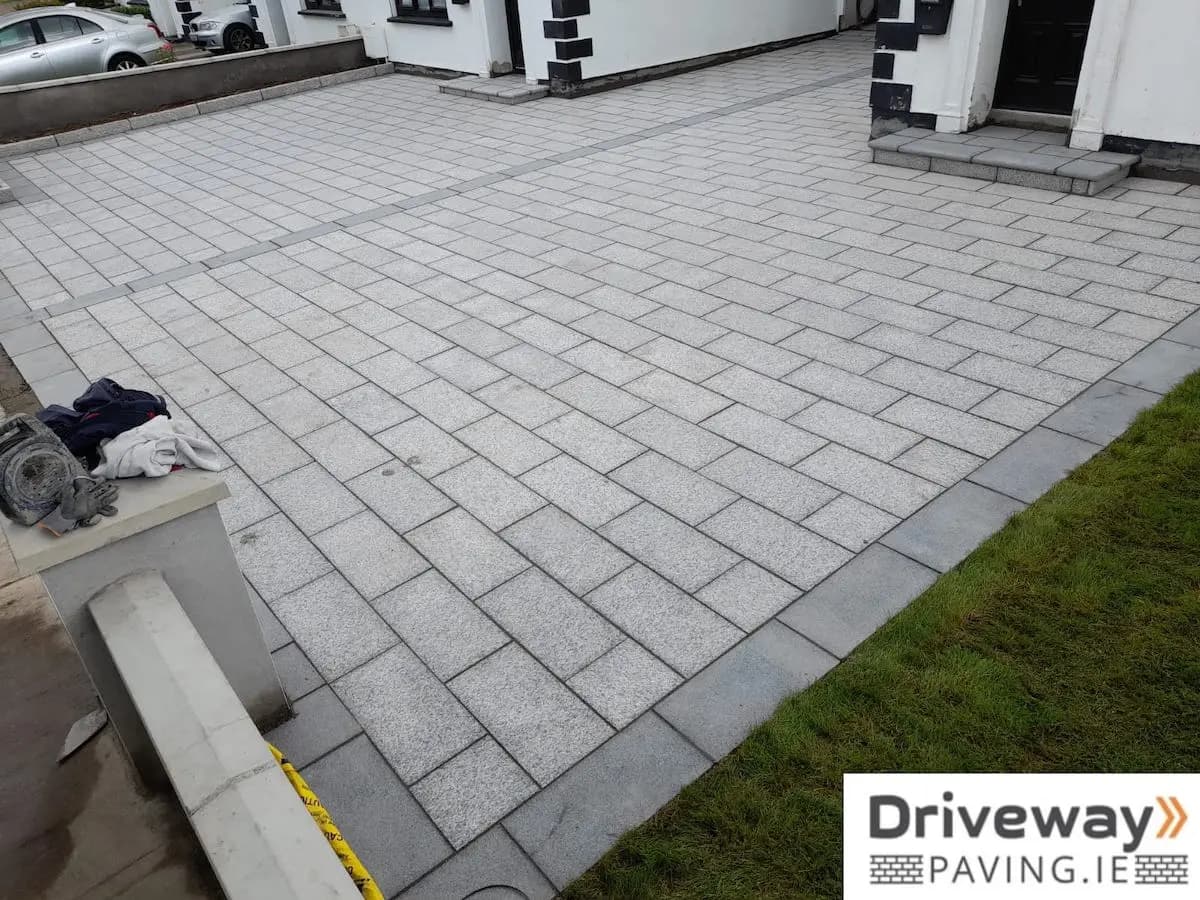 Granite Paving
Give Tony a call, and he with his team will help you to design and build your granite driveway and patio project. Our experience working with granite makes us unbeatable in quality and time in Dublin, Kildare and the surrounding areas.
Granite paving is a top quality option for your patio or driveway. It is very hard wearing, will never lose its colour and with our high-quality installation with wet mortar base and jointing, we ensure that it will last for decades to come.
Granite is a hard wearing natural stone and comes in 3 colours:
Silver Granite
Yellow-Brown Granite
Dark Grey / Black Granite
As it is a naturally derived stone it will never fade or lose its colour. It comes sawn and thus has a textured finish to ensure its not slippy in wet weather.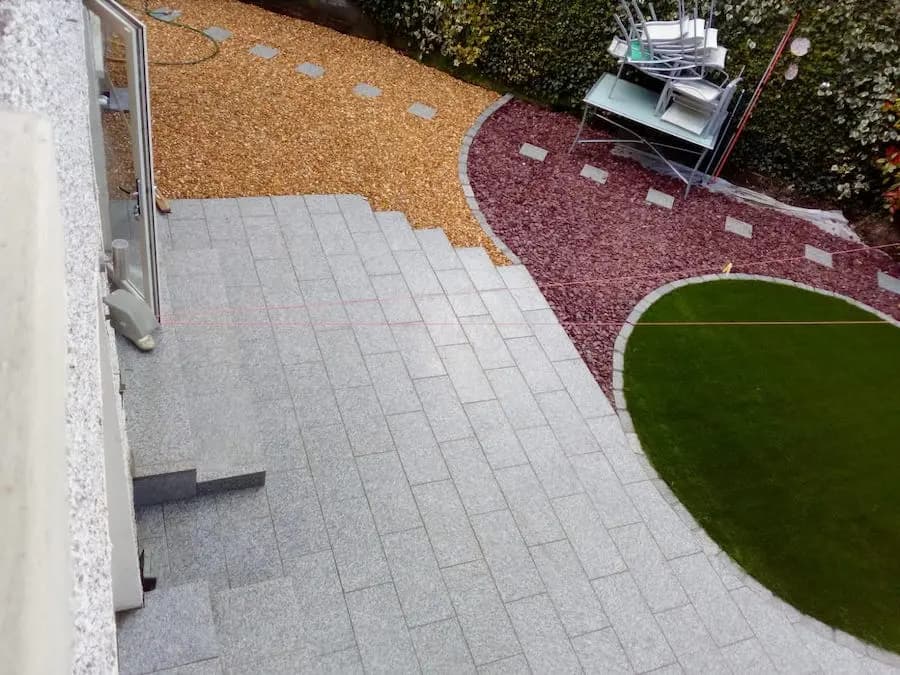 Some examples of granite paving
Sizes
Granite comes in mixed sized packs and in various individual sizes.
Depending on your taste you can choose the granite paving patio packs which come in mixed sizes and include 3 or 4 of the following sizes:
300mm x 300mm
300mm x 600mm
600mm x 600mm
600mm x 900mm
The mixed size patio packs look equally well in both small and large patio spaces.
Alternatively if you prefer a more uniform and structured look you can choose just one size, either
300mm x 600mm
600mm x 600mm
600mm x 900mm
Often for smaller areas we would recommend either the 300mm x 600mm or the 600mm x 600mm as the large 600mm x 900mm slab may make the patio or driveway space look smaller. For large patios and drivewahs, all 3 sizes look equally well so it is a matter of choosing which suits your taste. The design and shape of your patio will also influence whether square or rectangular slabs may look better.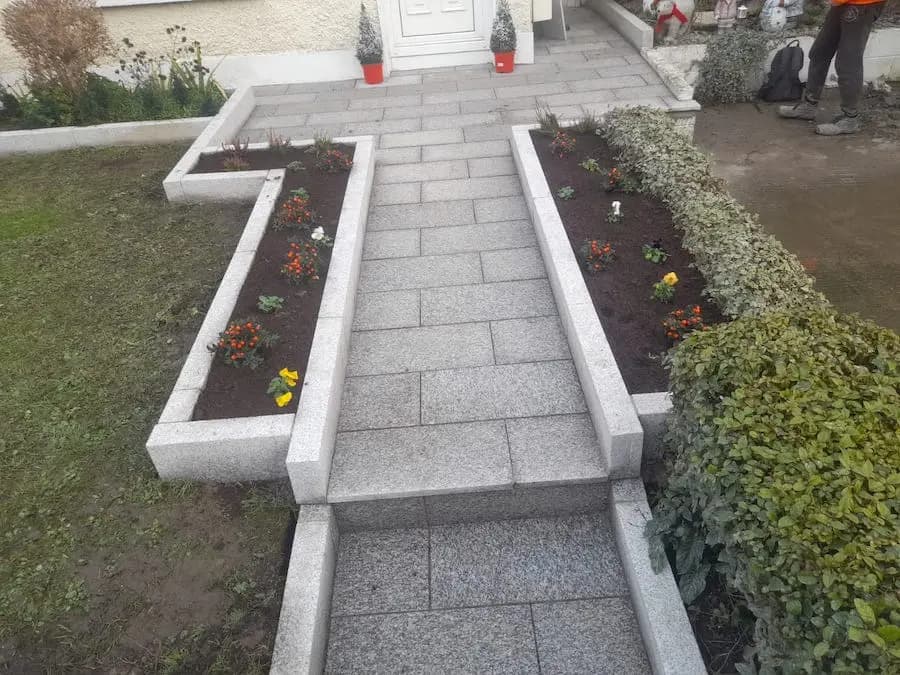 We are here to help you
If you find all the options a bit much to choose from, thats what we are here for. We will call out and view your patio/garden area and help you choose what colour and size will suit the area best. We can show you photos of the various sizes and styles lay on previous paving projects we have completed to help you envisage how your own granite paving space will look when completed.
Granite is one of the best quality natural stone paving products that you can choose and it will stand the test of time due to it's naturally hard wearing nature. We source only great quality stone from reputable suppliers such as Double L.  At Driveway Paving we understand that the laying of the stone is equally as important as the quality of the stone itself, as there is no point in having a beautiful hard wearing stone that will sink and hold water due to bad installation. We have a huge amount of experience in natural stone installation.
Prior to commencing work we will assess the existing ground and drainage levels and advise you if you need any additional drainage in the area or if the existing drainage will suffice. After preparing the ground and installing hardcore, it will be compacted vigorously. Following that, we will lay the granite on a wet sand and cement mortar mix ensuring that the mortar covers the entirety of the underneath of the slab to ensure a strong surface. The joints between the slabs are jointed with wet mortar mix also to guarantee no sinking can occur and to prevent troublesome weeds growing in the joints.
If you are interested in receiving a free quotation for installation of a granite patio or driveway or any other type of paving work, give us a call now on 019039026 or 0852175888 or email us at info@drivewaypaving.ie, or alternatively you can fill out our contact form and we will get back to you.
Ready to start your project?
Get in touch with us today and we can discuss your requirements.
We offer free quotations, so why not contact now!
Testimonials
"Highly recommend"
Hired Driveway Paving to do my back patio. Couldnt be happier with the result. From start to finish Tony was easy to communicate with, answering any queries we had. The job was completed in good time and all tidied up after. Highly recommend

Samantha Healy
More Testimonials
Loading...
About Us
Driveway Paving is a Dublin based paving contractor that serves Dublin, Kildare and surrounding areas. We offer a wide range of paving and landscaping services at affordable prices. We offer a complete service; consultation, design, supply and installation. As we are fully registered and have many years of experience in all aspects of paving, you can rest assured that you are guaranteed that the work will be carried out to the highest of standards. We use only the best quality materials supplied by Kilsaran, which have been producing quality products for over 50 years. We take great pride in our work and aim to ensure that our customers are always 100% satisfied with our service.
Copyright 2023 - Driveway Paving | All Rights Reserved