Garden paving
As summer is arriving, we are all spending more time in the garden. So why not invest in a garden overhaul so you can enjoy your summer days and barbecue get togethers in a beautiful space. Whether you would like to tidy up your existing patio, extend your current paving or invest in a patio from start to finish, here at Driveway Paving we are sure to find an affordable solution for your home.
Driveway paving provides a huge range of garden paving services. We provide our paving services to all of Dublin and Kildare and parts of Wicklow.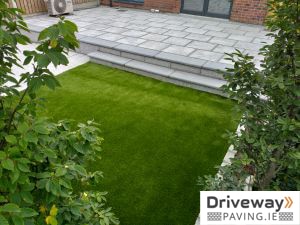 Garden Paving options :
Theres a huge range of garden paving options available:
Cobblelock Paving
An attractive and affordable garden paving option. Comes in a wide range of colours, sizes and designs.
See more: Cobblelock Paving
Natural Stone Paving
A very long lasting and maintenance free option for your garden. Natural Stone Paving includes, limestone paving, sandstone paving, and granite paving. and quartz paving.
Granite Paving
Very hard wearing product that will look as good as new for years to come.
See more: Granite Paving
Sandstone Paving
Low maintenance and a huge variety of colours to choose from. Each sandstone slab has unique hues and tones giving this stone a natural, earthy look.
See more: Sandstone Paving
Limestone Paving
Very hard wearing garden paving option. Available in black, yellow and grey.
See more: Limestone Paving

Quartz
A top quality stone; for a little extra cost you can have add a classy look to your garden. A beautiful and durable stone.
Gravel
A low budget option for your garden. Comes in a variety of sizes and colours to suit your home. Is often incorporated in a garden in addition to paving to create a beautiful design.
See more: Gravel

Concrete
A very hard wearing material; a maintenance free and long lasting garden option. Popular for dog runs.
See more: Concrete
Whether you have decided on what paving you require or need some guidance, you should give us a call now for the most competitive garden paving quotes around.
We take care of everything from start to finish, from design, supply, installation to the finishing touches.
Just leave it all to us and you pay in full on completion of the project, no upfront payments requested.

Quality Paving
We provide a top quality service from start to finish. We look after everything from design to supply, installation and the finishing touches so that you don't have to worry about a thing and just enjoy your new patio.
Give Driveway paving a call now and we will provide a free call out and quotation. We will call out to your home with photos and samples to help you decide on the best option for your patio. We will have a look at your existing garden and will provide you with recommendations on the most suitable paving options to compliment your home
When you choose Driveway paving you are guaranteed top quality products and workmanship. We have numerous happy customers and we'll be happy to provide you with references so that you can confirm this for yourself. When you choose Driveway Paving you're guaranteed top quality materials as we use only the best suppliers.
We only choose longstanding and reputable suppliers, such as Tile Merchant, to ensure that our customers get only the best quality materials for their patios and driveways. Our vast experience coupled with our attention to detail ensure that you are guaranteed a paving job that will last the test of time and you and your family can enjoy for years to come
If you're looking for ideas for your garden, give us a call now on 019039026 or 0852175888 or contact us via email at info@drivewaypaving.ie. You can also use our newly installed Whatsapp button on our homepage for your convenience.