Driveways Dublin
When it comes to your home, often we don't see the value of a first impression. It doesn't matter whether this is your forever home, a home you plan to renovate and sell on, or it is merely bridging the gap between the next move. You want to ensure that your home can make the very best first impression. But does your home do that?
Often we can forget about some of the factors that could be letting our home down in that department. The driveway, the path to the door, the way the windows and doors actually look and even things like the front garden or yard. All of which come together to ensure that your home looks good from an exterior point of view.
The exterior is the first thing people see when they drive up to your home. When it comes to your home in its current condition, what would people say, think or feel when they come across your property for the first time? Will they see a home that is kept nicely, an exterior area that is tidy, a driveway that is neat and level? Or will they see an unkempt garden, a driveway that needs some love and attention, and a pathway that may be filled with moss or residue from the winter months?
Maybe now is the time to start thinking about the front exterior of your property and making some changes to improve the general appearance. With that in mind, here are some of the things we suggest.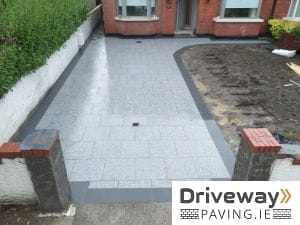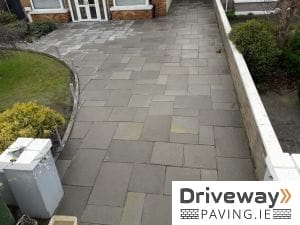 Driveways Dublin – Invest in your driveway
We understand that the weather in Dublin isn't always favourable when it comes to rain and wind, and often harsh conditions can have an adverse effect on our properties. This is when driveways im Dublin can be affected by this in terms of holes, a surface that isn't level or generally has been subject to wear and tear from years of erosion. It may be time to start thinking about making some changes to the driveways and investing in them to be resurfaced or repaired.
A driveway can be a big part of the front exterior of your home, and can often be what catches the attention of passers-by or visitors. You could even make a feature out of it, such as using paving and a different design. The options are endless, but it may be time to think about this as the weather starts to improve.
Driveways Dublin – Driveway Paving makes a first impression
Paving is one thing that we don't think about enough when it comes to the exterior look of our homes. We can often focus too much on the more straight forward options, perhaps a tarmac drive or a concrete path, but paving can add a new design feature to the front area of your home.
Why not consider concrete or natural stone slabs for a rustic look? Maybe an alternative material like granite, sandstone or limestone paving could be an option? The more you think about the small details like patio paving and pathways, the more your home can have the exterior impression reinvented. It could work well in conjunction with a new driveway option for your home.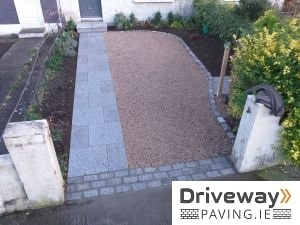 Driveways Dublin – Cleaning up your driveway
Winter often means that pathways, driveways and gardens are full of fallen debris and leaves, so now is the ideal time to clear it all away. The fallen leaves can make the exterior of a property look untidy and unloved, and so clearing them away from the pathways you have leading to the front door, driveways that you use regularly and also the garden which may be grass or flower beds can make a big difference to how your exterior will look. It requires very little investment in terms of money, but a little time and effort can make a big difference to the overall look.
Are you green fingered?
Whether you just have a driveway with a small yard or a huge front exterior garden, you may want to start thinking about getting gardening to make your home look more appealing from the front. An untidy garden, overgrown lawn areas or even things like flower beds with dead bushes in them can give off the wrong impression.
Not all of us are great when it comes to gardening, and many of us don't have a love for it like some people, but small changes such as wedding, a cut grassed section, and even a border around a driveway can make a big difference to the overall appearance of the exterior of your property.
Driveways Dublin – Extend and add to your property
Maybe you want to make more of the space that you have. Many homes in Dublin have side plots to their homes that may be completely unused. Perhaps they are a grassed area or a driveway that has been made without proper installation. It could be the ideal time to get a driveways expert into your property to invest in a new driveway at the side of your home.
This can turn an unused space into something that is more productive and appealing on the eye. It could be a straightforward driveway that you want or something designed with different paving options. Either way, it could make your home look completely different from the front, add value as you make use of the extra space and provide off-road parking, and still look good in the process.
Add to that you could even look at an extension. Maybe a garage, a carport or even something like an extra room to be added to your home. This may require a lot of investment initially, but it could add huge value to your home overall while improving in the way it looks.
Often we don't see the potential that a first impression can make, and this can be especially important if you plan on increasing the value of your home or even selling it on in the future. Let's hope some of these options help you to make a decent first impression with your home for passers-by and visitors.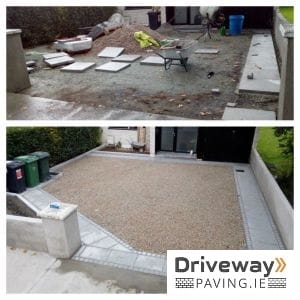 If you require any further information on Driveways Dublin or any other type of paving requirement you might have, feel free to contact us.
If you'd like to learn about the cost of paving a driveway in Dublin, have a read of our driveways cost blog here.
You can also have a look at our suppliers range of paving materials here.