Welcome to Driveway Paving's blog about our cheap paving services. We will discuss our lower price paving options and also demonstrate that sometimes a higher initial investment in a product such as natural stone paving can work out 'cheap' over time.
Cheap Paving
We would like to keep you up to date with special offers on our cheap paving services and new designs and products that we are offering. That's why we have our facebook page. You can follow us here to keep up with our latest news.
Cheap paving – Low cost top quality paving
So what do we offer our customers? We offer top quality paving services at rock bottom prices. You may think that the low cost means we have to lower our quality standards but that is certainly not the case. By dealing with large renowned suppliers such as Kilsaran to secure the best deals, we save on our end so we can pass the savings on to our customers.
When we start a job we stick at it until its finished, no chopping and changing between jobs. This means that we don't waste time travelling needlessly between jobs. Our jobs are completed in a shorter time that many of our competitors so we can move on to the next project. Thus, we can further reduce our labour costs meaning more savings for you, its win win. So our paving is cheap but the quality is far from it.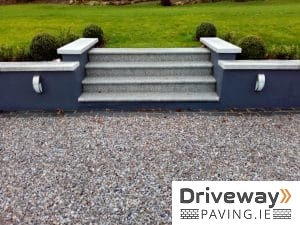 Paving services we offer
Driveway paving – cobblelock, gravel, natural stone, concrete. Our wide range of driveway options are all popular amongst our customers. For those customers working within a lower budget gravel driveways and concrete may be the most affordable options. After those, the next least expensive driveway option would be cobblelock or block paving.
Garden paving
Natural stone paving – granite, sandstone, limestone
Wall building – brick, block, natural stone
Fencing – concrete fencing, timber fencing, panel fencing etc.
Landscaping
For customers who require patio paving we have a range of options available. On the lower end of the budget scale again would have to be gravel, artificial grass, concrete and concrete paving slabs. These options are all quite affordable and the larger the area to be paved the greater the savings we can pass on to our customers.
You may have heard that natural stone paving can be costly, and yes its certainly not the cheapest type of paving we offer. However the cost of natural stone paving can be deceiving. Given its longevity, its highly likely to last you for many years to come, with little maintenance. Since we use the mortar method to joint all our natural stone paving they will not require rejointing in the future. Due to its low maintenance cost, in the long run you may find that natural stone paving is a surprisingly cheap way to have a beautiful patio or driveway for decades.
If you'd like to read more about specific costs of paving you can read our following blogs: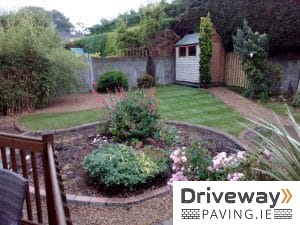 We supply all materials, prepare the area, lay your chosen product, and tidy up the area and take away all waste. This means you all you have to do is enjoy watching the transformation. We look after everything from start to finish.
If you are interested in obtaining a free cheap paving quotation from Driveway Paving, why not give us a call now on 019039026 or 0852175888 or email us at info@drivewaypaving.ie. Alternatively you can contact us via our contact form. Why not try our newly installed WhatsApp button which may be more convenient for you.