Block paving
Block paving is one of the most commonly used methods for driveways, pavements, and patios in Ireland.
All around Dublin, from airports and parks to back yard patios, you will see plenty of block paving applications. Some of them are part of our projects, especially in Dublin where the majority of our clients are.
In this blog post, we are providing you with informative and straightforward information about block paving, including permeable paving. Let's get started.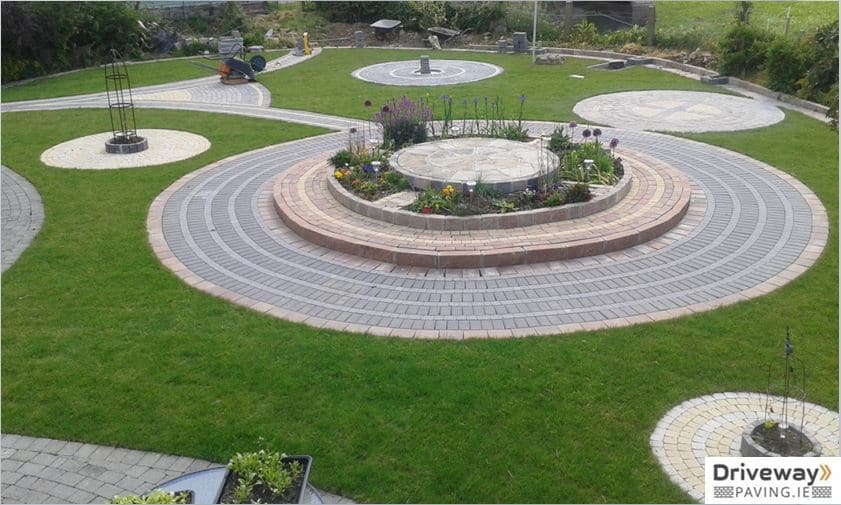 Where can I use block paving?
Over the last decades, block paving has seen rapid growth in popularity in the Irish paving industry. Thanks to mass production methods by companies such as Kilsaran , its cost is affordable for everyone. And that is why today we can use block , brick or cobblelock paving everywhere. From freight yard with heavy loadings and pressures imposed upon the surface, to back yard patio with significantly lighter use.
Here you can have a look at our cobblelock patio and block paving driveway projects we have completed in Dublin.
What are the types of block paving?
As you already know, there are different paving projects, and each of them requires specific standards depending on the proposed use of the area. For example, on an airport taxiway, because of the continuous and heavy use, the most suitable and durable block is a 100 -120 mm thick paving block.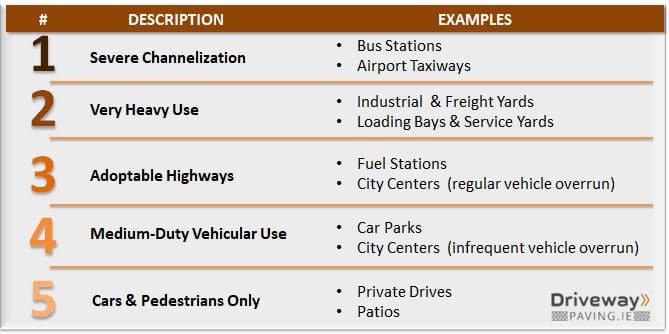 Based on loading and stress requirements, pavements are categorized. The table below illustrates the different categories of pavements:
The categories are sorted in descending order in regards to the load they can support. On the 1st category are the severe channelization projects where the loading and stress durability must be the highest. Cars and pedestrians on the 5th category include driveways, patios, and all the paths around your house and garden.
What are the types of paving blocks and bricks?
There is a vast variety of blocks and bricks available on the market. Abundant shapes, sizes, colours, and textures allow you to create unique combinations. Blocks come in a wide range of sizes, and that will enable you to customize your design. You can explore many layouts and designs – no need to stick to traditional courses or chequerboard layouts. Make your patio or driveway unique, a part of your house that you will enjoy stepping on and spending time with family and friends.
What are the types of paving blocks and bricks categorised by material?
The typical paving bricks' composition consists of concrete or clay. The first one is a porous form mix of small stone hardcore, dyes, cement, and sand and other materials. On the other side, the clay bricks are hard-backed in a fired kiln.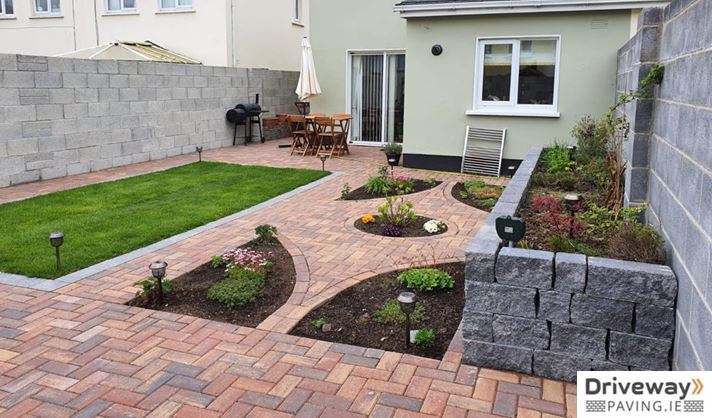 Concrete Blocks
The dimensions of a typical concrete block are 100mm x 200mm x 50-100mm, and that means that for the block paving of a one square meter surface, we need 50 blocks. This standardized size makes it easier to use blocks from different manufactures in a later phase in case that we can not find from the initial supplier. Some blocks have two presentable faces, but the majority of the rectangular blocks have only one. Concrete blocks' colour is not natural – it is achieved by concrete chemical dyes. The quality of the synthetic colour is one of the main factors that sets the price of the block.
Through-colour and face-mix
For the through-colour concrete paving blocks, the manufacturing process used to produce colour relies on placing all of the concrete into the mould in one operation and then pressing for the compact and creation of the block. Thanks to that process of manufacturing, the colour is present throughout the whole block.
On the other side, the face-mix blocks have their top part coloured with high quality and the lower part with uncoloured baking mix. These two parts are pressed and compacted to create the final block that is cheaper than the through-colour, and for its production, there is the possibility for recycled aggregate to be utilised.
Clay Pavers
Clay blocks are much harder than the concrete ones to cut, and their colour is completely natural. These characteristics make them stable and not subject to fading. Moreover, the most frequently used sizes for block paving are 100-105mm x 200-215mm x 60mm, and that means that you will need approximately 50 units per square meter of blocks for your construction. And the fact that the most clays are manufactured with two presentable faces allows them to inverted to replace damaged spots on paving.
What are the types of paving blocks and bricks based on thickness?
On the market, blocks and bricks come in a range of thicknesses from 40mm to 100mm. For a particular order, you can get blocks of 120mm thickness that are suitable for exceptional applications.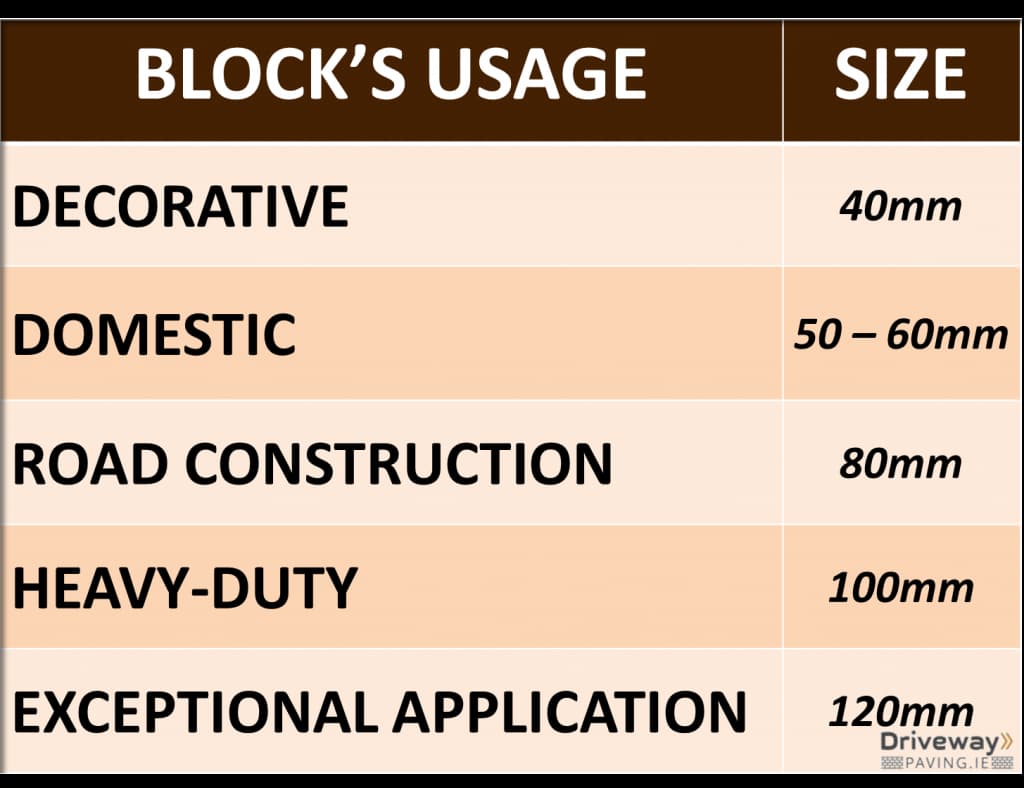 Blocks and bricks with thickness 40mm are for decorative solutions. The most common for domestic applications are the ones with thickness from 50mm to 60mm. These are the most popular and commonly used block paving in residential Dublin applications. These ones are used by the contractors and are ideal for your back yard patio paving, driveway and any other construction around your house. The last three categories are for heavier applications that require high loading durability like in the areas of ports and airports.
Permeable Paving
Permeable Paving has become more popular in recent years. We get more and more inquiries from people searching for a permeable paving contractor in the Dublin area. Permeable paving is a type of paving that allows the water to flow through the surface and soak into the ground beneath.
There are various types of permeable paving but the most common is permeable block paving. This is partly due to the wider availability of permeable paving from well known suppliers who advertise the advantages of permeable paving solutions and secondly due to planning permission conditions. In Dublin the rapid growth of housing in recent years has led to many planning permission decisions including the condition that the driveway are must be permeable. The planning documents state that this is to ensure that no surface water from the driveway will be run into the water drainage system. Thus this helps prevent overloading Dublin's waste water systems during wet weather.
Permeable block paving is the ideal solution to meet this specific planning criteria as it is fully permeable to water and allows any rain and surface water to permeate the ground underneath the paving. Permeable Paving is available in a variety of designs and colours so you don't have to sacrifice aesthetics around your home. Attractive and practical, permeable block paving is the obvious choice for many homeowners in Dublin.
What are the most popular patterns for block paving?
Block paving patterns can be laid in several different formats. Apart from your personal design preferences, you should also consider the load-bearing areas like driveways and parking spaces before you decide about the applicable pattern.
Below we present you illustrated the 4 most popular paving patterns for your path, patio, and driveway.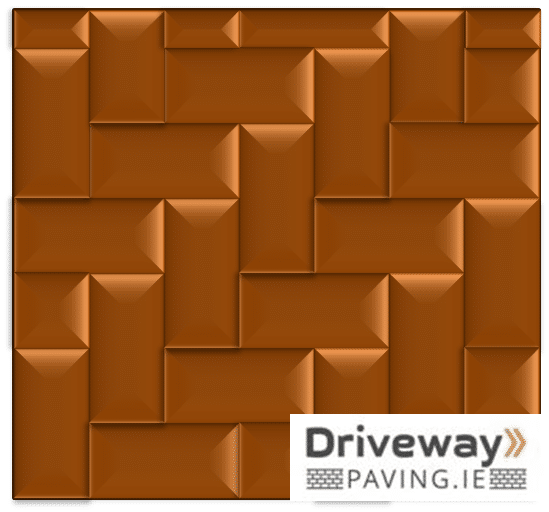 Herringbone at 90 degrees is considered to be the easiest block paving pattern in its laying down. As you can see from the picture on the left side, the block paving is installed in an interlocking pattern. Important to mention is that with this method, there are no leftover blocks to be thrown away because even the smaller parts can be used to fill the sides of your patio or block paving.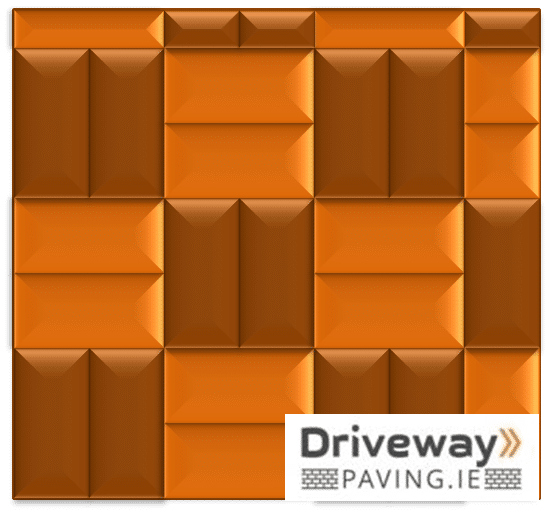 Basket Weave is a simple pattern that fits perfectly for driveways with a long, straight edge that does not require much cutting for its completion. A more eye-catching style can be achieved by combining different sets of colours. Also, combinations with octant and circle features can create beautiful designs.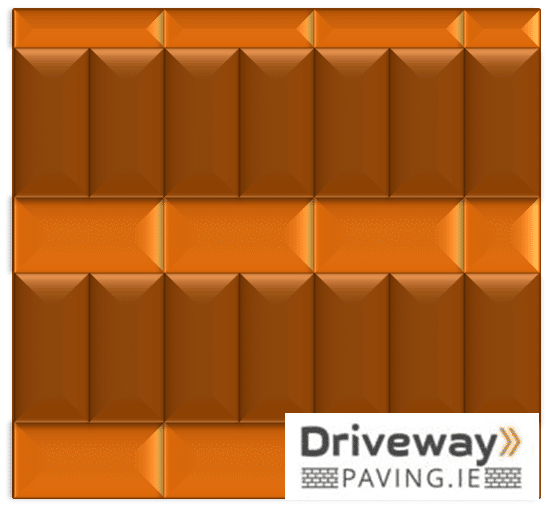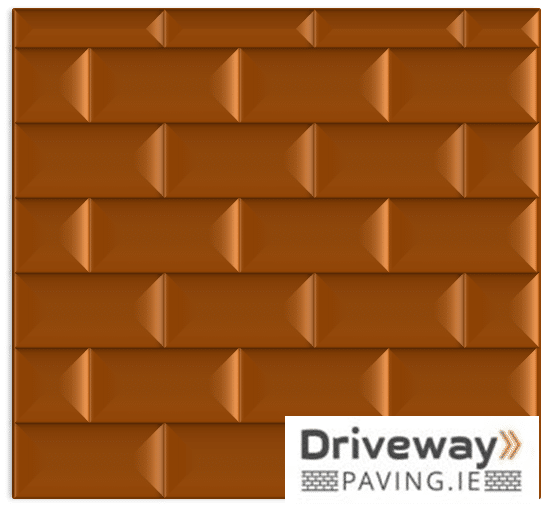 Stack Bond (on the left) and Stretcher Bond (on the right) paving patterns involve only one size of blocks and still can provide impressive design solutions if you mix different colours. That could even give you the possibility to create symmetric drawings on your patio or driveway. Just leave your imagination free!
What are the advantages of block paving?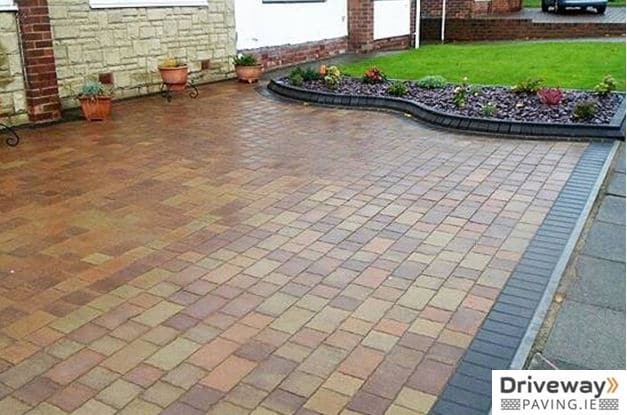 Block paving has various advantages that go beyond the visual upgrade that a correctly installed patio or driveway gives to your property. Below we will list 5 of the most important advantages:
Low maintenance cost thanks to blocks composition and size. You can lift them up and replace them whenever needed. As a result, post-installation remedial work can be done easily, quickly and without leaving any lasting mark on your driveway or patio.
Environmentally friendlier compared to other surfacing paving options. The porous nature of the blocks provides space for water to rest during the rainy periods that are quite often in Ireland. Also, the water is being drawn by the material of the block and not staying on the surface.
Moreover, block paving is very durable, and you can expect it to last at least 25 years. Its hard-wearing composition makes block paving the perfect solution for patio and driveway applications with frequent motor and pedestrian traffic. Heavy industry areas use block paving solutions because frosts, salts, oils, and most chemicals do not have any effect on them.
The versatility of blocks and bricks makes them suitable for various applications. As we already mentioned above, blocks come in various sizes and colours. By combining them according to the needs of the project and your personal preferences, you can get plenty of paving designs.
For the block paving installation, the use of specialist machinery is not necessary unlike with other applications. That reduces the cost of block paving significantly, especially for small areas.
What is the cost of block paving?
For your block paving construction project, there are some parameters to consider while trying to make your budget. The price can vary depending on the size and material of the block you prefer to use on your patio or driveway. Also, the surface of the area you want to pave is a very important parameter. Moreover, you should consider the design, the degree of complexity and the preparation of the base.
Contact us via our online form now for your free quotation! If you'd rather chat to us give us a call on 0852175888.
If you'd like to learn more about the cost of paving a driveway, click here or the cost of paving a patio click here.