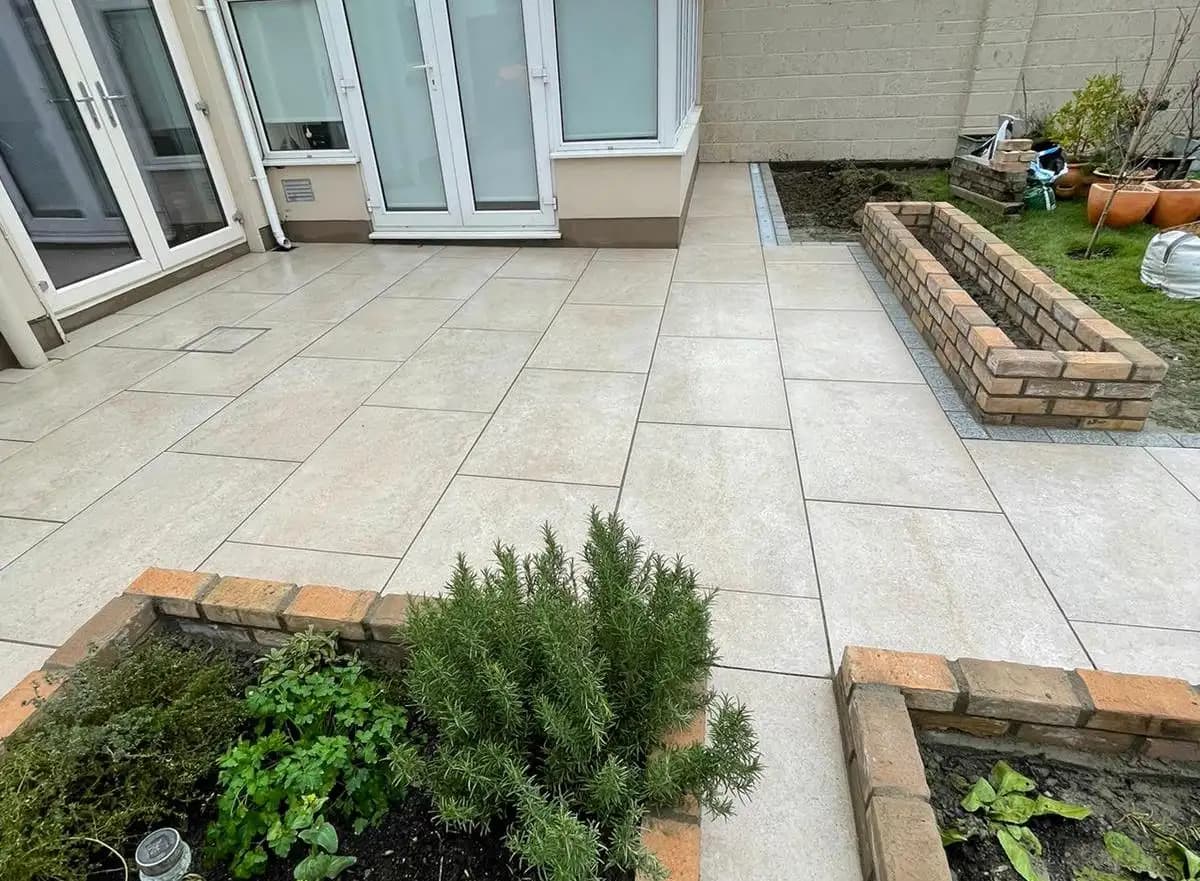 Porcelain paving
Our modern constructions with porcelain can add unmatched value, quality and elegance to your house entrance. There is a wide variety of designs and materials available. Choose yours, and soon you will have the most awesome patio in Dublin!
Porcelain Paving is becoming more and more popular in recent years. Porcelain paving is one of our highest recommended products for your driveway or patio. The addition of porcelain paving to your home will add an unquestionable elegant style. Porcelain paving costs a little more than your average paving , costing between €110 and €140 per square metre. The price reflects the quality of this superior product.
Porcelain Paving has many unique characteristics making it an ideal choice for patios and driveways:
Non-porous – porcelain outdoor tiles are non-porous so they wont absorb moisture and thus they are resistant to moss growth.
Frost Resistant – porcelain tiles are fully frost proof so are ideally suited for our Irish climate.
Anti-slip – porcelain tiles have an anti-slip surface which is also very durable.
Aesthetics – porcelain textures and colours naturally stand out making a statement in your garden. Their precisely cut edges and square or rectangular sharp angles make for a modern and beautiful outdoor space.
Get a quote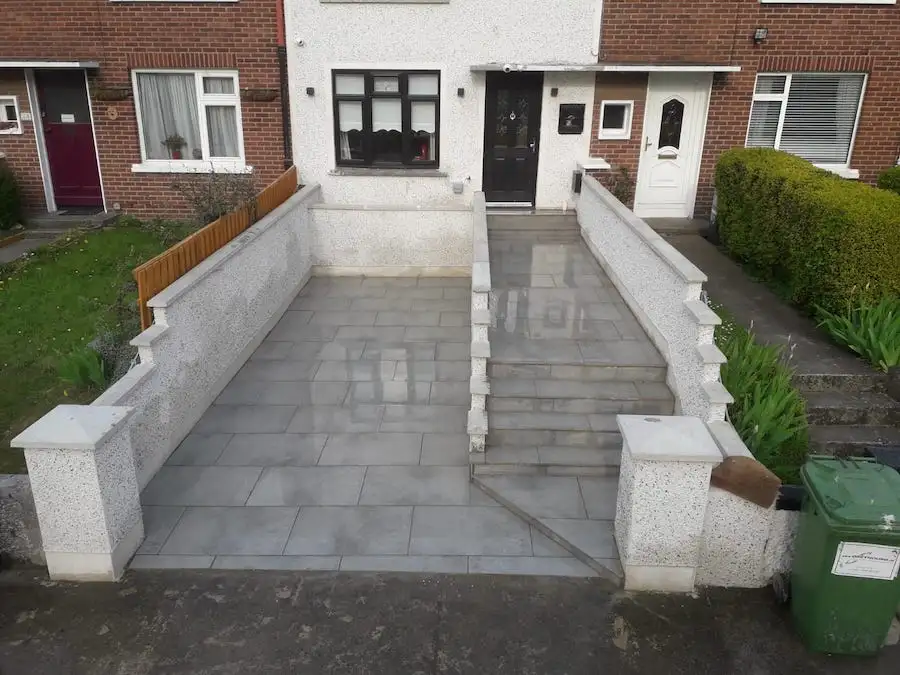 Porcelain paving tiles come in the widest variety of sizes and colours from all our paving options. You shouldn't have any difficulty finding a colour to complement your home from our vast list below:
Latte
Almond Beige
Cappucino Beige
Cappucino Grey
Biscuit Beige
Biscuit Grey
Biscuit Dark
Travertino
Mint Fossil
Mint Cream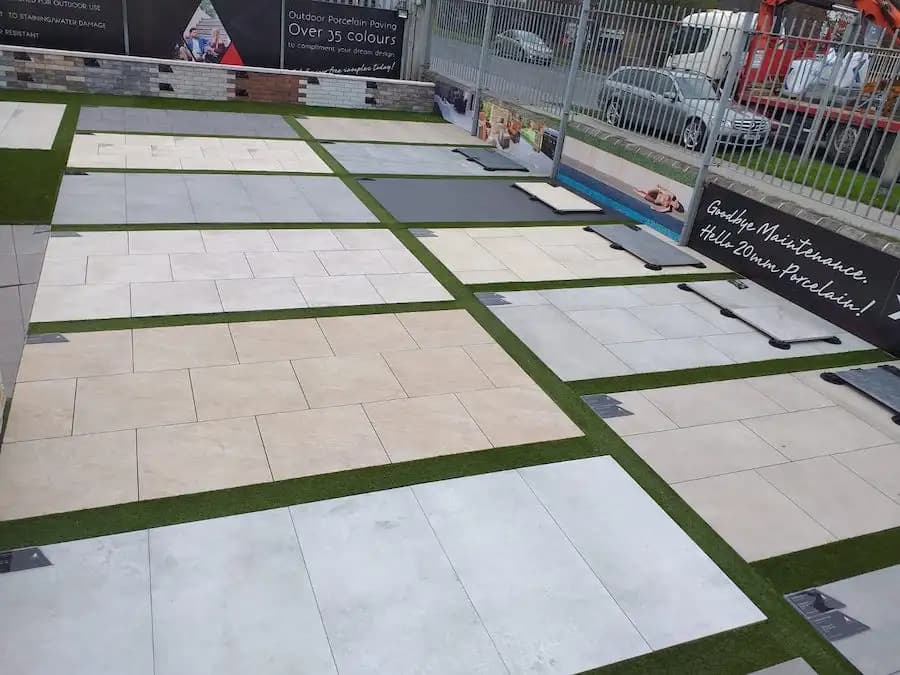 Belgian Grey
Pepper Dark
Grey Quartzite
Ardosia Multi
Ardosia Black
Basaltino
Bluestone Light
Bluestone Light Grey
Bluestone Grigio
Bluestone Dark
Cemento Light
Cemento Dark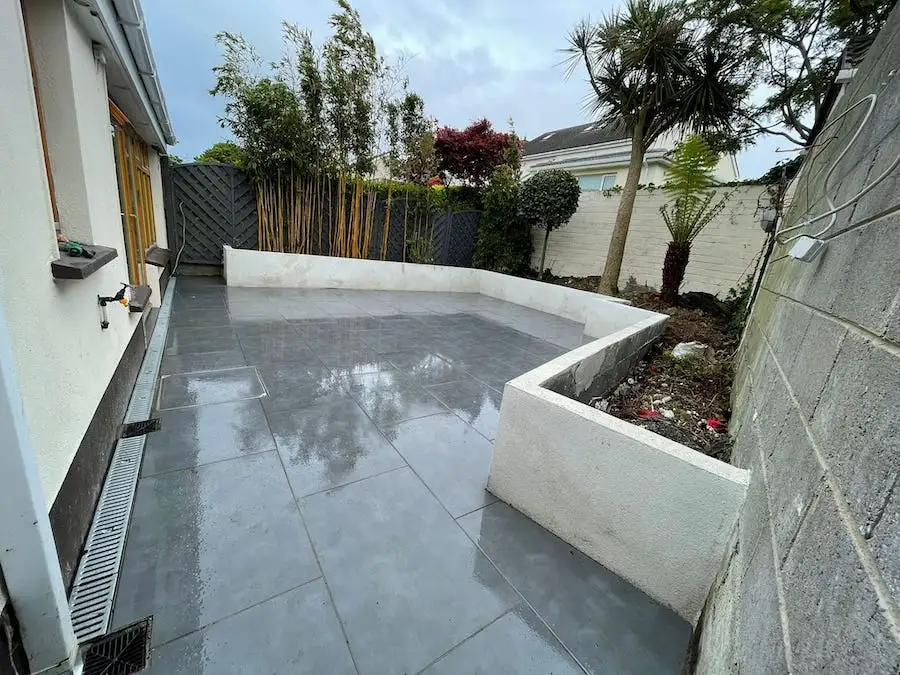 Avorio
Beige
Grigio
Scuro
Chiaro
Reverso Beige
Reverso Grigio
Legno Silver
Legno Miele
Legno Grafite
This is an example of one range use from our supplier Double L. There are even more variations of porcelain available but we find this one to be comprehensive and we usually find something from the above range to suit our customers taste.
Porcelain paving installation
Porcelain paving is not a DIY job. It requires meticulous cutting and installation to ensure the workmanship does this superior product justice. Make Driveway Paving your chosen porcelain paving contractor in Dublin:
Our vast experience specialising in natural stone and porcelain installation puts us in the perfect position to install porcelain paving patios and driveways in Dublin. Both natural stone and porcelain are installed in the same way and this method is our speciality.
We install porcelain using a wet mortar bed and most importantly we use wet mortar in the joints between the slabs. There are many other inferior jointing products on the market that can be used for speed and ease of inatallation but the mortar method is by far the best although it takes more time and skill. Mortar joints wont wash away with powerwashing unlike readymix grout.
We have the right equipment. This is crucial to ensure a top quality porcelain job. We have a heavy duty plate compactor to compact the base stone. We have high power Stihl consaws and Hitachi angle grinders with blades specifically for porcelain slabs. The special blades and high speed rotary power saws ensure precise cutting and no chipping. As porcelain is a tough material, the wrong tools can lead to broken slabs and messy, unsmooth cuts.
We have a proven track record. We have many happy clients who are currently enjoying their magnificent porcelain garden areas. We can provide references and you can also view our authentic google reviews (insert link).
Why not have a browse of our Porcelain Gallery to see some of our completed jobs.
If you have unanswered questions about paving you may find our FAQ pages useful.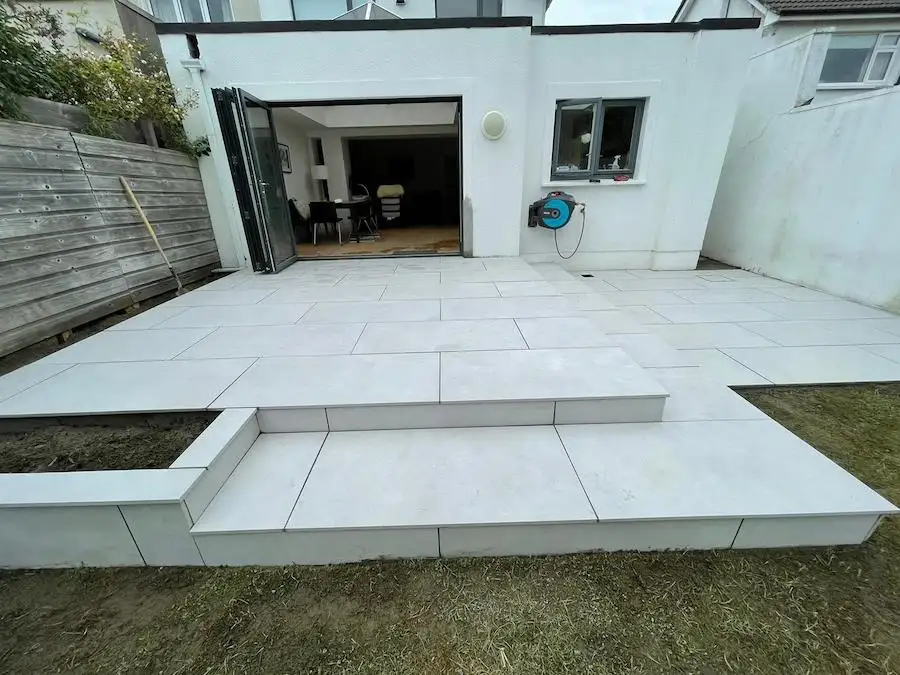 Ready to start your project?
Get in touch with us today and we can discuss your requirements.
We offer free quotations, so why not contact now!
Testimonials
"Highly recommend"
Hired Driveway Paving to do my back patio. Couldnt be happier with the result. From start to finish Tony was easy to communicate with, answering any queries we had. The job was completed in good time and all tidied up after. Highly recommend

Samantha Healy
More Testimonials
Loading...
About Us
Driveway Paving is a Dublin based paving contractor that serves Dublin, Kildare and surrounding areas. We offer a wide range of paving and landscaping services at affordable prices. We offer a complete service; consultation, design, supply and installation. As we are fully registered and have many years of experience in all aspects of paving, you can rest assured that you are guaranteed that the work will be carried out to the highest of standards. We use only the best quality materials supplied by Kilsaran, which have been producing quality products for over 50 years. We take great pride in our work and aim to ensure that our customers are always 100% satisfied with our service.
Copyright 2023 - Driveway Paving | All Rights Reserved