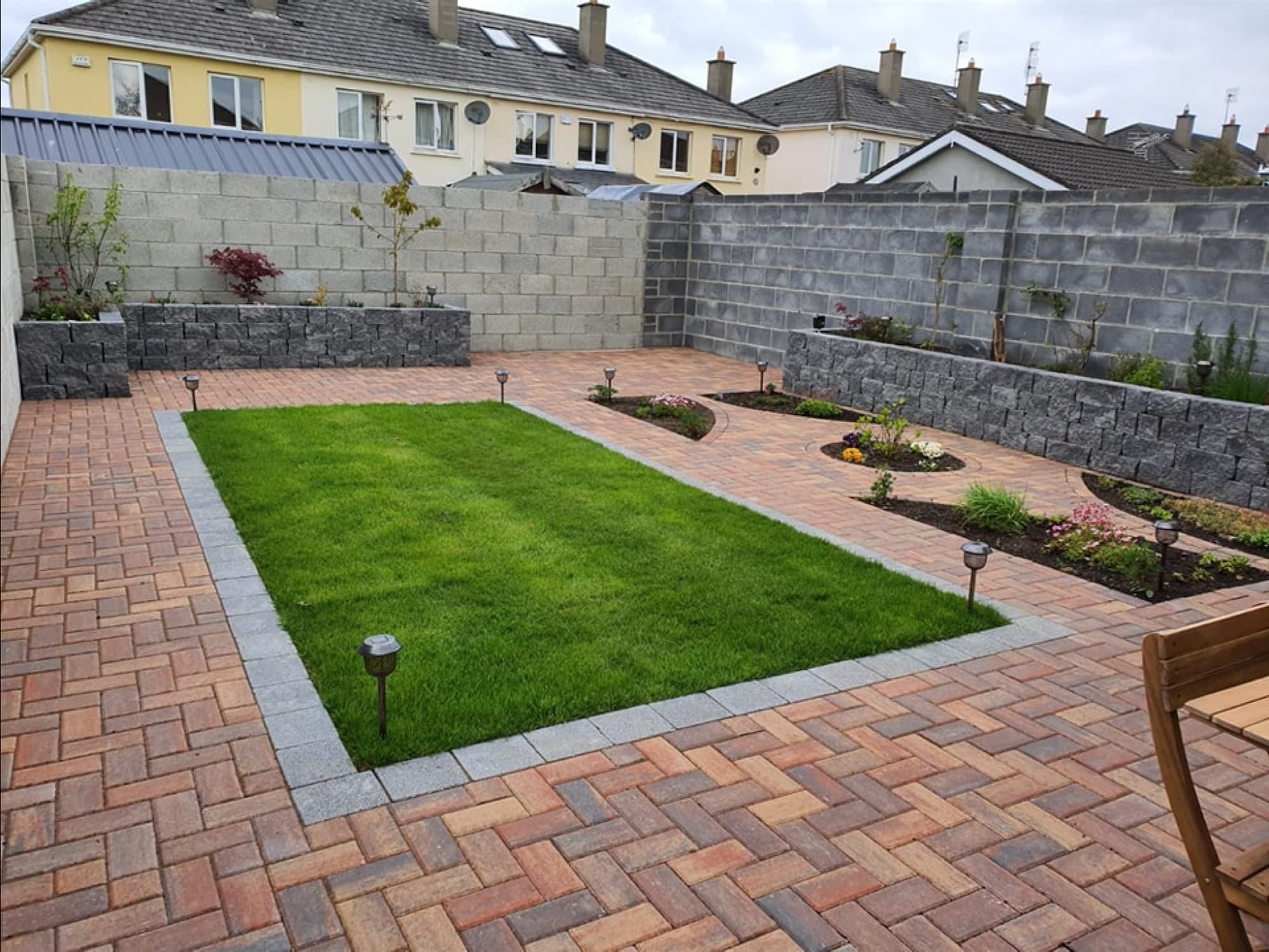 Cobblelock Paving
Cobblelock paving comes in different sizes and colours. Give us a call now and we will help you design your block paving from start to finish!
Cobblelock paving is a popular, versatile and affordable option for your garden or driveway. When installed correctly block paving provides a beautiful lasting finish that will enhance the aesthetics and value of your property for years to come. There is a range of styles, sizes and colours to choose from so you are sure to find the perfect cobblelock to suit your driveway or garden. In general cobblelock blocks are smaller than paving slabs or natural stone slabs. They come in varying sizes but some of our most popular choices are 100mm x 200mm and 150mm x 170mm blocks.
Why not have a look at our cobblelock gallery so you can get an idea of some of the paving brick options we offer? With the range of options available we can ensure you will find the perfect cobblelock option to enhance your property. You can view our block paving suppliers range on the Kilsaran website.
Cobblelock paving - block paving
Block paving can be lay in a variety of ways depending on your personal taste and this will add an element of uniqueness to your project. In addition to the basic pattern we have several designs such as circles and diamonds which can make your driveway stand out from the others. Single steps, double steps, semicircle or square paved steps are all available from Driveway Paving and give a tasteful finish to any patio or driveway. We are more than happy to arrange to view your driveway or garden, offer advice and ideas and show you samples to choose from.
Driveway Paving has an abundance of experience as a cobblelock paving contractor. We can tackle any job, big or small. We handle everything from start to finish; preparation, supply, installation and the finishing touches so you don't need to worry about any aspect of the cobblelock project.
Cobblelock Gallery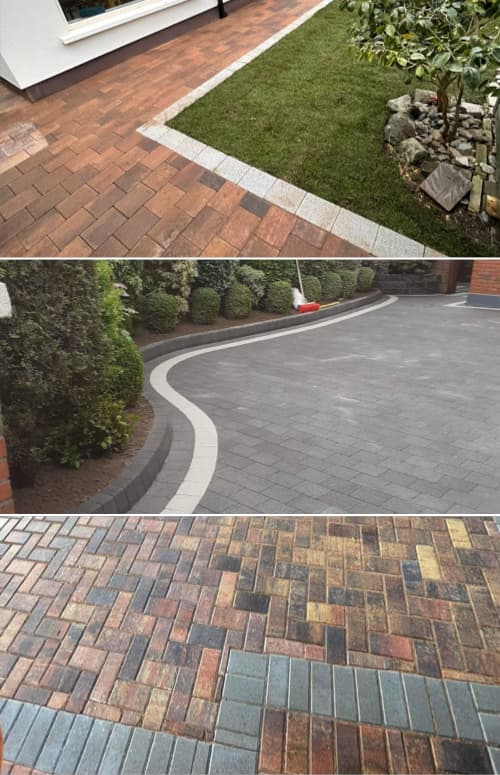 Cobblelock Paving Installation
Cobblelock is commonly used for driveways and also less commonly for patios and paths. It is lay on sand, and the narrow joints are filled with a thin sand called silica sand. This sand prevents weeds from growing in the joints and also helps the paving blocks to be more stable and prevents them from moving.
Firstly the preparation stage for cobblelock is similar to all other types of paving. Following a careful survey of the ground, we dig the ground to the required depth. We install drainage as necessary. Then we lay our 804 hardcore layer and compact it very well using a heavy duty plate compactor. Then we spread our sand layer and level it to a smooth level ready for the cobblelock to be installed.
We lay the cobblelock in your chosen design. This could include laying the block paving at 90 or 45 degrees to your house or entrance, circle designs, diamond designs, and borders. We usually lay all the full cobbles first, followed by the cut paving blocks. Once they are all lay and cut in then we spread our silica sand, brushing it carefully into all joints. We then compact the paving using the plate compactor one final time to ensure theyre all level and solid.
If you are looking for a free call out and quotation for your driveway or garden, give us a call now on 085-2175888 or 01-9039026. Alternatively you can email us at info@drivewaypaving.ie or fill in our contact form and we will get back to you as soon as possible. For your convenience, we have recently added a whatsapp button to our homepage so you can get in touch directly.
Should you be interested to learn more about paving, have a read of our Paving FAQ page where we answer our customers most common questions.
Get a quote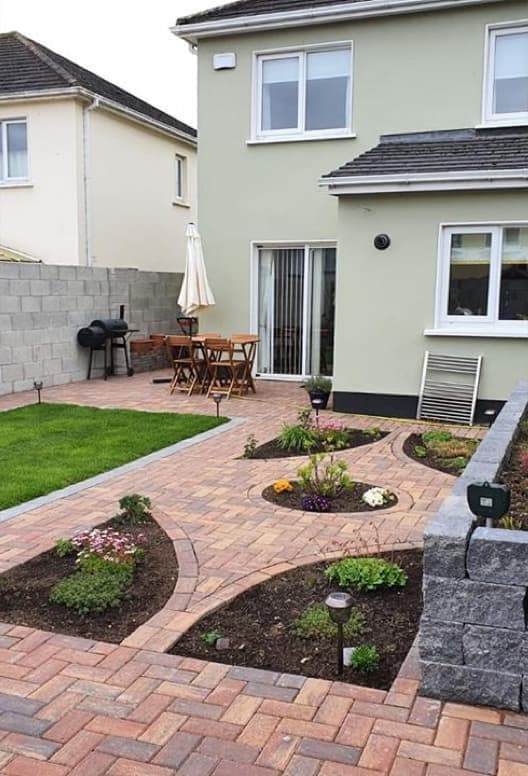 Ready to start your project?
Get in touch with us today and we can discuss your requirements.
We offer free quotations, so why not contact now!
Testimonials
"Highly recommend"
Hired Driveway Paving to do my back patio. Couldnt be happier with the result. From start to finish Tony was easy to communicate with, answering any queries we had. The job was completed in good time and all tidied up after. Highly recommend

Samantha Healy
More Testimonials
Loading...
About Us
Driveway Paving is a Dublin based paving contractor that serves Dublin, Kildare and surrounding areas. We offer a wide range of paving and landscaping services at affordable prices. We offer a complete service; consultation, design, supply and installation. As we are fully registered and have many years of experience in all aspects of paving, you can rest assured that you are guaranteed that the work will be carried out to the highest of standards. We use only the best quality materials supplied by Kilsaran, which have been producing quality products for over 50 years. We take great pride in our work and aim to ensure that our customers are always 100% satisfied with our service.
Copyright 2023 - Driveway Paving | All Rights Reserved