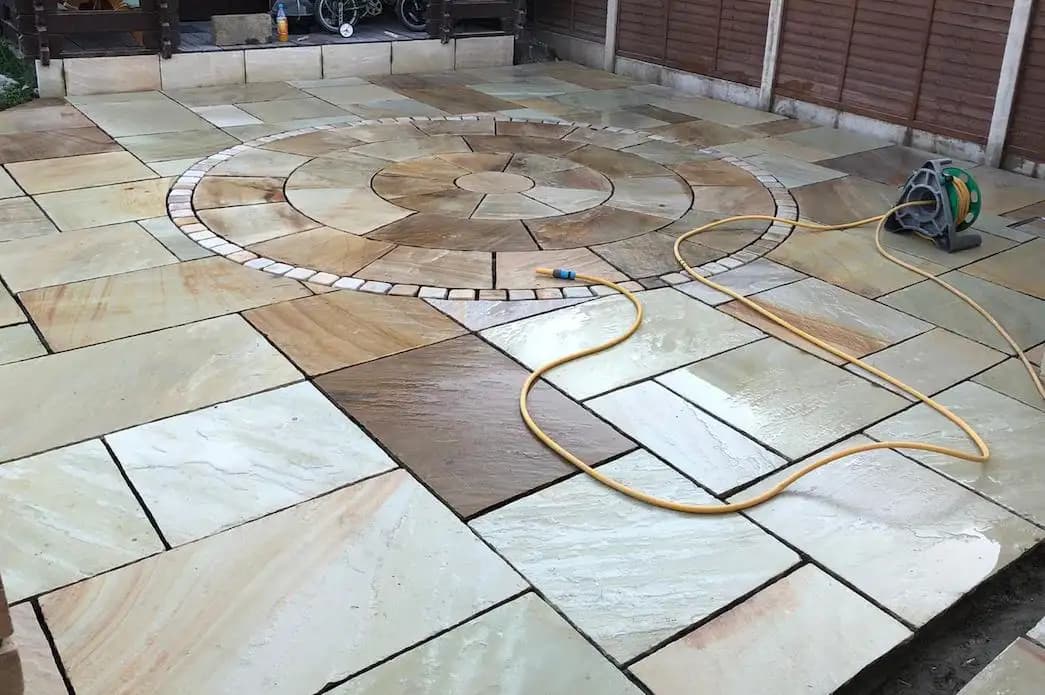 Sandstone Paving
Sandstone is a great choice for your patio and driveway, and we ensure high-quality and long-lasting projects. If you want a new touch for your house in Dublin and the surrounding, call us to get started asap!
Indian sandstone paving
Indian Sandstone paving is a highly attractive option for your patio, garden or driveway. It accentuates any property and creates a beautiful long lasting patio or driveway.
It is the most versatile natural stone as it comes in a wide variety of colours. Each slab comes with its own shade and hue giving sandstone its unique earthy look.
Sandstone Paving Sizes
It is available in mixed sized patio packs with 4 sizes:
300mm x 300mm
300mm x 600mm
600mm x 600mm
600mm x 900mm
Sands tone Paving Colours
It comes in  a wide range of colours including:
Mint Fossil
Rippon
Raveena
Mint Venetian
Camel Dust
Raj Green
Kandla Grey
With such a variety of colours available you are sure to find the perfect colour to suit your taste and property.
Have a look at our natural stone gallery to see some beautiful Indian sandstone patios and driveways. If you would like to view the slabs lay, you can see them in Tile Merchants showroom in Ballymount.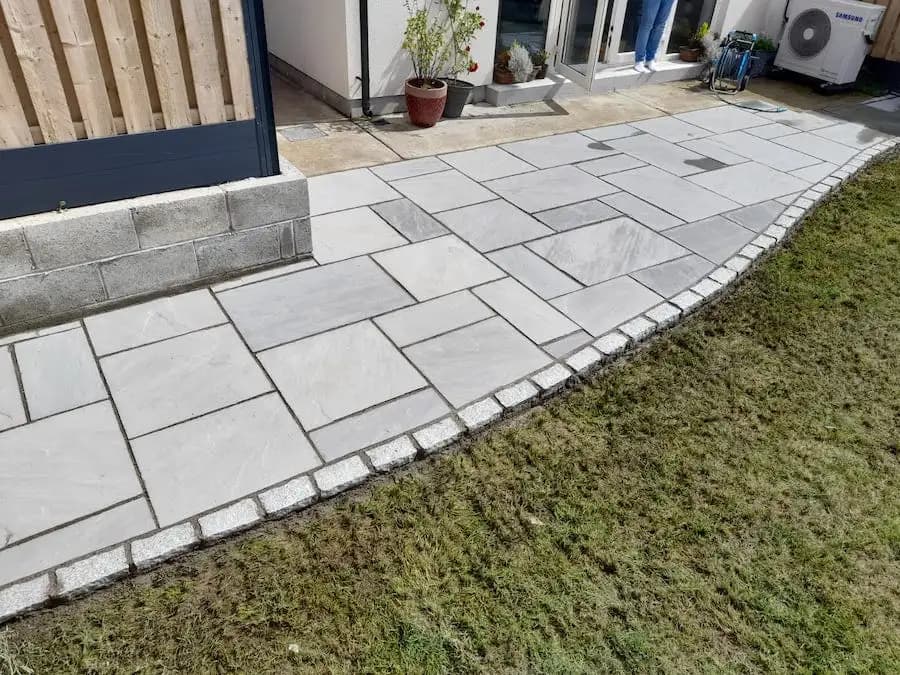 Sandstone paving Installation
As with all of our natural stone products, we install indian sandstone paving using the highest quality workmanship. The sandstone can be lay at 90 degrees or 45 degrees to your house depending on your taste and budget. We can offer you free advice on which colour and style would best suit your property. All our natural stone is lay with wet sand and cement mortar and jointed with wet mortar to ensure a durable long lasting job that will stand the test of time. This method of laying and jointing is more time consuming than inferior methods, but it ensures that you will have a low maintenance patio free from weeds for years to come.
Sandstone installation steps
1. The first step is always preparation. After careful examination of the existing ground levels and drainage, we commence the preparation work. This involves digging the ground to the required depth. Following the digging we install drainage as needed.
2. Installation of the base – the depth of base required will be decided depending on the existing ground conditions, required final level and the type and amount of traffic the area is predicted to experience. Each layer of base stone is carefully installed and compacted using a heavy plate compactor. The compactor or wacker plate compacts the stone to create a really solid base for your sandstone driveway or patio.
3. Laying the sandstone – once the base has been installed and compacted vigorously, we are ready to lay the sandstone. Each slab is lay carefully on a full bed of wet mortar. We lay all of the slabs this way including the cut slabs. Once they are all lay, we fill the joints using a wet sand and cement (mortar) mix. This mix sets solid and prevents weeds growing and strenghtens the entire area further preventing sinking.
The strong compacted base, coupled with mortar laying and further strenghtened by mortar jointing is the strongest combination available to create a solid patio or driveway that wont crack, sink or hold water for decades to come. Do you think thats what you are looking for? Then get im touch via one of our contact methods outlined below.
If you are interested in getting a quote to have Indian sandstone supplied and installed for your patio or driveway, give us a call now on 085-2175888 or 01-9039026. Alternatively, you can email us at info@drivewaypaving.ie or visit our contact page. Our reach us using our newly installed whatsapp button which you can find on the bottom right of your screen. We offer a free call out service where we will offer advice and a free quotation with no obligation to proceed with the work.
Ready to start your project?
Get in touch with us today and we can discuss your requirements.
We offer free quotations, so why not contact now!
Testimonials
"Highly recommend"
Hired Driveway Paving to do my back patio. Couldnt be happier with the result. From start to finish Tony was easy to communicate with, answering any queries we had. The job was completed in good time and all tidied up after. Highly recommend

Samantha Healy
More Testimonials
Loading...
About Us
Driveway Paving is a Dublin based paving contractor that serves Dublin, Kildare and surrounding areas. We offer a wide range of paving and landscaping services at affordable prices. We offer a complete service; consultation, design, supply and installation. As we are fully registered and have many years of experience in all aspects of paving, you can rest assured that you are guaranteed that the work will be carried out to the highest of standards. We use only the best quality materials supplied by Kilsaran, which have been producing quality products for over 50 years. We take great pride in our work and aim to ensure that our customers are always 100% satisfied with our service.
Copyright 2023 - Driveway Paving | All Rights Reserved