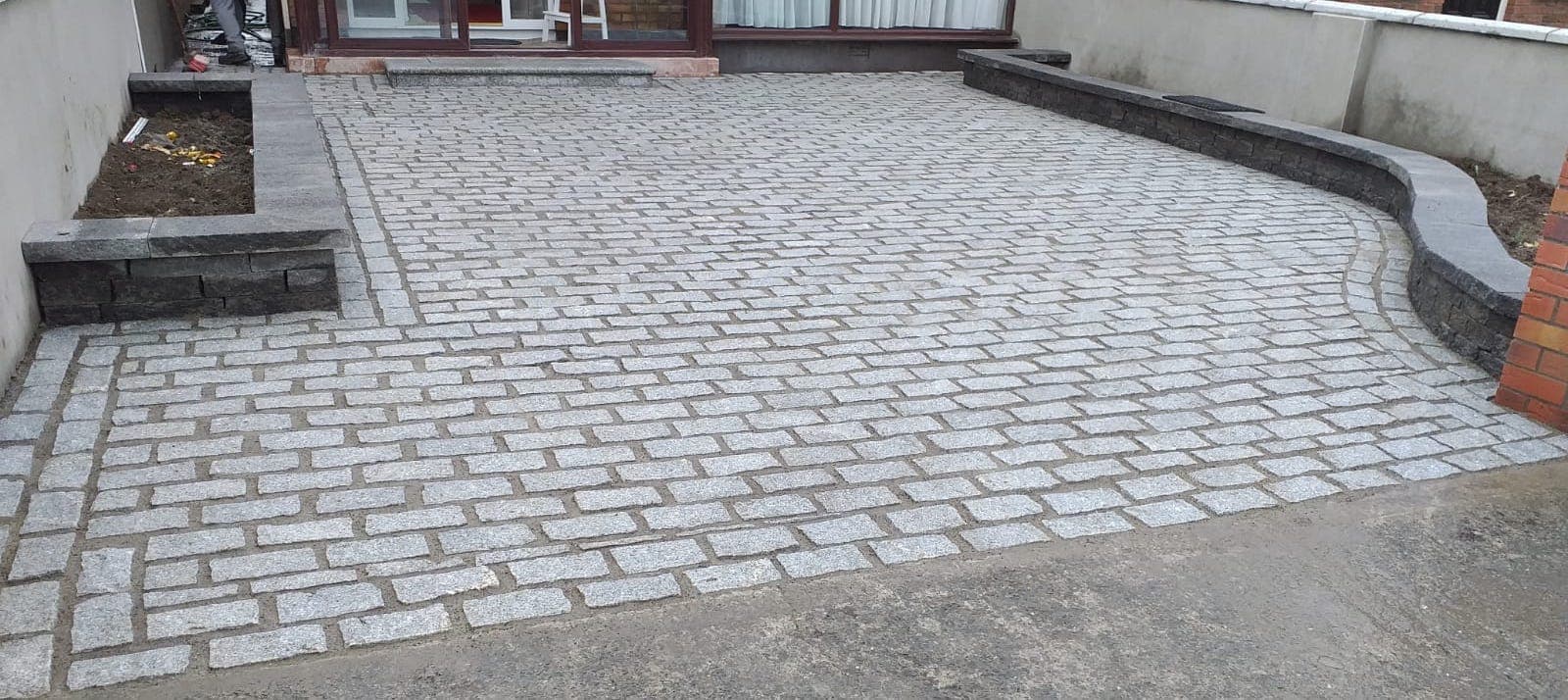 Natural Stone paving
Are you ready to add that patio you've been dreaming of? Natural stone is a great choice, and our head contractor has over 20 years of experience in creating impressive projects with natural stone as the primary material. Let's work on your breathtaking patio in Dublin and the surrounding areas!
Natural stone paving can add a classy look to your garden. Several varieties exist such as granite, indian sandstone, limestone and quartz. With natural stone the installation process varies from that of cobblelock or slabs. As it is a more delicate material it is lay on a wet sand and cement mix and the joints are filled with a similar mortar mix to ensure a solid job that will not sink or move for decades to come. This laying process ensures that no weeds can grow up through gaps or crevasses. For a slightly bigger investment you can have the superior look of natural stone and the benefit of and extremely low maintenance patio or driveway.
The most popular natural stone options are granite, sandstone and limestone.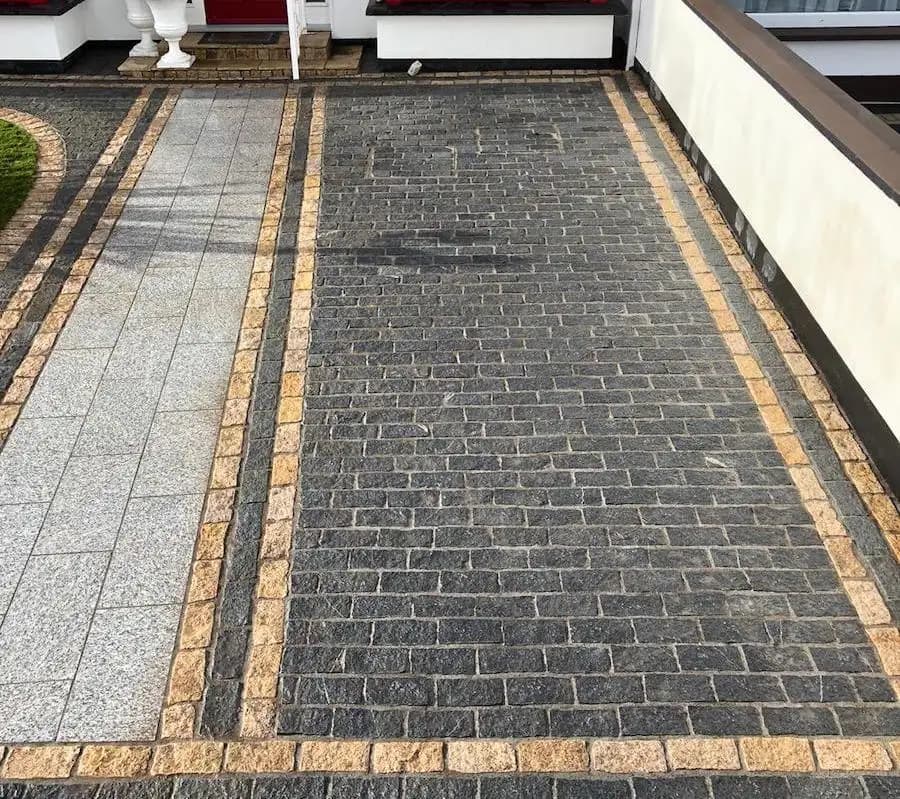 Granite is a durable and attractive option for your patio. It comes in 3 attractive colours; silver, black and yellow. Granite is very hard-wearing and versatile and will suit any house. It adds a classy element to any garden. It is slightly more costly than sandstone or limestone.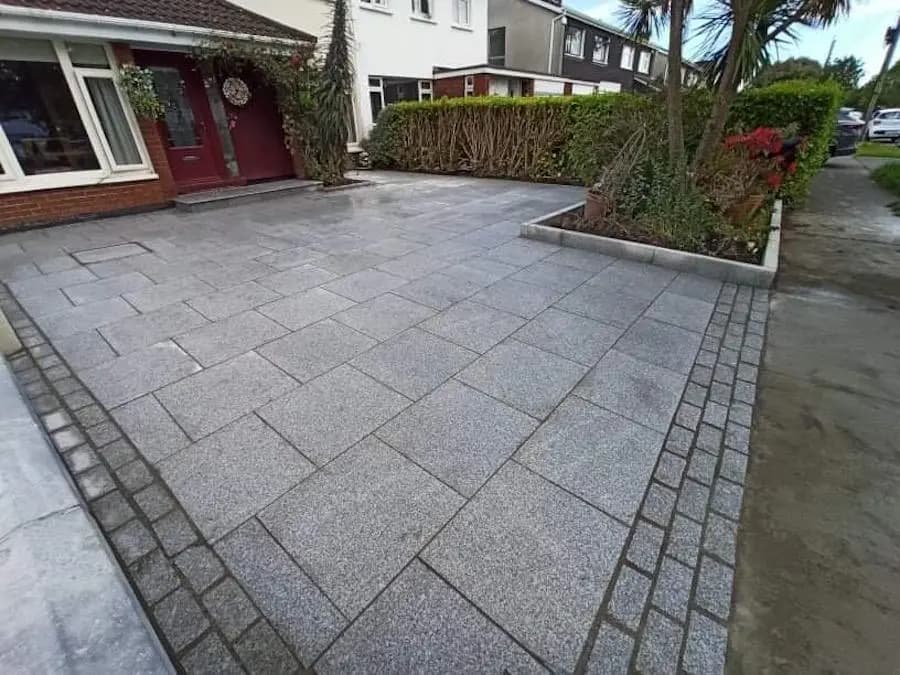 Sandstone is a very popular natural stone option for patios. Indian sandstone comes in a wide variety of colours so you are sure to find the perfect colour to enhance your property. Indian sandstone has a variety of colour tones and hues within each slab and thus gives a natural earthy look. Indian sandstone is cheaper than granite but requires a little more maintenance as its naturally porous and thus needs sealing or powerwashing to keep it looking pristine.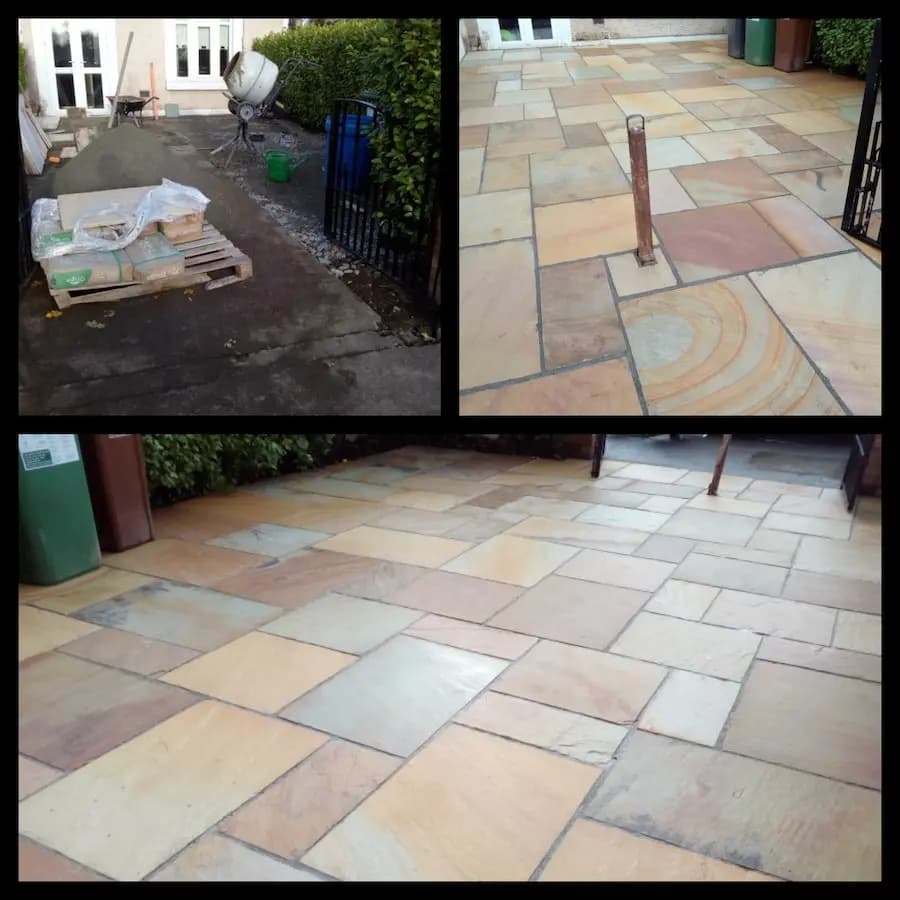 An increasingly popular natural stone option. It comes in yellow, black and grey and has a smoother texture than sandstone and is a less porous stone. This makes it easier to maintain. It costs the same as sandstone, thus a little cheaper than granite. It generally comes in a mixed size pack giving a unique look to your patio.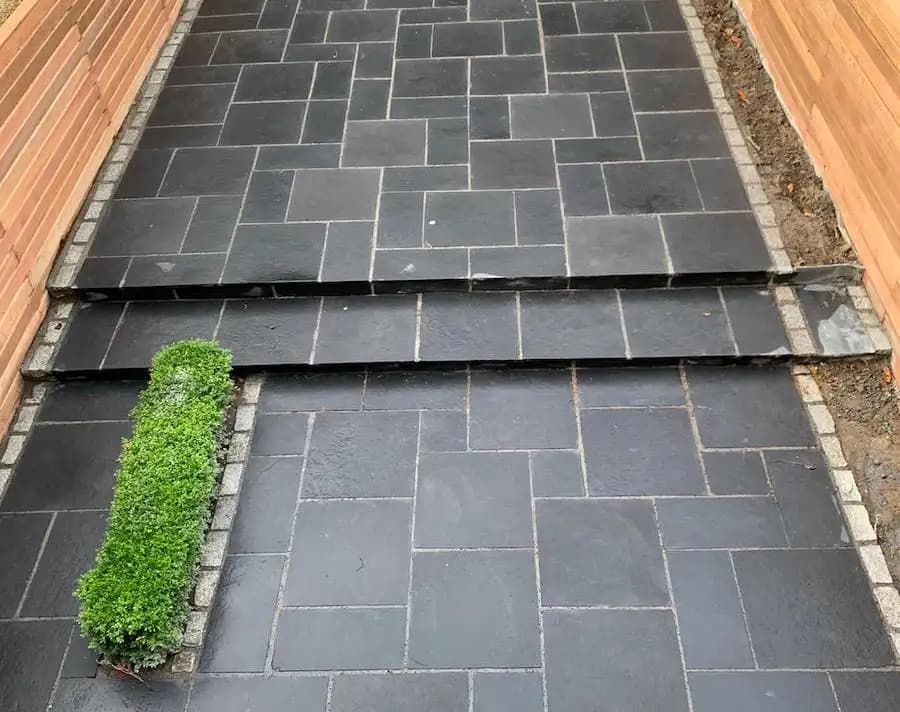 Natural stone installation
We lay all types of natural stone paving on sand and cement and joint it with wet sand and cement (mortar) to ensure that the job will stand the test of time. Also, by jointing in this way we ensure no troublesome weeds can creep up through the joints. This wet mortar method that we use on all our natural stone jobs is far superior to checmical grouts available on the market. It is more time consuming, but in our vast experience the benefits far outweigh the extra effort. So this type of stone is ideal if you are looking for a low maintenance option for your patio.
When using such high quality installation methods, it is vital to have quality materials to work with to ensure a patio or driveway that will last and look great for years to come. We use only top quality maving materials from reputable suppliers like Tile Merchant.
Whatever colour or style takes your fancy, Driveway Paving is the paving contractor for the job. No job is too big or too small and with free quotations, what have you got to lose? Give us a call today on 019039026 or 0852175888 for your free no obligation quotation. You can also contact us directly using our whatsapp button on our homepage.
If you'd like to learn more about Paving, have a read of our Paving FAQ page.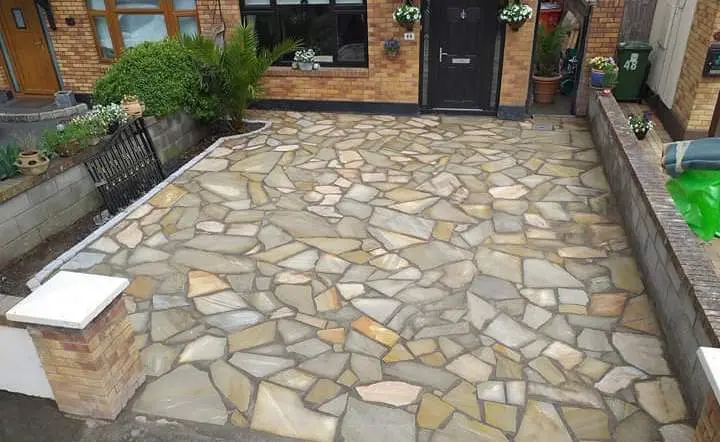 Ready to start your project?
Get in touch with us today and we can discuss your requirements.
We offer free quotations, so why not contact now!
Testimonials
"Highly recommend"
Hired Driveway Paving to do my back patio. Couldnt be happier with the result. From start to finish Tony was easy to communicate with, answering any queries we had. The job was completed in good time and all tidied up after. Highly recommend

Samantha Healy
More Testimonials
Loading...
About Us
Driveway Paving is a Dublin based paving contractor that serves Dublin, Kildare and surrounding areas. We offer a wide range of paving and landscaping services at affordable prices. We offer a complete service; consultation, design, supply and installation. As we are fully registered and have many years of experience in all aspects of paving, you can rest assured that you are guaranteed that the work will be carried out to the highest of standards. We use only the best quality materials supplied by Kilsaran, which have been producing quality products for over 50 years. We take great pride in our work and aim to ensure that our customers are always 100% satisfied with our service.
Copyright 2023 - Driveway Paving | All Rights Reserved