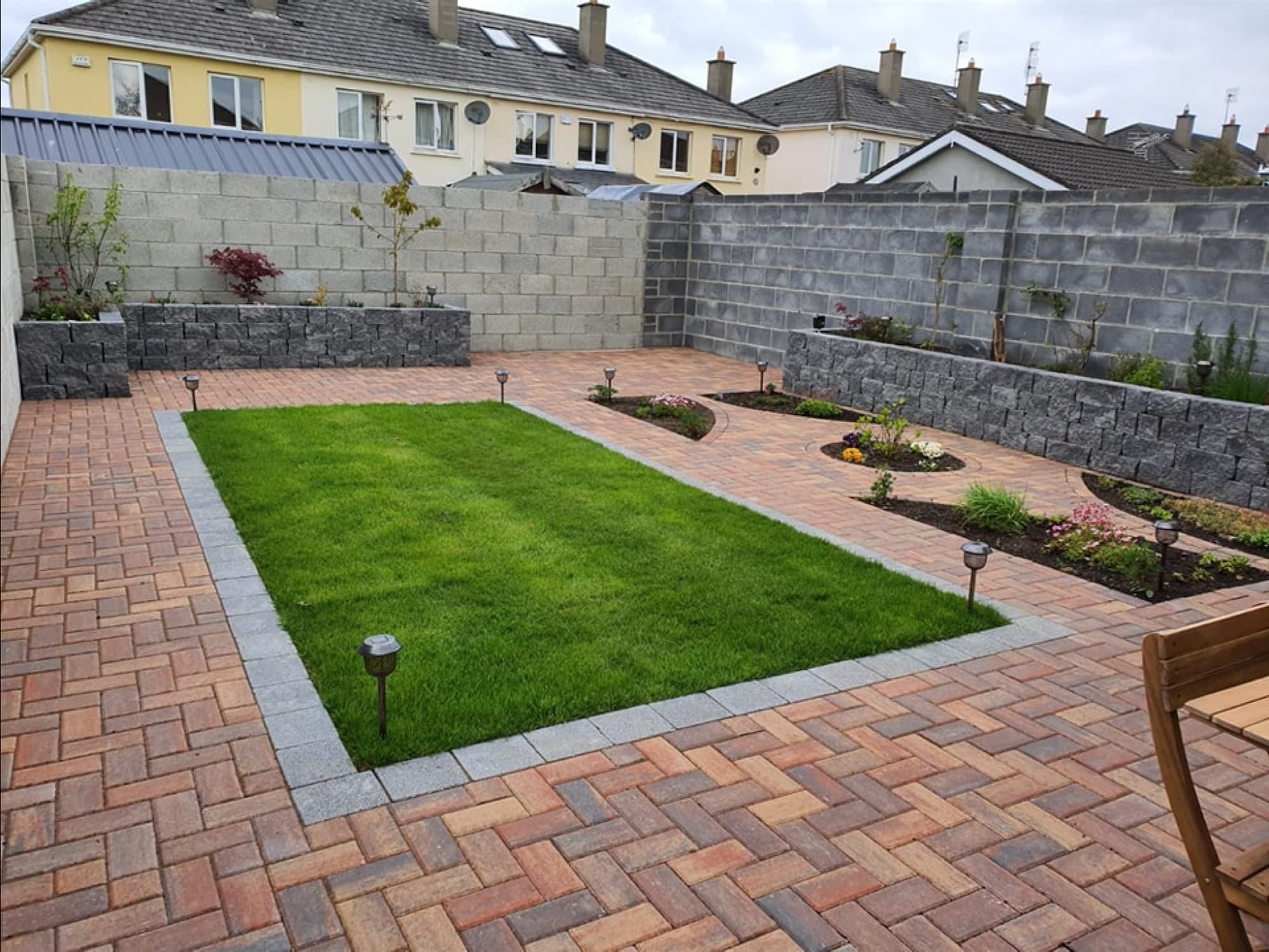 Landscaping
Our customers in Dublin are delighted with their new landscaping! Are you ready to make a change that will offer you unforgettable relaxing moments in your garden and increase your property's value? Contact us!
Landscaping Services in Dublin
Here at Driveway Paving we offer a vast range of landscaping services, including grass installation, raised and level flower beds, steps and planters.
Get a quote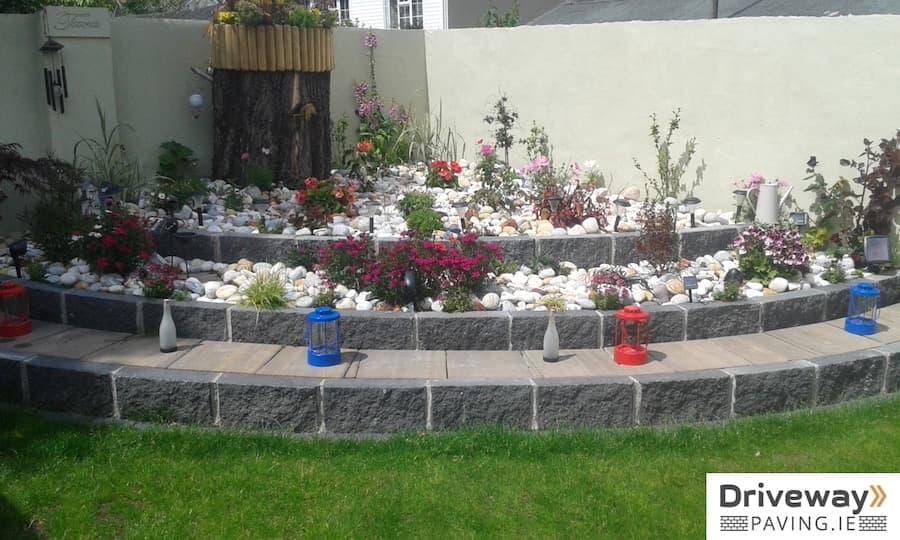 Landscaping services – Grass Installation
We do all types of grass installation; artificial grass, roll on grass and seed grass. Artificial grass is an ideal option if you are looking for a low maintenance garden area. Artificial grass comes in a range of lengths and qualities. It ranges from €10 per square metre for 10mm to €30/€40 per square metre for a realistic looking high quality grass. The 10mm grass we often recommend for under children swings etc or for mini golf as a tidy area for the kids to play. The longer and more realistic styles are ideal for fake lawns and gardens.
Roll on grass is cheaper than artificial grass but does require regular cutting in the Summer months to maintain it looking at its best. We source our high quality grass from Dublin Lawn Turf. The ground soil is prepared and we lay rolls of new grass on the area. Then you must water it heavily for one week until it roots and then you will have a beautiful lawn.
Seed grass is the cheapest option however you do need to wait for a short time for it to germinate and several months for it to develop into a thick well established lawn. For this reason, roll on grass has become a more popular option amongst our customers.
We are experienced in all of the above methods of grass installation so you can rest assured that whichever option you choose you will have a high quality job done.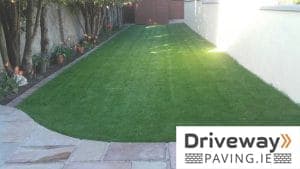 Landscaping services - Flower Beds and Planters
Flower beds can be a beautiful addition to you garden. They make an ideal centre piece and can also make use of an unused corner of your garden. For our less green fingered customers, a popular option is to lay pebble on the flower bed with plants coming up through Mypex membrane as this minimises weeds and maintenance. We can build flower beds with a wide range of materials, including Ashford finished blocks, bricks, sleepers and much more.
Get a quote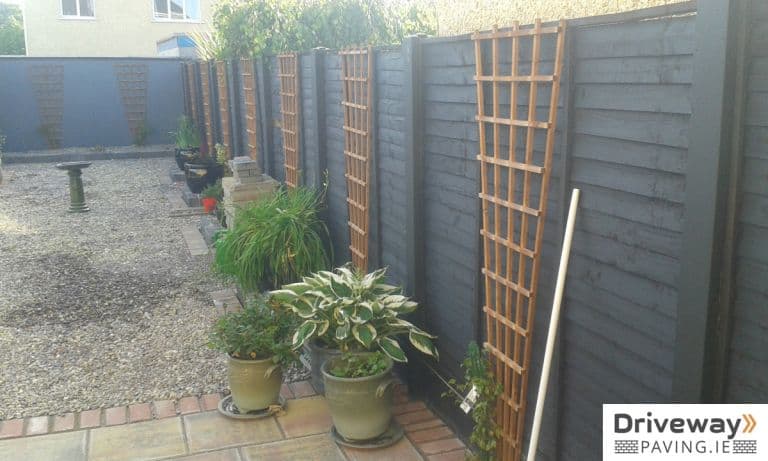 Landscaping services - polytunnel preparation
If youre planning on intalling a polytunnel, we can come in and prepare the ground for you. For polycarbonate tunnels you may require concrete foundation or rising walls to attach the tunnel to. For polythene tunnels foundations wont be required. We can prepare the topsoil for you so the heavy labour will be done and it will be ready for planting. We can also create raised beds for you to make it easier to work. If theres any drainage issues in your garden, this could affect your growing efforts. We can dig drainage channels outside your tunnel to take excess water so the soil inside your tunnel will be well drained for your produce.
We also install concrete shed bases. A concrete base keeps your shed up off the wet ground thus preventing rotting and also acts as a floor for your shed storage.
Whatever your vision for your garden may be, we promise to find something to suit you while keeping within your budget.
So if you would like to avail of our landscaping services, grass, flower beds, ground rotavation, shed bases and more, get in touch now on 0852175888 or 019039026. Alternatively you can contact us through our contact form by clicking the link below. Don't forget we offer free no obligation quotations. For your convenience we have added a new whatsapp button to our site so you can contact us directly and easily.
Get a quote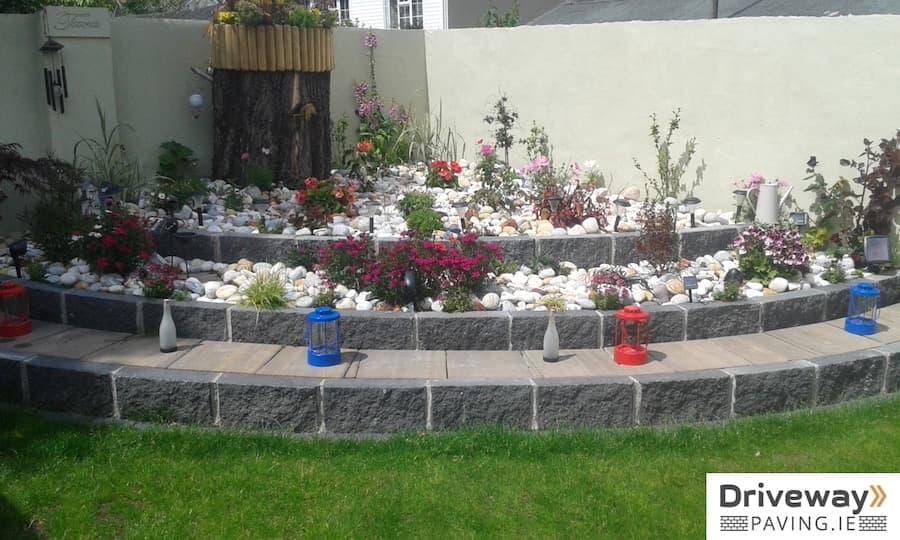 Ready to start your project?
Get in touch with us today and we can discuss your requirements.
We offer free quotations, so why not contact now!
Testimonials
"Highly recommend"
Hired Driveway Paving to do my back patio. Couldnt be happier with the result. From start to finish Tony was easy to communicate with, answering any queries we had. The job was completed in good time and all tidied up after. Highly recommend

Samantha Healy
More Testimonials
Loading...
About Us
Driveway Paving is a Dublin based paving contractor that serves Dublin, Kildare and surrounding areas. We offer a wide range of paving and landscaping services at affordable prices. We offer a complete service; consultation, design, supply and installation. As we are fully registered and have many years of experience in all aspects of paving, you can rest assured that you are guaranteed that the work will be carried out to the highest of standards. We use only the best quality materials supplied by Kilsaran, which have been producing quality products for over 50 years. We take great pride in our work and aim to ensure that our customers are always 100% satisfied with our service.
Copyright 2023 - Driveway Paving | All Rights Reserved