Gravel Driveways
You can trust our contractors to always keep your patio and driveway like freshly constructed. It is recommended once per year, especially at the beginning of spring in Dublin, to maintain your patio and driveway.
Gravel, also called pebble, decorative stone or stone chippings is a very popular material for driveways. A gravel driveway can be an attractive addition to your property.
Here, in our gallery, you can get an initial idea of gravel driveways and patios from projects that Driveway Paving has completed in Dublin.
There are many things to consider before choosing gravel as the ideal solution for your driveway and the experienced contractor for the project. Such as, benefits of a gravel driveway, types of gravel, cost of a gravel driveway, and other technical matters on which Driveway Paving provides the highest quality of work and materials.
Driveway Paving is here to assist your projects from A to Z and to give direct, practical and long-lasting solutions to all upcoming issues.
Get a quote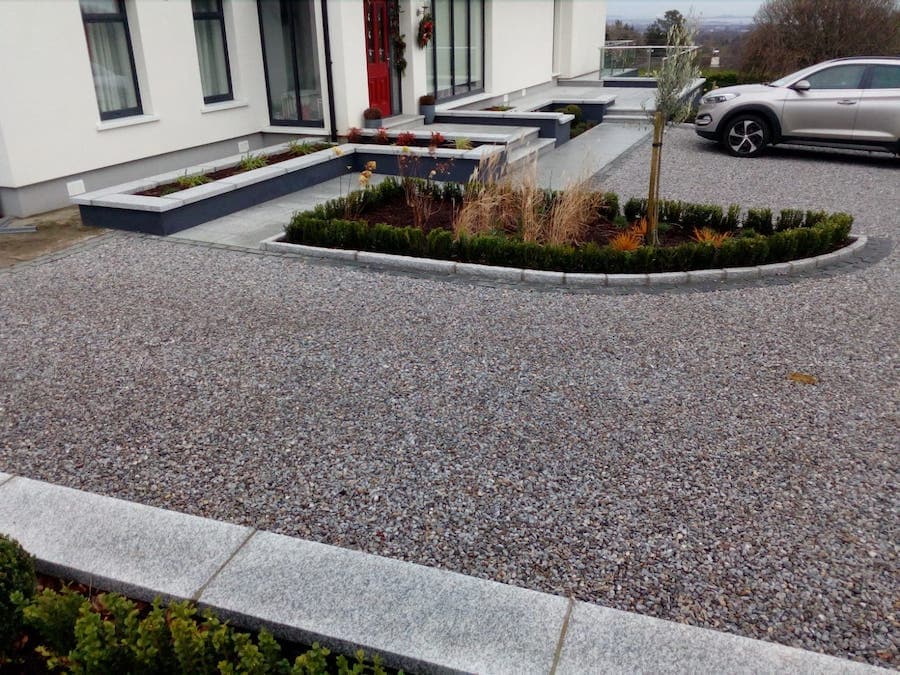 Benefits of gravel driveways
The benefits that you get from choosing gravel as the material for your driveway are plentiful. All these benefits that rank from aesthetics to functionality are possible only when the whole project is completed from professionals with lots of experience of gravel driveways and passion for perfection like Driveway Paving.
Below we describe you all the resulting benefits:
It can last for an extended period; the upcoming generations of your family can enjoy and benefit from your investment. Approximately 100 years is its expected duration if it is installed and maintained correctly.
Gravel driveways are affordable, coming in at the lower end of the price scale compared to many other paving options such as brick paving, tarmac, concrete etc. These savings may seem modest on a small city driveway but can be huge for larger areas, hence gravel is the chosen material for many countryside homeowners with broad and long avenues. Driveway Paving offers the most competitive prices in the market and simultaneously, the highest quality end job.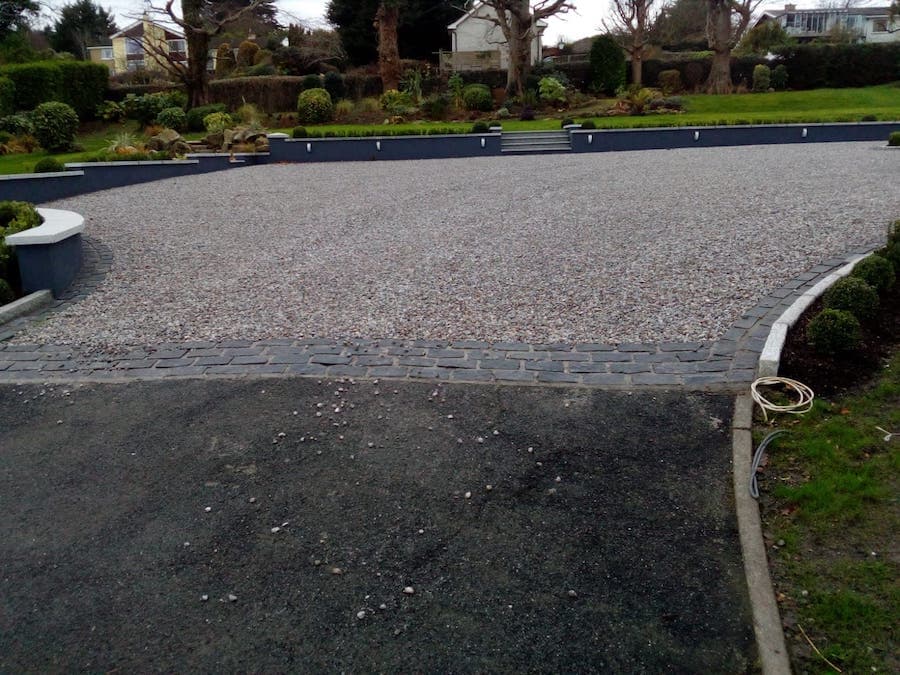 Gravel is faster to install than most driveway paving solutions; thus, there is less disturbance to our clients. Our experience at Driveway Paving makes us able to complete your gravel driveway project in a timeframe according to your needs.
Thanks to the vast range of textures and colours (grey, white, yellow, red, etc.) to choose from, a gravel driveway can enhance any home, both aesthetically and increase its resale value. If you are planning to sell your property and you want to increase its value, then Driveway Paving can be your close associate in this endeavour.
Gravel driveways require little maintenance costs. All they need to maintain is some weed control, occasional raking and replenishing or topping up very rarely. You can have a read of our gravel driveways FAQ page to learn more about this popular driveway option and answer all your queries. Except for installation solutions, Driveway Paving very competitively provides maintenance services for your gravel driveway.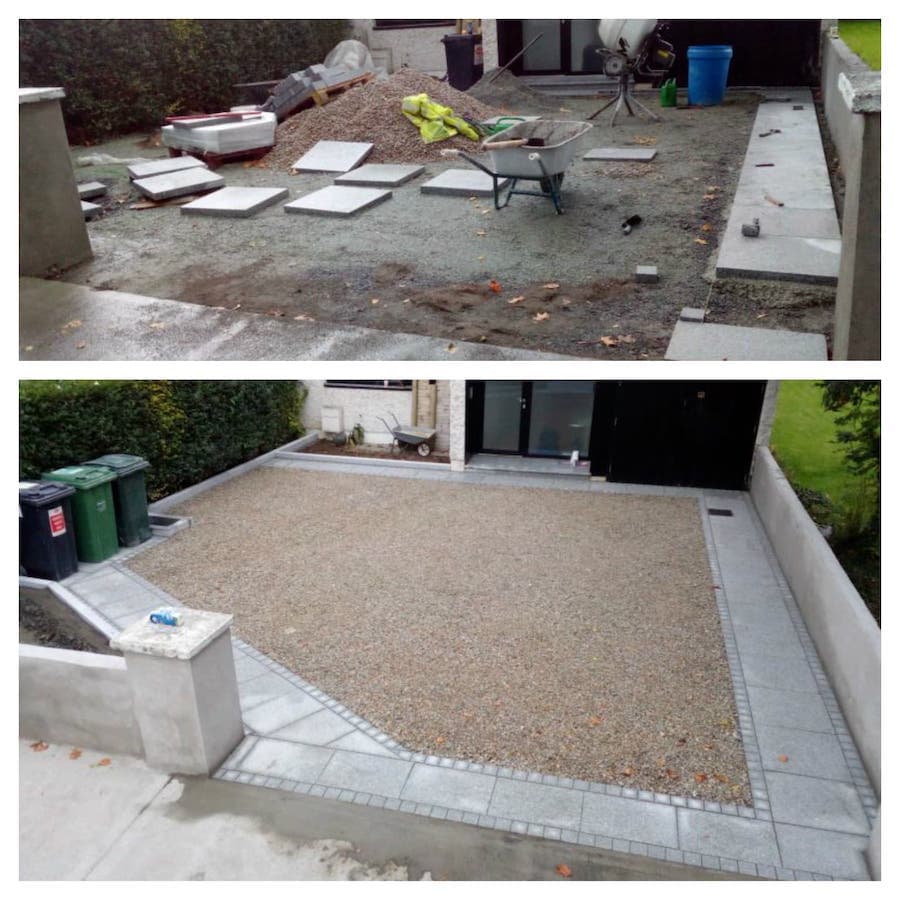 The consistent surface of the gravel driveway, the crack resistance feature and shape of the material minimizes the risk for flooding in your property. The porous nature of the material makes it possible for the water to drain away. As the Irish weather is mostly rainy, that characteristic makes gravel driveway outstanding choice all around Dublin and the country.
Due to the above characteristic, the gravel driveway can be considered environmentally friendly. Also, it consumes no energy to manufacture.
Lastly, is the advantage that gravel can function as a natural security alarm around your property. Stepping on it makes noise, and that could alert you to any trespasser on your property.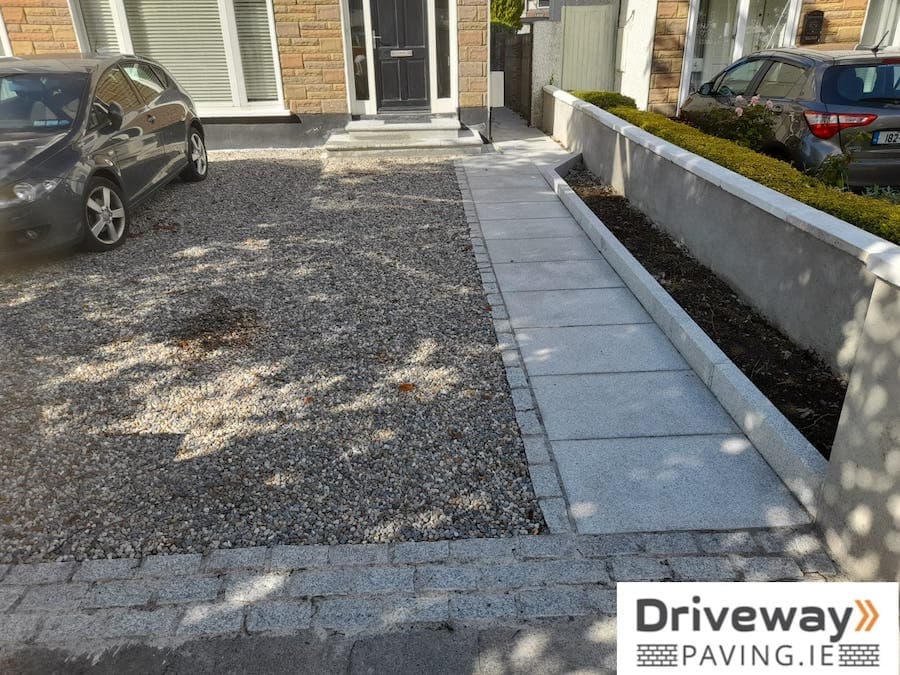 Types of gravel for driveway
Gravel is an excellent choice for your driveway, and thanks to its all above-mentioned advantages, it can be used on many construction projects. Some of them are patios, paths, flower beds, edging and borders.
There is a wide variety of gravel options to choose from such as:
White Marble
Wicklow Granite
Plumstone
Clonard gold
Ballykane
Curragh Pebble
Donegal Quartz
Ballylusk
Pink Granite
Plum Slate
Beach Pebble
Golden Flint and many more
Whatever colour and style you choose for your gravel driveways, make sure it comes from a trusted supplier of high-quality gravel such as Double L, based in Rathcoole.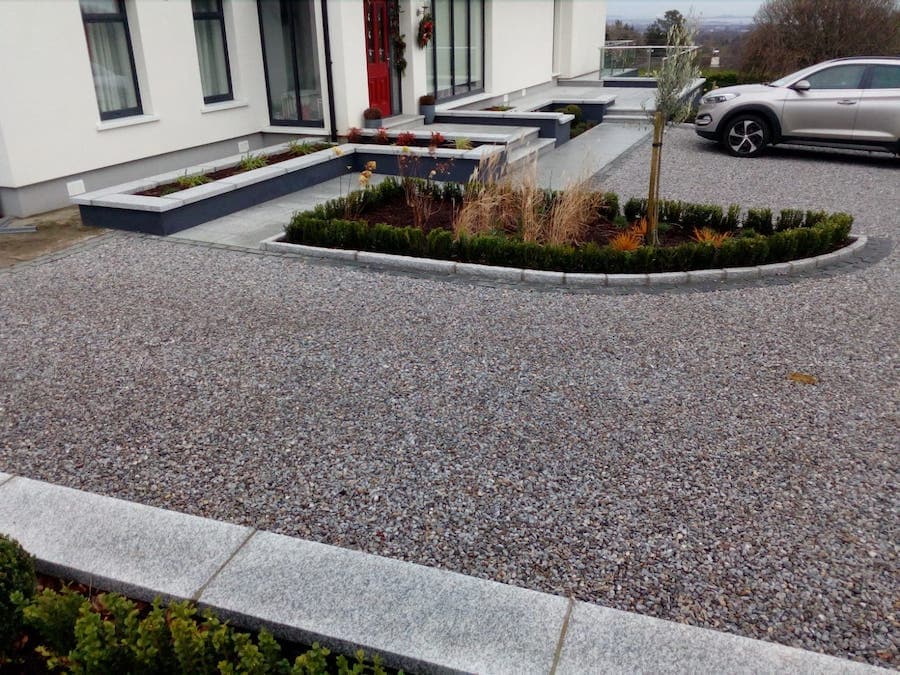 Process of gravel driveway installation
Driveway Paving takes care of all the processes involved in gravel driveway installation with the highest quality standards that can guarantee that you are getting the maximum utility out of our work.
Follows a short description of the installation process:
As with all types of hardscaping, the preparation and installation process for gravel driveways is very important to ensure a lasting job. Firstly, when we arrive on-site, we inspect the existing ground for drainage and existing levels.
Following our ground inspection, we commence digging the ground to the required depth. Then we lay a geotextile membrane to help prevent weeds from growing through the pebble after installation, and also to prevent the soil binding to the base stone which could affect drainage negatively in the future.
Next, we lay hardcore and compact it with a plate compactor. We then spread the fine dust and compact it again, this binds to the hardcore and ensures the hardcore won't appear through the pebble with use.
Finally, we spread your chosen gravel to create a beautiful new entrance to your home.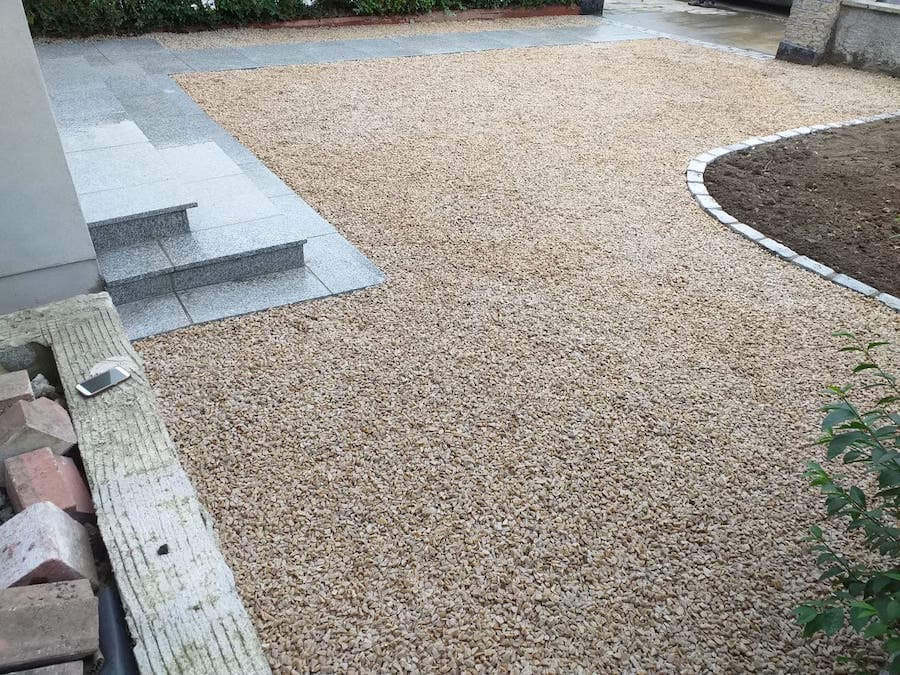 A wide variation of gravel Driveways
As we already mentioned above, with gravel you have a vast range of options. Gravel Paving Dublin DesignNot only can you choose from a variety of colours, shapes, and sizes, but for a fascinating appearance of your house surroundings, we can also install a border or interior design to add a personal touch to your project. Depending on your personal preferences and the size of the area, you can choose from a variety of options for the edge such as sandstone, limestone, granite or cobblelock.
We can offer advice to help you choose the perfect product to compliment your chosen gravel. For example, if you would like to add a design to your gravel driveway, we can add a circle design, a diamond design or a combination of designs to your project. These paving designs are made from the same range of materials as the border; granite, limestone, sandstone or cobblelock so you are sure to find the perfect design to suit your taste.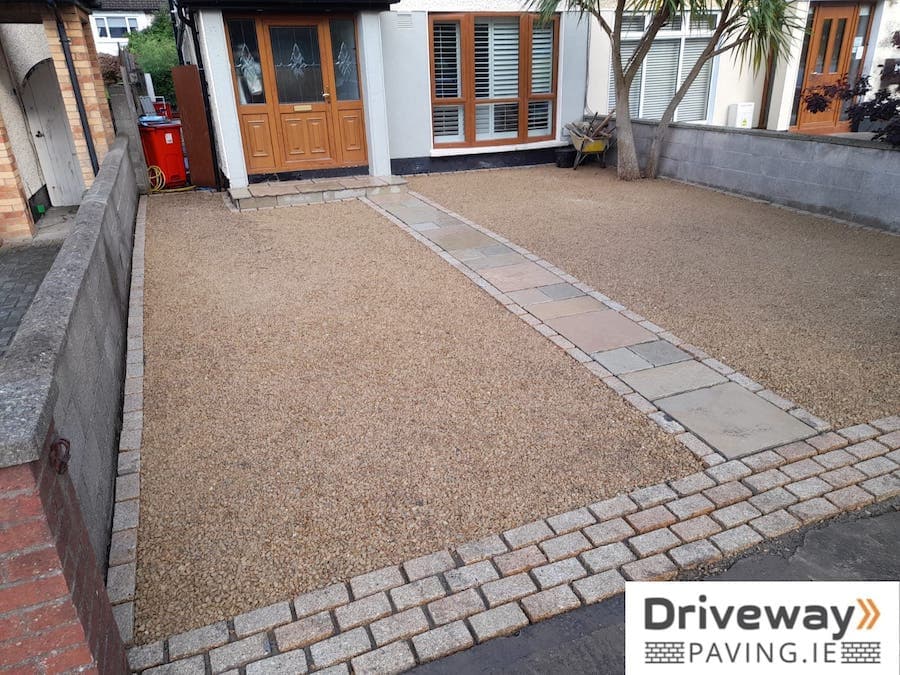 Cost of gravel driveway
The main factors defining the cost of gravel driveway are the preparation work required, the size of the area, the desired design and the type of gravel you choose.
Accordingly to the specifications of the mentioned factors, the price for your gravel driveway may range between €45 and €65 per square metre.
If you would like to avail of a free quotation for gravel driveways or pebble driveway installation, give us a call now on 019039026 or 0852175888 or contact us through our contact form.
Why not check out our Gravel Gallery to view our many completed gravel driveways.
If you'd like to discover more about gravel driveways, have a read of our Gravel Driveways FAQ page.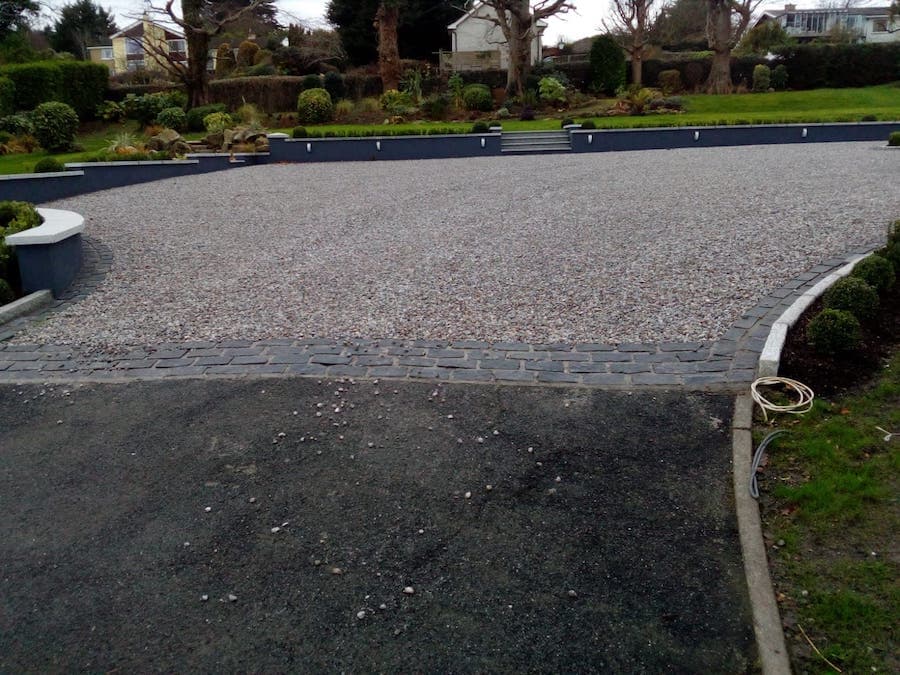 Ready to start your project?
Get in touch with us today and we can discuss your requirements.
We offer free quotations, so why not contact now!
Testimonials
"Highly recommend"
Hired Driveway Paving to do my back patio. Couldnt be happier with the result. From start to finish Tony was easy to communicate with, answering any queries we had. The job was completed in good time and all tidied up after. Highly recommend

Samantha Healy
More Testimonials
Loading...
About Us
Driveway Paving is a Dublin based paving contractor that serves Dublin, Kildare and surrounding areas. We offer a wide range of paving and landscaping services at affordable prices. We offer a complete service; consultation, design, supply and installation. As we are fully registered and have many years of experience in all aspects of paving, you can rest assured that you are guaranteed that the work will be carried out to the highest of standards. We use only the best quality materials supplied by Kilsaran, which have been producing quality products for over 50 years. We take great pride in our work and aim to ensure that our customers are always 100% satisfied with our service.
Copyright 2023 - Driveway Paving | All Rights Reserved