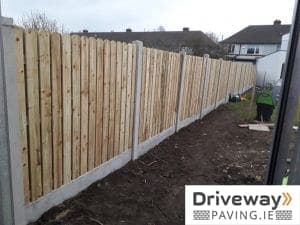 Garden Fencing Dublin
Our team consists of specialists who can manage garden fencing installations. With our help, you can give your garden another feeling. If you are in Dublin and the surrounding areas, contact us!
Driveway Paving can look after all your garden fencing needs. Fencing is an attractive way to add privacy to your garden. Fencing can be high or low, purely decorative or can serve several purposes. Many people use fencing to provide:
Safety - fencing restricts unwanted access to your garden area and thus your home.
Shelter - fencing can provide great shelter from wind so you can enjoy your garden area without unwanted wind chill.
Aesthetics - fencing can be a beautiful decorative feature to complete your garden look.
Enclosure - fencing can enclose and area to create a safe, secure outdoor space for your children and pets.
Privacy - fencing can provide a private garden area for you and your family to enjoy. It can limit the view of neighbours ans passers by so you can relax and enjoy youre outdoor space in comfort and privacy.
We can provide you with a quote as a one off job or as part of a whole garden design to include paving and landscaping. Either way, we will advise you on the types available so you can decide on the style that might best suit the rest of your garden.
Get a quote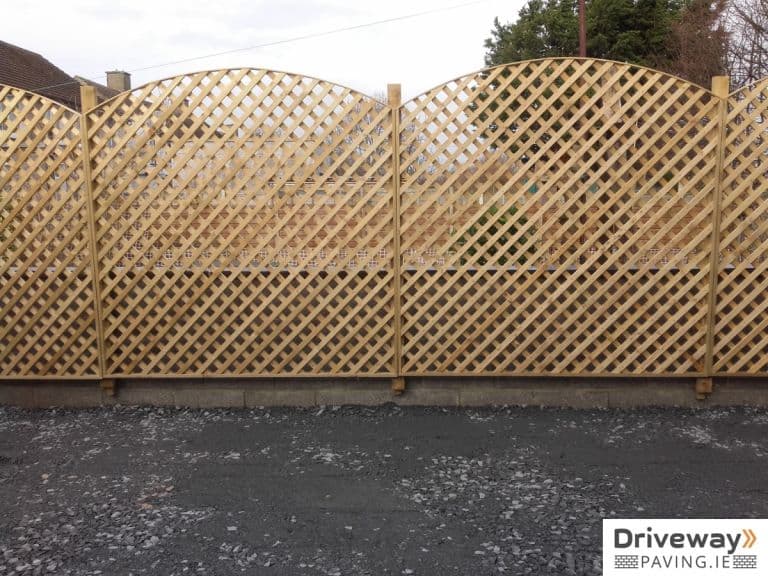 Garden fencing dublin
We install all types of fencing for your garden at affordable prices. We know that our fencing jobs can only be as good as the materials beimg used. Therefore, we use only reputable suppliers like Abwood to ensure high quality materials so you're fencing will last for years to come. Driveway Paving will certainly have a fence solution to suit your taste and budget. We supply and erect both timber and concrete fences, H-post and many other types. You can use many varieties of panels to suit your individual taste. The panel options come in a range of prices so you can choose to suit your budget.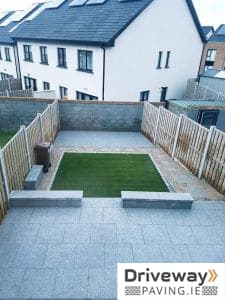 Garden Fencing Dublin - Installation
As with all of our services, we have a huge amount of experience in all aspects of fence installation. The installation process is essential to ensuring a long lasting fence that will stand up to various tests of the Irish weather for years to come. We will look after every aspect of your fencing project from start to finish.
The installation proceas will depend mainly on the type of fencing you choose. With post and rail we may choose to drive the wooden posts into the ground of we may dig holes and concrete them in. The decision will depend on existing ground type, conditions, budget and space available. We would then fix them rails into position. With concrete H-post fencing we will dig holes for the posts and fit them using a strong concrete mixture. Once the posts are securely erected we fit the gravel boards and your chosen panels.
You may be wondering what are gravel boards? They are the concrete boards which can be put in place under the fencing panel. As their name suggests, they hold gravel back if you have installed gravel beside your fencing. Gravel boards prevent premature rotting of the fencing panels as they keep the fencing up off the damp ground.
We also install timber post with chicken wire fences for chicken runs or dog runs.
Don't hesitate to give us a call to discuss your requirements. We offer free call outs and quotations so you have nothing to lose. We will discuss your options and offer free advice. Give us a call now on 0852175888 or 019039026. Alternatively you can contact us by email at info@drivewaypaving.ie or by our contact form by clicking them link below.
Get a quote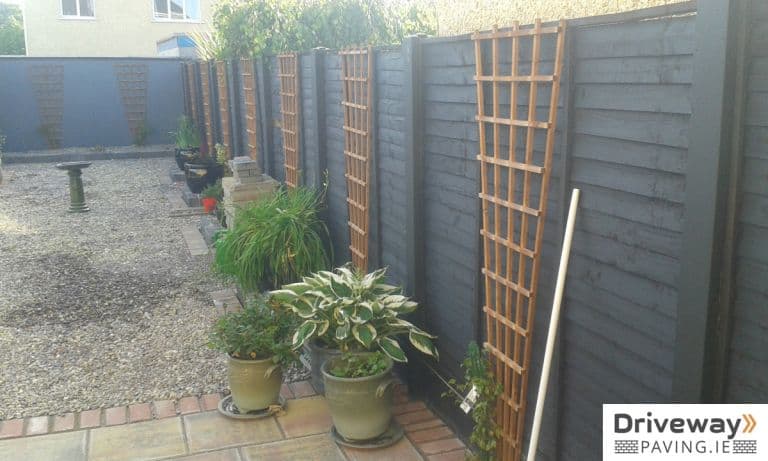 Ready to start your project?
Get in touch with us today and we can discuss your requirements.
We offer free quotations, so why not contact now!
Testimonials
"Highly recommend"
Hired Driveway Paving to do my back patio. Couldnt be happier with the result. From start to finish Tony was easy to communicate with, answering any queries we had. The job was completed in good time and all tidied up after. Highly recommend

Samantha Healy
More Testimonials
Loading...
About Us
Driveway Paving is a Dublin based paving contractor that serves Dublin, Kildare and surrounding areas. We offer a wide range of paving and landscaping services at affordable prices. We offer a complete service; consultation, design, supply and installation. As we are fully registered and have many years of experience in all aspects of paving, you can rest assured that you are guaranteed that the work will be carried out to the highest of standards. We use only the best quality materials supplied by Kilsaran, which have been producing quality products for over 50 years. We take great pride in our work and aim to ensure that our customers are always 100% satisfied with our service.
Copyright 2023 - Driveway Paving | All Rights Reserved