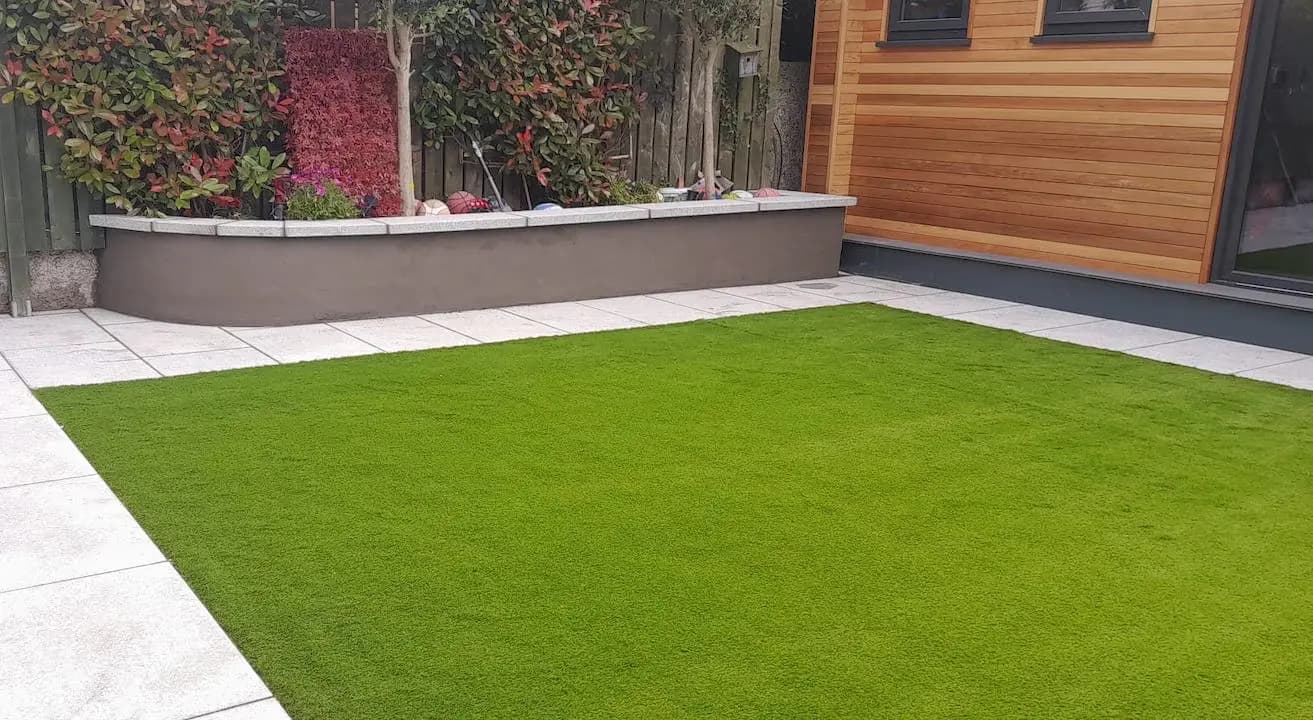 Artificial Grass
We can install your artificial grass. Let's have a free consultation session, schedule the installation, and start the work in Dublin, Kildare and the surrounding! Below, you can get an idea about the different types of artificial grass, their use and their benefits.
Are you someone who likes the look of grass in a garden but you don't want the maintenance? Then artificial grass is the perfect option for you. We only use high-quality grass with good length so it looks convincingly like a real lawn. It's a once off investment that will last for years to come. Artificial grass is an extremely low maintenance and very clean option for your garden. It is a one off investment and requires no maintenance so is a perfect option if you are not green fingered. It is also popular for families as it provides a clean area for your children to play.
Having a perfectly manicured and well-maintained garden or terrace requires a lot of effort and time that most of us don't have due to our busy work schedules. Well, we have a very practical and durable solution that is neither costly nor requires everyday maintenance. Yes, you have read it correctly – artificial grass makes your lawn greener without having to worry about mowing, watering or fertilising it. It is also environmentally friendly as you don't have the use of pesticides, fertilisers and petrol lawnmowers that are necessary to maintain a grass lawn.
Most commonly, green artificial grass is used for gardens. It is also available in a variety of colours for children's play areas, such as red, blue, black and white. We can offer advice over the phone or during a site visit to help you decide the best option to suit you.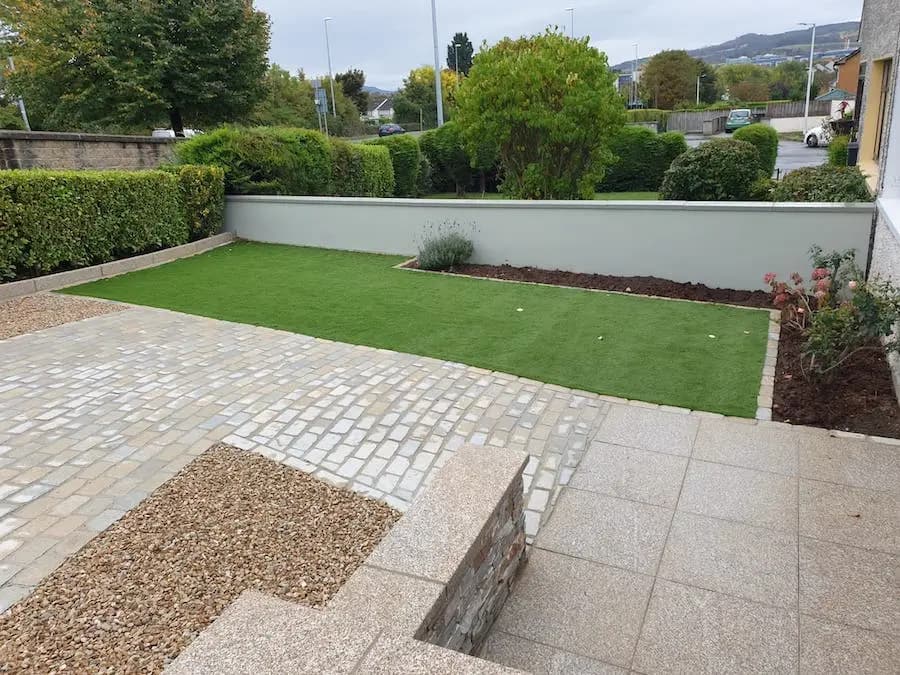 Types of Artificial Grass
We supply high quality artificial grass options for your lawn. We have lots of experience working with artificial grass so you can rest assured you will get a high-quality finish. For a low budget, we supply and install a thin 10mm grass at affordable prices. This short fake grass is popular in kids play areas or to play mini golf. It is less realistic but is tidy and softer than a paved area. For a beautiful and more realistic finish, we offer high-quality grass of different lengths, from 20mm to 40mm depending on your taste.
If you are looking for a low maintenance garden, then artificial grass may be the option for you. Depending on your taste, you can choose a darker or lighter green shade. There is a huge range, from grass that looks like a bright new lawn to grass that looks like a longer established lawn. You are sure to find something to suit your taste and budget.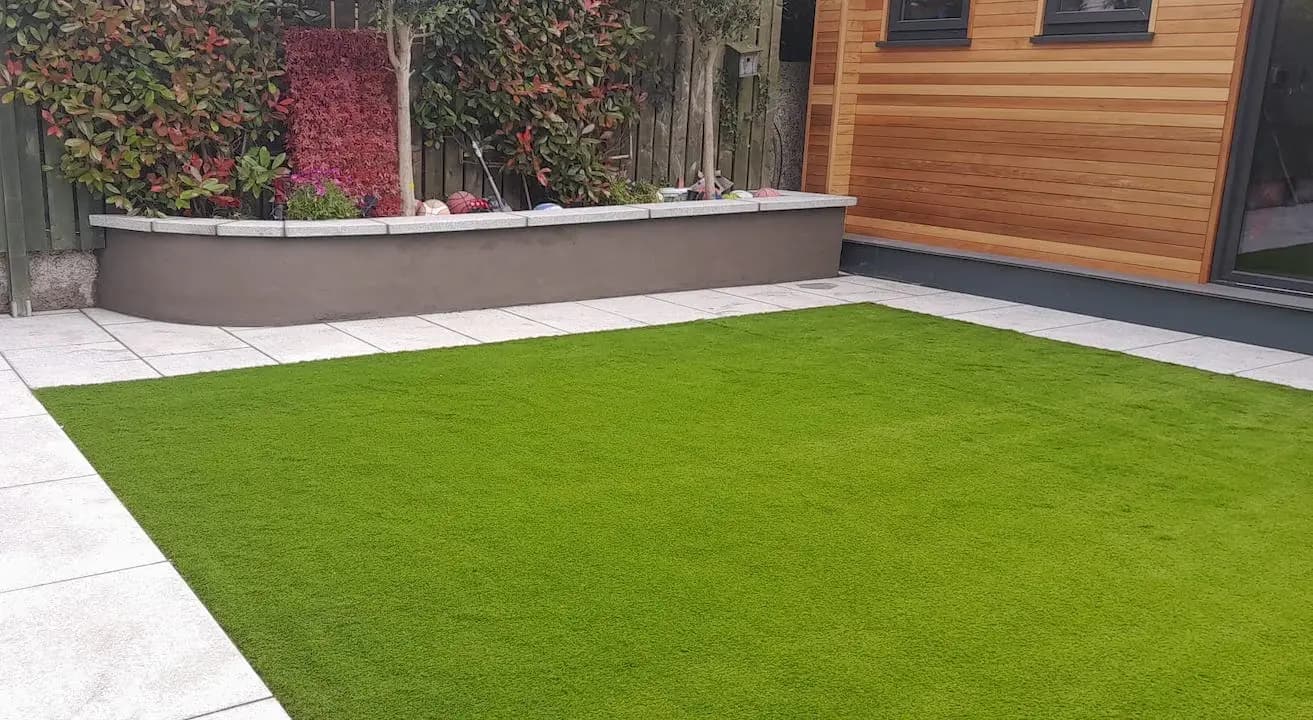 Where can I use artificial grass?
Artificial grass can be used both indoors and outdoors to decorate any space. Artificial grass gives your space a neat, tidy, and refreshing look instantly. With little to no maintenance costs, you can easily have a perfect-looking garden all year long.
Artificial grass in Dublin is free of pests and insects, available in a variant of green colours, plus bright colours like red, blue, white, and moreover, it is the ultimate choice for children's playgrounds in schools as well as their play area at home. The artificial grass acts as a carpet for children to play on along with adding a pop of colour to the area.
If you are a lawn enthusiast, or just want to have a relaxing sitting space in your home, we suggest you install artificial grass there. Why? Because artificial grass in Dublin can be used as a replacement for grass in your garden. It elevates the look of the space while keeping the costs low.
Artificial grass can be used in multiple ways, for example, in gyms, football or golfing grounds. As it is very cost and time-effective, you will be free of the daily watering and grass trimming duties.
At Driveway Paving Dublin, we have successfully worked on many artificial grass installation projects in schools, restaurants, playgrounds, and gardens.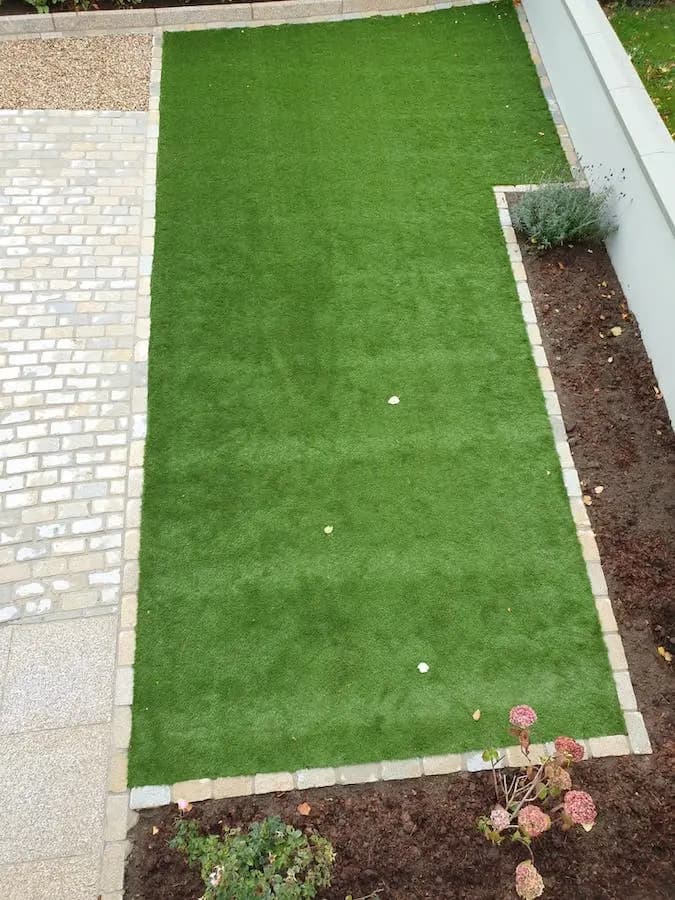 Is It Better Than Real Grass?
Yes, artificial grass is better than real grass for a number of reasons. Artificial grass is free from pesticides, watering and maintenance. In other words, the best investment you are going to make for your outdoor space. It is a very cost-effective solution as compared to natural grass. You will be free of puddles, pests, moss, or algae growth for the next 15 years (typical life expectancy of artificial grass). With no worries about taking care of your grass, you will have a trendy relaxing space to enjoy in all weather conditions all year long.
Are There Any Different Types Of Artificial Grass?
Yes, artificial grass in Dublin is available in different materials and designs. Depending on your use, and space, there are multiple things you need to keep in mind before selecting the grass.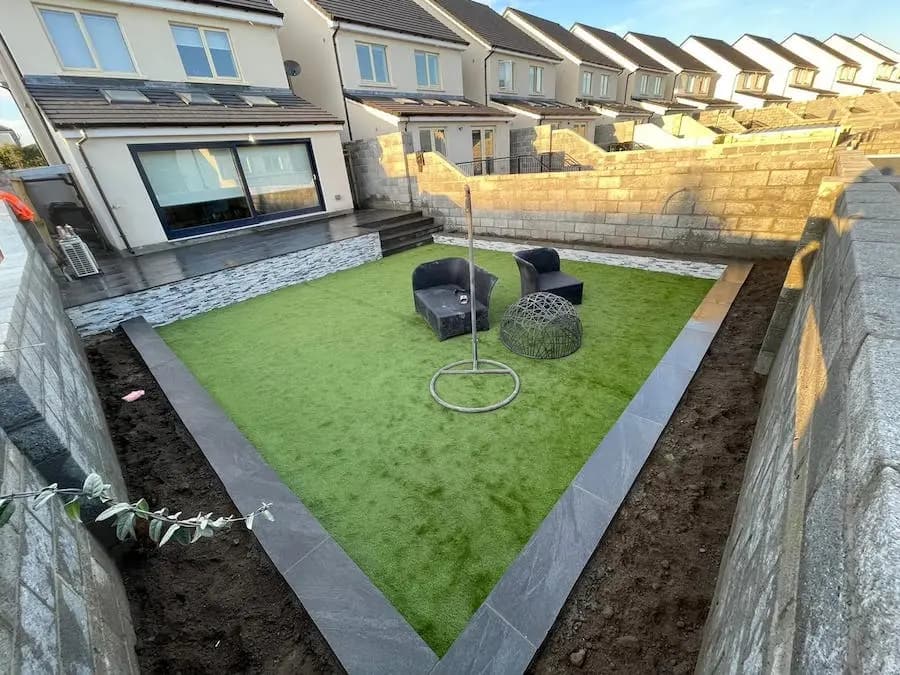 Colour
Artificial grass is available in multiple colours and textures. If you are looking for a practical solution for a playground or space that will be used by children, you can go for bright colours such as blue, red, or white. But if you are looking for a more elegant look, either your home, office or your restaurant, we suggest you go with the natural grass green colour. Don't worry, you can have different shades of green to choose from. Some options even include two-toned grass to make it look even more realistic.
Height
The taller the grass, the more natural it looks. Usually, the artificial grass in Dublin is available as standard at a length 20mm and goes up to 50mm and beyond. These synthetic grass options are very natural-looking and soft to touch. Each option available in the market is curated differently using microfibers to make them child and pet-friendly.
Before making the final selection, do consult our specialists to get hands-on advice and a free quote for your desired space.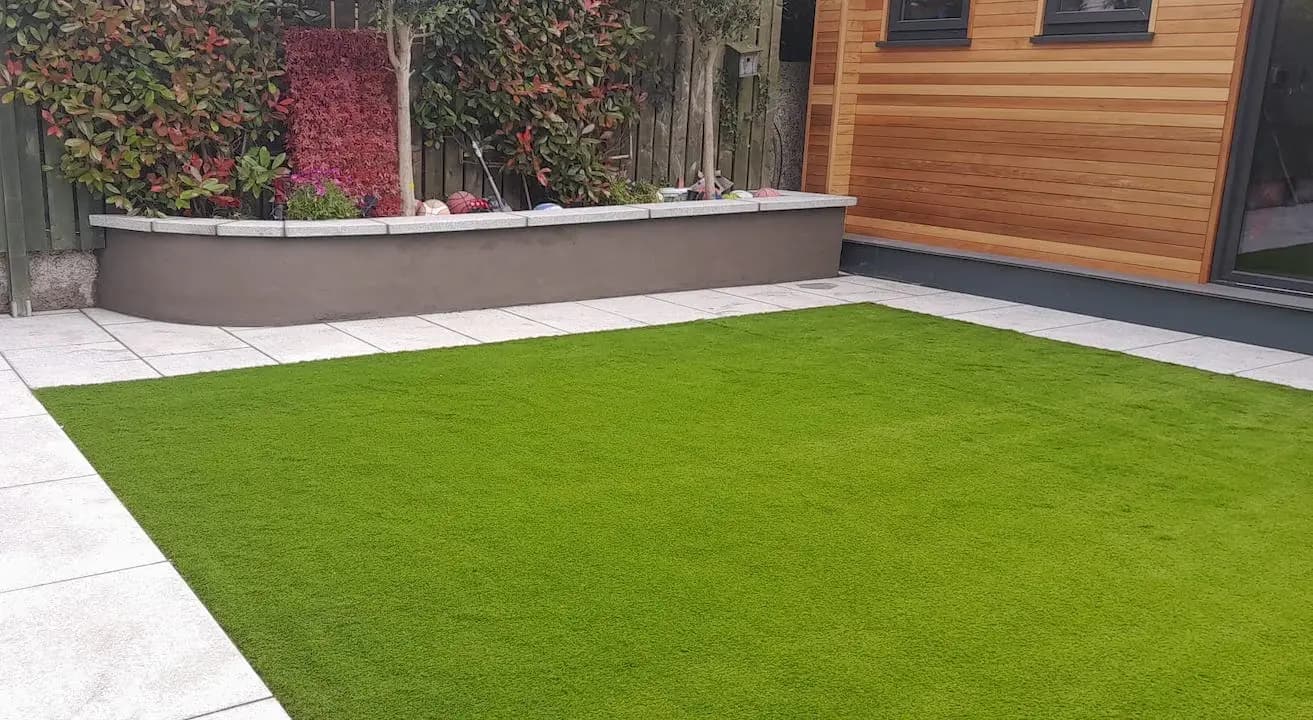 Is Artificial Grass Costly?
Artificial grass has a life of almost 15 to 20 years. It is a one-time investment in a trendy, weatherproof green space that will last you.. Even though it is long-lasting, the initial costs are still very affordable. Starting with €15 per square meter, the prices are dependent on the quality, and type of artificial grass you opt for.
Most artificial grass providers in Dublin do not include the installation charges in the prices as the option to lay them yourself is also available. However, at Driveway Paving Dublin, we highly recommend that you get them installed by our professionals as they are experienced in handling installations in both small and large spaces.
Artificial Grass Makes a Statement
Now that you know the different types of artificial grass that are available in Dublin, get them installed in your desired space for a safe and trendy upgrade. Even if your space is too small, don't be afraid. Artificial grass elevates your space to make it look complete and much more attractive. Give your space the oomph it deserves!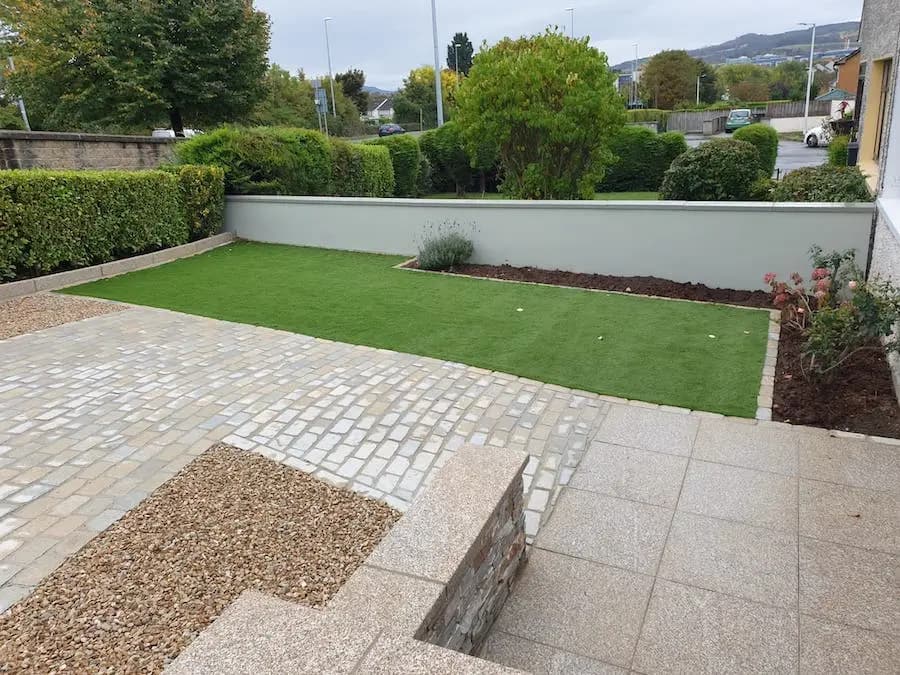 Frequently Asked Questions
How much is artificial grass in Ireland?
Artificial grass in Ireland can range between €18 and €40 per square meter. Prices depend on the area and the type of grass you choose to install. Keeping in mind that these prices are for the grass only. Laying out charges are excluded, and are different for each.
How much does it cost to lay artificial grass?
To lay artificial grass costs between €20 – €40 per square meter. The service charges are applicable depending on the area that needs to be covered. A final quote can be given after discussing further details.
Is artificial grass worth the money?
Yes. Artificial grass requires little to no maintenance and can last you a very long time. With no watering required, it has no additional costs associated with it and is much safer than natural grass. Once you have installed the artificial grass in your desired spot or area, you will be free of all troubles making it completely worth the price.
What is the best artificial grass to buy?
The best artificial grass that you will find in Dublin depends on the project. For example a pitch and putt area requires 10mm gard wearing grass whereas a garden project may look better with a lush 40mm option. Here at Driveway Paving, we are experienced with all types of artificial grass so we will know the ideal option for your project, taking budget and taste into consideration.
We ensure high quality standards
We source our artificial grass from reputable leading industry suppliers, such as ArtificialGrass.ie
Our suppliers provide a 10 year guarantee on the grass to give you peace of mind that your new lawn will continue to look great for years to come.
If you are interested in discussing options of artificial grass for your lawn, get in touch now for free advice. We can offer you an estimate over the phone or we can call over to view the project and give you a free no obligation quotation. Call now on 0852175888 or 019039026 or contact us via our online form.
Read about other grass types:  Roll On Grass
Ready to start your project?
Get in touch with us today and we can discuss your requirements.
We offer free quotations, so why not contact now!
Testimonials
"Highly recommend"
Hired Driveway Paving to do my back patio. Couldnt be happier with the result. From start to finish Tony was easy to communicate with, answering any queries we had. The job was completed in good time and all tidied up after. Highly recommend

Samantha Healy
More Testimonials
Loading...
About Us
Driveway Paving is a Dublin based paving contractor that serves Dublin, Kildare and surrounding areas. We offer a wide range of paving and landscaping services at affordable prices. We offer a complete service; consultation, design, supply and installation. As we are fully registered and have many years of experience in all aspects of paving, you can rest assured that you are guaranteed that the work will be carried out to the highest of standards. We use only the best quality materials supplied by Kilsaran, which have been producing quality products for over 50 years. We take great pride in our work and aim to ensure that our customers are always 100% satisfied with our service.
Copyright 2023 - Driveway Paving | All Rights Reserved