One of the most important things you have to keep in mind while paving your driveway or patio is to focus on both foundation and aesthetic. It is not just a saying but an actual truth that whenever someone visits the place you call your home; they will go back and think about your hospitality and how you have curated the house. The curation process starts from just the outdoors, the entrance, and well, what better way to indulge in some long-lasting quality and design than with Roadstone Paving.
Driveway paving as a construction company based in Dublin, Ireland, are one of Roadstone paving contractors. Roadstone is one of our leading suppliers that have always been trusted for reliability and quality. When you trust us with your paving task, you can be sure that it will be done by the best available standard in the market, and listed below are some products for you to dive right in.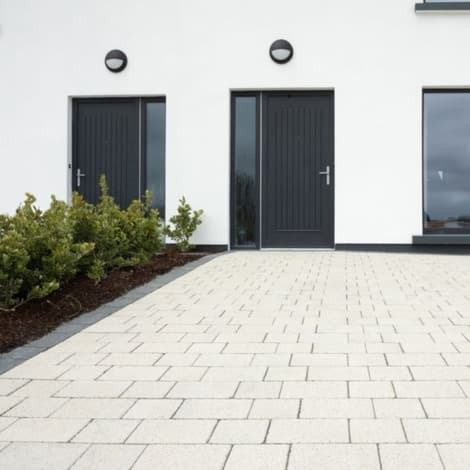 A durable paving solution helps optimal space management of your enterprise or house architecture and enhances your living space. Block paving is used in gardens and driveways as a long-term infrastructure solution. Roadstone paving is a leading name in block paving solutions, and they offer a wide range of designs suitable for commercial and residential purposes. Their products include, Castlestone paving, Urbana paving, Urbana cobble sett, Channel block pavements, and so on. Years of synergistic relationship that Driveway paving has as a Roadstone paving contractor obliged us to use their products in a holistic manner which ensures the best results for the customers.
Permeable paving includes surfacing techniques for roads, pedestrian walkways, and parking lots. Its goal is to allow for the infiltration of stormwater runoff. Roadstone paving is a leading name in permeable paving solutions. Aqua flow ML , Aqua Castlestone and Aqua riven are some of their most exciting products in this range.
Coupled with the correct installation of a permeable base, Roadstone paving offer products fully compliant with SUDS (Sustainable Urban Drainage systems). It's designed to convey surface water and decrease runoff rates before entry into water bodies. Driveway paving is experienced in the installation of permeable paving systems. Some of these systems and installation techniques are mandatory and essential in many planning permission decisions on Dublin's new housing developments. We ensure that your infrastructural needs are aligned with the government stipulations regarding water conservation and runoff water management.
Roadstone paving offers a range of products for your landscaping needs. Natural stone paving makes use of natural materials like sandstone, granite, stone sets, and limestone.
Natural stone pavers are durable and low maintenance. Each tile of a natural stone will have a unique mixture of hues, which gives an aesthetic appeal to your garden or landscape. Natural stone retains its sheen and beauty over time, and it's low effort to clean and maintain. It's a sustainable building material and can be recycled for reclaimed paving and crushed for usage for aggregates. It provides renewed elegance to your patio and enhances its longevity.
Roadstone paving offers a range of natural stone paving solutions. Their products include Granite setts,  Indian sandstone, and Limestone setts. They also provide Granite paving slabs, which are one of their kind and offer a perfect solution for your landscaping needs when coupled with driveway paving installation expertise.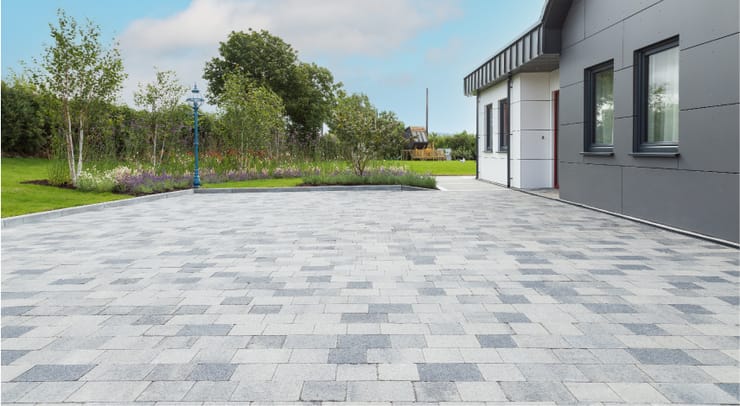 Flagstone (flag) is a flat stone used for paving slabs or walkways, patios, roofing, fences, and flooring. It is often cut in square or rectangular tile units and gives a clean and polished look to your landscape. Flagstone is going to be a useful paving alternative for you if you are looking for something resistant. Because of high friction, flagstone is slip-resistance and also protects against moisture, and heat. It is durable and would provide efficacy and sustainability for as many as 30 years in normal circumstances.
You can contact Driveway paving to assist in understanding your slab paving techniques. Their Sablé paving solution is one of its kind, with impeccable quality and compatibility with various environments.
They also provide Hazard tactile warning flags. These are also helpful if you want to make your landscape friendlier for differently-abled since tactile pavements help the blind navigate easily.
If you are a minimalist and want something simplistic, you can simply go for the Straight flag option. It is affordable, sustainable, and gives a clean, sober look to your workplace.
Roadstone paving and Driveway paving have been strong partners for many years, and the strength and durability of our relationship will equal the strength and durability of your paving solution.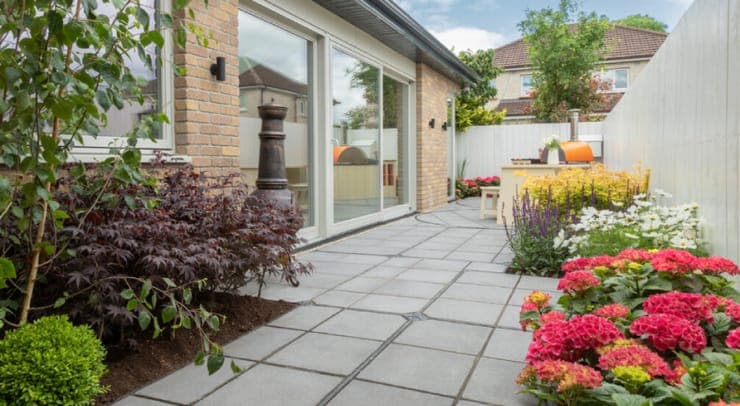 Kerbs are an element of the roads and highways that can be utilized for serving several purposes. Some of these purposes that come under the umbrella term of Roadstone paving services are defining the limits of the carriageway, Containing the carriageway to prevent 'spreading' and loss of structural integrity, and creating a barrier between vehicles and pedestrians. Some more of the purposes are providing a physical 'check' to prevent vehicles from leaving the carriageway and allowing surface water to drain away by forming a channel.
Their products used by Roadstone paving contractors in this arena are Half Battered Kerbs, Castlestone Kerb Blocks, Channel Block, and Kerb Block. These products make use of the best quality for a brilliant engagement and aesthetic. Our team is equipped with expertly skilled craftsmen and workers who ensure that your needs are met and that when you see the finished product, you are nothing but elated.
All you need to do in order to become a part of the Roadstone paving family is to check out our websites for the best of the products and services available. The products are of the best available quality, and we assure you that this collaboration will be nothing but fruitful for everyone involved. Check out the links and products attached right now, and you will get nothing but excellent quality and superior results.