Here at Driveway Paving, we are expert installers of Kilsaran paving and walling. We have been working with Kilsaran paving products for many years and have in depth knowledge of each and every one. We are one of Dublin's leading contractors. Our expertise coupled with Kilsarans' 26 year history of supplying quality products guarantees you a long lasting, expertly installed driveway or patio.
Kilsaran is one of Irelands leading paving suppliers who manufacture high quality paving products. They have such a wide range of block and slab paving, that many of customers find something they love in the Kilsaran range.
Kilsaran paving SLABS / flags
Kilsarans' range of paving slabs ranges from low cost popular classic flags in a variety colours all the way up to higher end Shelbourne granite finish slabs. Their range includes tactile slabs for steps and paths for safety and slip prevention.
Block Paving
Block Paving is often used for driveways as it's durable and versatile. Again Kilsaran have a huge rage from smaller 100mm x 100mm setts to larger cobblelock for a more modern look. Also in their range is permeable paving which is growing in popularity. This paving coupled with correct installation of a permeable base is fully compliant with SUDS and is a stipulation in many planning permission decisions on new housing developments in Dublin. At Driveway Paving we are experienced in the installation of permeable paving systems, including Kilsarans' permeable products.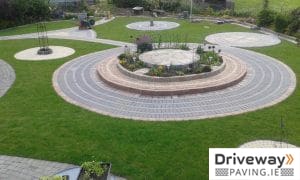 WALLING
Kilsarans' walling range is called Connemara walling. It is a rustic effect decorative walling system exclusively manufactures by Kilsaran. It is offered as a 3 size mix wall giving a unique look to each wall. It comes in a variety of finishes and colours to suit every garden. The range is complete with cappings suitable for garden walls ,benches and flower beds.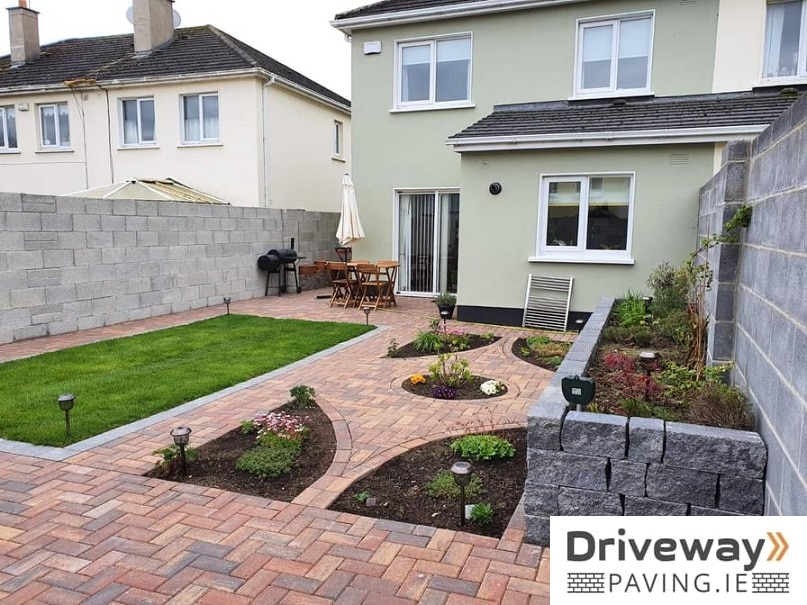 Kerbs
With most driveway or patio installation an essential part of a clean tidy finish is kerb edging. Kilsaran has you covered with their kerbing to match or contrast with their paving to suit your taste. Kilsaran have tried and succeeded in supplying a variety to include something to suit most people's preferences. From their square cut kerb setts to curved bull-nosed profile kerb block. Lismore kerbing has a clean cut modern look while mellifont kerb stone has a rumbled finish for a more traditional or vintage look very popular among cottage owners
Decorative stone
Available in small bags for diy projects and bulk bags for paving contractor installation projects, Kilsarans' decorative stone range is as varied as their paving products. A range of colours and sizes are available to compliment your home
Their range includes:
Donegal Quartz 20mm
Driveway Pebble 20mm
Beach Pebble 14mm
Clonard Gold 20mm
Wicklow Granite 14mm
Pink Granite 20mm
Plum Slate 40mm
Ballykane 20mm
Golden Flint 20mm
We know it can be hard to make a decision on your garden or driveway paving material as it will be something you will see for many years to come. Luckily Kilsaran have an award winning display garden and showroom where most of their products are lay in real garden designs so you can get a feel for how they will look.
Alternatively you can contact us here at Driveway Paving and we will call out with samples to discuss your project. We can also provide you with local references of previous work we have installed so you can see the product 'in action'. The majority of the paving project images in our cobblelock gallery are from the Kilsaran range.
You can reach us for your free quote and advice by phone or WhatsApp on 0852175888 or alternatively by email at info@drivewaypaving.ie