This article will explore the best methods known for maintaining and caring for all forms of paving. This is the knowledge we have learned from our wealth of experience within the paving industry across Dublin.
Paving is a popular choice for homeowners because it offers an extremely attractive and long-term option for decorating an area in your home. It offers a wide range of options to choose from depending on the overall aesthetics of your house. With a variety of colours, designs, textures, and materials available, you can create a unique driveway that will complement your residential property.
Once paving or a driveway has been installed, you can expect it to keep strong for a period of up to 5 years with minimal effort. However, in order to prolong the life to 15 or 20 years, we recommend regular cleaning and proper maintenance for it to remain in top condition for as long as possible.
Paving, Cleaning, and Maintenance
Paving has become a favourite topographic enhancement in homes, sidewalks, and outdoor areas across Ireland. They are a perfect option for people who want to beautify any indoor or outdoor living space. We want to educate our readers and customers on the best ways to maintain all types of paving.
Below are some of the questions we will be answering:
How should paving be cleaned?
What are the best products to use, and what tools?
How to clean paving slabs without a pressure washer?
Is it true that soapy water and a stiff brush are enough?
This guide dives right into the details and attempts to answer all your questions. It also includes the best materials to use for paving, detailed analysis of different paving types, advantages of paving, and paving cleaning and maintenance tips, etc.
Contact paving specialists at Driveway Paving Dublin today to install the best driveways in Dublin and rid yourself of all kinds of paving cleaning and maintenance worries.
Types of Residential Paving – Cleaning and Maintenance
Natural Stone Paving
Natural stone paving slabs are comprised a variety of natural stones including limestone, sandstone, granite, marble, and slate.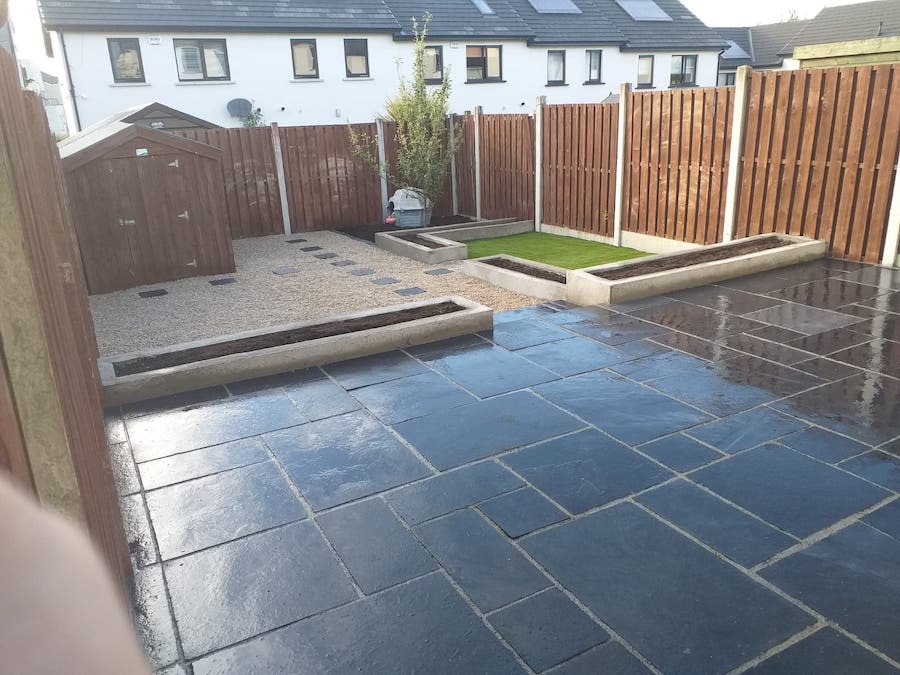 Limestone
Limestone cuts easily and is resilient to damage. Follow these steps for limestone cleaning:
Start sweeping your limestone with a soft brush to get rid of dirt and litter;
Use a damp sponge mop with non-acidic soap and water and wipe the surface generously to break down smaller particles of dirt;
Leave the solution on the surface for 30 minutes and rinse the tiles with warm water afterwards.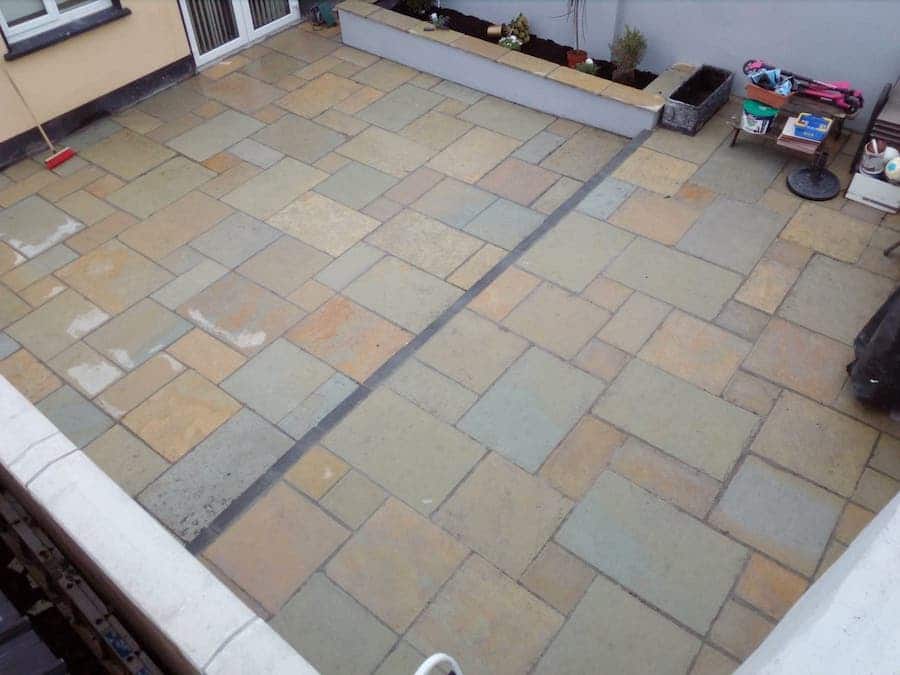 Sandstone
Sandstone is resistant to weathering, yet it's easy to work with. Here are some useful cleaning steps:
Pour a mixture of warm water and mild detergent over the paving and scrub it with a hard-bristled brush;
Continue to scrub until the paving is completely spotless;
Leave the paving like this for 24 hours and go for something stronger in case there is discoloration.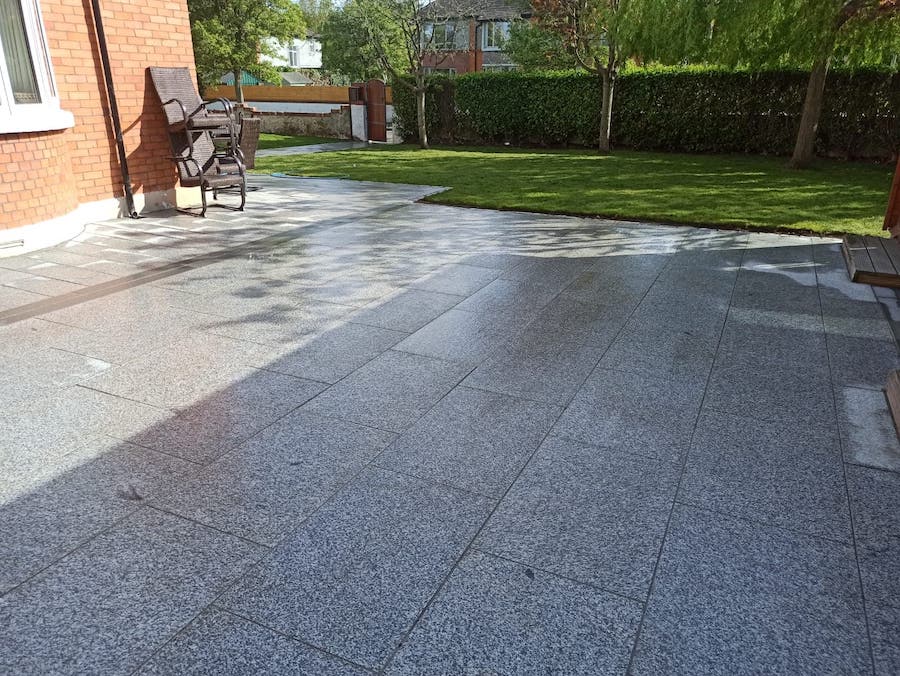 Granite
Granite slabs are extremely durable and last a long time. They can withstand constant movement, changes, weight, and harsh weather. Here are some steps for cleaning that you will find useful:
Remove the dirt and debris from the surface;
To remove any moss, lichen, or algae, use an appropriate weed killer as per the bottles instructions;
Wash and scrub the surface with the proprietary solutions – it can be carried out by using a hard-bristled brush or industrial equipment;
The best solution for the cleanliness of granite is soap and water.
Cleaning and Maintenance of Natural Stone Paving
Since paving is used in areas where there is constant foot and vehicular traffic, it is designed with heavy-duty building materials like stone to keep it intact with minimal interventions. Natural stone paving requires little maintenance. You can sweep it as much as you like to keep it in top condition, and this won't scratch it. Get rid of stains before they set in. Light pressure washing can also help.
But if dirt and grime have been sitting on your pavement for a long time, this may be your sign to intervene and clean it up. There are a lot of ways to go about the cleaning process. One of the tried and tested methods is mentioned below:
Remove any objects from the area of the pavement.
Sweep and mop the pavement's surface to get rid of any loose granules of dirt or grime.
Take some washing liquid, salt crystals, and a bit of bleach in a bucket of water and cover the entire paved area with the soapy water and let it sit.
After leaving the soap-water mixture on the surface for about 30 minutes, start scrubbing with a hard-bristled brush.
Target the oil stains on the pavement and scrub until they come out.
Be mindful that natural stone, albeit being strong and resilient against the environment, temperature and external forces, can lose its colour overtime if cleaned with harsh cleaning chemicals for too long. If you are still unable to get your pavement clean as you'd like, you can always hire professional cleaners like Driveway Paving Dublin to do the job for you!
We have in-house trained expert technicians who specialise in paving, and can help you restore your driveway to its original, beautiful state.
Man-made Stone Paving
Concrete, (Imprinted Concrete and Standard Grey Concrete)
Imprinted or stamped concrete is a decorative technique for driveways, patios, and pathways. Standard grey concrete is used to create a traditional-looking space.
Cleaning and Maintenance Steps:
Remove any weeds or lichen from your paving with a stiff-bristled brush;
You can use any non-acidic cleaning solution with water and saturate the pavers;
Gently scrub the pavers but avoid using tools that may scratch the surface;
Rinse your concrete paving well with water using a garden hose but avoid using a pressure washer.
Brick
Cleaning brick paving:
Make a mixture of warm water and bleach and apply it on the paving with a stiff-bristled brush;
Rinse the mixture off thoroughly using normal pressure with a garden hose;
Scrub it a second time if needed;
Avoid using high pressure as it can remove the sand between the joints of bricks.
Porcelain Tiles
Cleaning Techniques:
Sweep away the dirt from the tiles using a soft-bristled brush;
Pour a mixture of a pH neutral solution and hot water over the tiles;
Leave the solution on for 10 minutes and don't let it dry;
Get rid of stains by scrubbing;
Rinse the floor properly and let the pavers dry.
Cleaning Techniques:
Sweep away the dirt from the tiles using a soft-bristled brush;
Pour a mixture of a pH neutral solution and hot water over the tiles;
Leave the solution on for 10 minutes and don't let it dry;
Get rid of stains by scrubbing;
Rinse the floor properly and let the pavers dry.
Tarmac Paving
Tarmac is long-lasting, durable, quick, and easy to install. If you're confused between tarmac and asphalt surfaces, consult a professional before you pick the best option. Cleaning steps:
Brush your tarmac paving to get rid of dust and debris;
Apply a cleaning solution (Wet & Forget works well) on the surface and leave it on for one hour;
Rinse off the solution with a hosepipe or a low pressure washer;
Follow with moss and algae killer to prevent the growth of these matters again.
Cleaning and Maintenance of Man-Made Stone Paving
Cleaning and maintenance of brick and concrete paving is the same (see the last question under 'People Also Ask'). Leave the paving cleaning and maintenance to expert concrete contractors, like Driveway Paving Dublin.
Cleaning and maintenance of porcelain paving is comparatively simple and easy. This is one of the biggest benefits of installing porcelain tiles in your driveway. Due to the smooth, slippery surface of porcelain, dirt and grime doesn't usually stick to it. Normal cleaning with a mop and soapy-water is often enough. But if these porcelain tiles have been taken over by moss, fungus, and grime, you will need something stronger than soap.
Get a strong dose of a high-quality cleaning chemical, spray it on top of your paving, and let it sit. After you have allowed it to sit for 30 minutes, take your water hose and pressure clean the entire area. This process will usually get your porcelain tiles thoroughly cleaned.
Cleaning and maintenance of a tarmac driveway also require little effort on your part. You can use a jet washer to remove stains, but avoid using high pressure as it could cause damage to the tarmac by breaking loose stone chippings.
Soapy water is usually the way to go for cleaning tarmac driveways, but if there is a lot of oil spillage or if grime has settled deep in, you may want to take a different route. Be sure to mop up any excess oil from the tarmac before you move on to the next step.
There are a number of household items that can help you soak up the oil, including cat litter, concentrated dish soap, a can of Coke, baking soda, baby powder, and WD-40. Let any of these products sit on the stains for 24 hours, and then gently scrub the area clean.
If you want your driveways to remain clean, you can always hire professional cleaning help from the paving experts at Driveway Paving Dublin! Contact us now for all your paving-related queries and problems.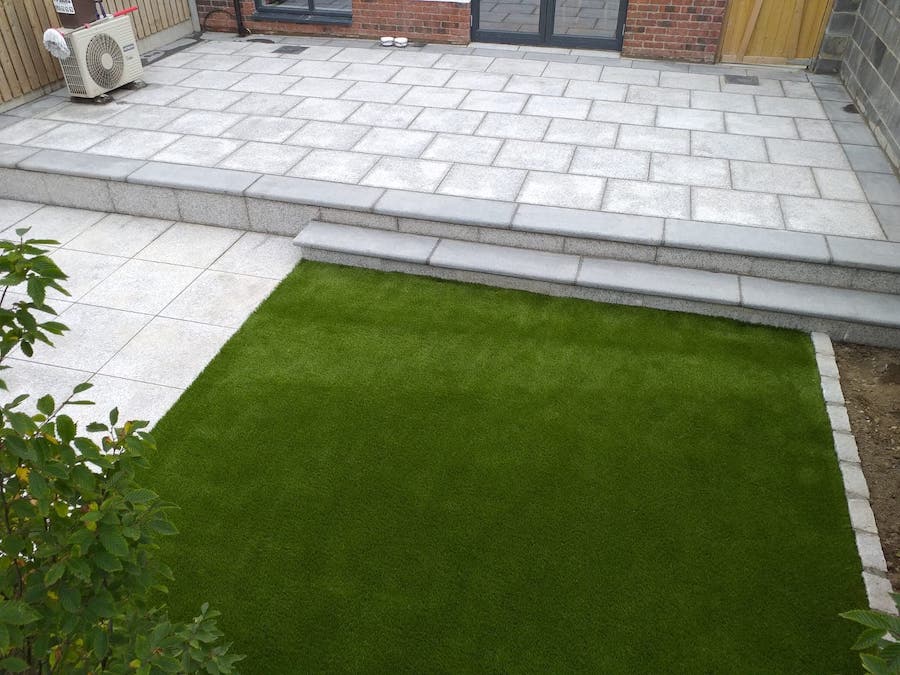 Artificial Grass
Besides using synthetic grass for your garden, further advancements in the field have made the installation of artificial grass in-between paving a real possibility!After installation, you don't have to worry about weeding, mowing, and maintaining the grass. Cleaning Steps:
Brush the grass with a broom;
Remove any dirt, debris, and leaves using a leaf blower;
Spray the soiled area with soapy water and brush over again with a broom to work the solution into the material
Once dried, scatter silica sand across your turf.
Synthetic grass is environment-friendly, low-maintenance, and safe because of its non-slippery, in addition to being versatile, as you can install it anywhere.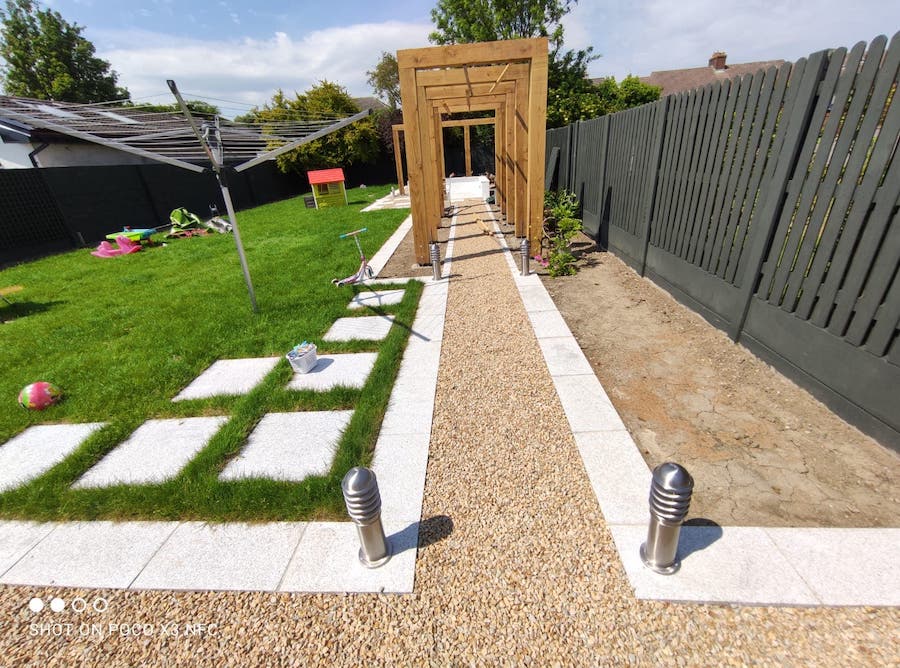 Gravel Paving
Gravel is an outdoor paving material that's easy and quick to install. Gravel paving can be easily cleaned from dust and debris by evenly distributing water over the surface and then letting it dry in the sun. If there are darker stains, you could consider moving the stones around to break up e.g. oil spill patches.
Resin-bonded Paving
Resin-bonded paving is absorbable, non-expendable, and resistant to climate changes. Steps for cleaning:
Sweep the paving with a stiff brush to get rid of dust and loose dirt;
Use plain water via a hose to remove the remaining dust/dirt;
Use a pressure washer to take out any tough or stubborn stains.
Maintenance and Cleaning
The maintenance is easy and offers excellent results. Without proper care, it lose its original appearance through loss of porosity. Regular cleaning will keep the dirt and dust away and reduce wear and tear.
Hire paving cleaning and maintenance experts to save time and unnecessary efforts, as the professionals have all the right equipment to return your paving to as good as new, while you run the risk of costly damages if you plan to DIY.
Advantages of Paving
A paving stone can be made of concrete, natural stone, clay brick, or even porcelain. Typically, they range from small to large pieces which offer people the choice of various size and colour combinations, textures, and patterns. Some of the best characteristics include:
Durable and long-lasting;
Withstand climate variations and seasonal changes;
Low maintenance alternative to grass
Paving stones/slabs formulate a strong system of flexible and interlocking pavement, provided they are properly installed. These are considered to be much stronger than the concrete foundation of a home and are not subject to easy breakage or cracking due to their flexibility to ground movement.
Many manufacturers offer lifetime warranties. The reapplication of colour every couple of years is not necessary but can be acquired as an additional service. On the surface of the paving, many joints may act as the entry point for fragments to settle in the base; whereas professional installation has minimal movement due to the use of proper construction practices.
A major issue to consider is extreme weather changes, especially in winter, when the ground is likely to contract and expand, causing moisture that has frozen overnight to cause damage as it expands within crevices of the surface. This can happen at different rates, depending on the location of your residence. The weather factors like expansion and contraction cause the patio to move, which in turn causes weak spots of solid surfaces to crack or become loose easily.
It is possible to purchase after-market protective sealers to make cleaning and maintenance easier and protect your paving surface from wear and tear. If a repair is ever needed, it will be seamless and more effortless to perform because of the already well-maintained surface.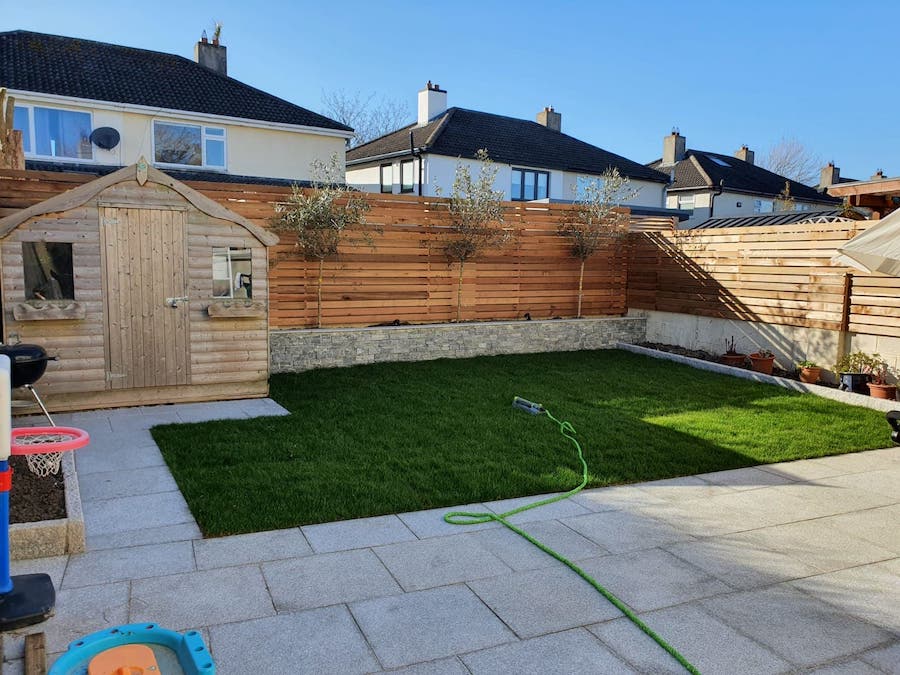 Frequently Asked Questions
1. How do you maintain paving?
Paving maintenance requires the following cleaning steps:
Cleaning:
Before applying any cleaning solution on your hardscape, test it on a small area;
Read and strictly follow the cleaning solution instructions;
Safety always comes first, remember to take precautions;
Use granular oil absorbents for spilled oil and soak the oil; don't rub;
Use boiling water to lift oil stains;
For paint and mortar, use a blotted rag;
For moss and mould, use a mixture of water and bleach;
Always rinse the solution thoroughly after use; make sure none is left on your paving as it might cause discolouration.
NOTE: if the paving surface is in a damp, shady area, the moss and mould may continue to regrow, so treatment with bleach will become a regular maintenance task.
Rust, Weeds, and Ants:
If you notice rust on your paving surface, deal with it right away. Use the rust cleaner suitable to your type of stone and follow the instructions.
Sealers can often prevent the problem of ants and weeds. Use herbicide to eliminate weed and prevent further growth. Some weeds, if left unaddressed, can cause paving to shift or break apart over time. Be sure to include the application of a granular weed preventive between joints in your paving cleaning and maintenance routine.
Sealing:
Sealing makes overall maintenance easier as the sealer prevents water and stains from soaking into the stone. Reapplication should be done every one or two years, depending on how much traffic your paving receives. Too many sealer applications will create a film on the surface, which may discolour in sunlight.
Keep the joints between the paving topped off with jointing sand to prevent the slabs to shift from deterioration. The most vulnerable areas of an installation are these joints. The jointing sand prevents the sand-bedding below the paving to damage.
2. Does paving need maintenance?
Yes, paving does need maintenance. If you want something to last you a long time, or at least the guaranteed time, you will have to make sure that you properly maintain it. Most paving require very little maintenance when properly installed.
While there are several types of paving materials such as concrete and clay, they are all very durable to install for walkways, patios, and pool areas. They require basic maintenance and care like sealing, cleaning, keeping away the weeds, and timely inspections for settlement or damage.
Appropriate maintenance will save you money in the long run. Seasonal maintenance is recommended to preserve the beauty and integrity of your landscape installation. To keep it looking its best, plan to clean and reseal them every 2 to 5 years. You should regularly maintain your block paving driveway with soapy water and a stiff scrubbing brush with thick bristles, taking care not to disjoint any of the joining materials or blocks.
By regularly cleaning your driveway in this basic way, you can reduce the need to pressure wash your surface. For any advice or tips on block paving, contact Driveway Paving Dublin – your local block paving specialists.
3. Should you jet wash block paving?
Yes, you can jet wash your block paving. However, there are certain conditions. Jet washing is a good way of keeping your block paving in an optimal condition, but if you go about it often and incorrectly, there's a chance of damaging the surface. High or wrong pressure can derange the surface, as well as the joining material, which can cause your blocks to crack or worse, come loose.
Should I wash it myself or hire out?
Yes, you can do the pressure washing of your pavement yourself, but it would be better to bring in a professional who can save time and complete the job to a high level. Professional paving maintenance services will save you unnecessary hassle and prevent you from having to purchase/rent equipment. You may think that you are saving money by doing it yourself, but the damage you could potentially cause by an unprofessional wash could result in bigger expenses later.
What is the best time to wash block paving?
The best time to wash your block paving is spring and autumn. It's always a good choice to clean your paving before winter arrives to avoid slippery surfaces, and spring cleaning is great before things begin to grow. After cleaning, apply a surface protector. This will help to block weed, algae, and moss for a longer time, which eliminates the need to use a pressure washer to clean your block paving as regularly.
4. How do you maintain brick paving?
Identifying and Repairing Brick Paving Problems:
The damages can range from the bricks shifting because of imperfectly-packed bedding sand or using an unsuitable material for the underlying soil type. Furthermore, not using sufficient base material during the initial installation, improper pitching that causes water to collect in an area, or rock-salt used for de-icing through a couple of winters.
Additional causes could be the use of defective bricks. Finally, brick flooring can also face damage due to loose or inadequate edging, from using the wrong type of jointing sand, or loosely-laid brick patterns. Improper cleaning can also cause some major problems such as washing away joining sand or de-compacting bricks.
Proper Cleaning and Maintenance:
If not maintained properly and regularly, brick paving can quickly start to look very old with moss and algae growth. Dirt accumulation and stains from spills will compromise the beautiful frontage of the brickwork. Routine cleaning includes sweeping off dirt and debris as these will gradually cause the brick's porous surface to deteriorate. Use an absorbent to pick up spilled liquids and oils.
Seal Coating Your Brick Pavers:
After a thorough cleaning, applying a layer of sealant to brick paving is crucial to maintain a clean surface and keeping weeds at bay. Sealed bricks will also repel stains so that the next time they need to be cleaned, the paving won't be as dirty. Sealed bricks will protect your investment for years to come.
A fresh layer of seal coating resists dirt penetration, inhibits the growth of weeds, moss, mould, UV rays, the cycle of freezing and thawing, and prevents insect intrusion. Conclusively, brick paving sealing nourishes, rejuvenates, cushions, and intensifies the beauty and life of brickwork.
Power Washing Your Driveways and Paving:
Getting your driveway or paving back into shape starts with a good power washing of the surfaces. This process removes all the dirt and grime from the bricks or slabs, in addition to sand and other debris that's lying in between the joints of the stones. Be sure to use a bona fide surface cleaner as it will evenly distribute the water pressure because you don't want to damage the surface with uneven pressure.
Stopping Weeds between Your Paving:
There are two options for stopping weeds from growing between your paving surfaces: regular sand and polymeric sand. Regular sand may be cost-effective but you'll be doing the reapplications over and over again as early wear and tear is a genuine threat to regular sand. It won't build a strong surface and won't stop weed growth.
Polymeric sand, on the other hand, is the ideal choice. It's a blend of graded fine sand and a binder compound (polymer) that is specially designed for filling in the joints between slabs, bricks, and natural stones. Polymeric sand absorbs water and then hardens in between the joints, resisting weed, ants, moss, and algae growth for 3-5 years.
Block Paving Maintenance near Me
If you need paving repairs or installations, it's best to rely on landscaping contractors in your city to access the root cause of the damage and then perform the repairs. With the help of driveway and paving experts near you, you'll get to fix the underlying issues and avoid further inconvenience.
Driveway Paving Dublin
We are the driveway, paving, cleaning, and maintenance experts for both commercial and residential properties in Dublin. Our professionals have experience with all forms of groundwork especially when it comes to extreme issues like crack filling or resurfacing.
Contact us today for a quote on your next job or speak to one of our friendly team members for further assistance. Call us on: 01 903 9026 or 085 217 5888.