So you have decided to get some granite paving and patios done? Whether you have seen some neighbours patios and liked them or seen photos online, you may have an idea of what type of paving and design you are looking for. On the other hand you may not have decided what you like yet and need options. So here at Driveway Paving we can help you to decide on what type of stone, what colour and what design would best suit your garden or driveway. You can check out some photos of our paving options in our gallery.
We offer free call outs, advice and quotations. We will show you photos and samples to aid you in making the best choice for your taste and budget. There's a wide range of paving options available but in this post I will discuss granite paving. I will discuss the colours and sizes it is available in and also the method of laying that makes it such a low maintenance and beautiful option for patios.
Granite is a hard wearing natural stone and comes in 3 colours:
Silver Granite
Yellow-brown Granite
Dark grey/black Granite
As it is a naturally derived stone it will never fade or lose its colour. It come sawn and thus has a textured finish to ensure its not slippy in wet weather.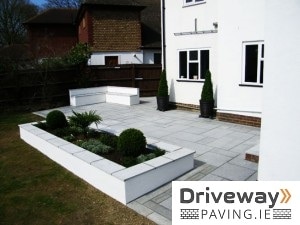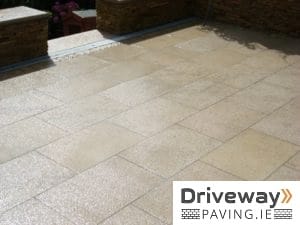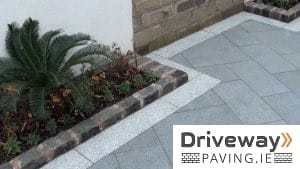 Sizes
Depending on your taste you can choose the granite mixed patio packs which include 3 or 4 of the following sizes:
300mm x 300mm
300mm x 600mm
600mm x 600mm
600mm x 900mm
The mixed size patio packs look equally well in both small and large patio areas.
Alternatively if you prefer a more structured look you can choose just one size, either
300mm x 600mm
600mm x 600mm
600mm x 900mm
Often for smaller areas we would recommend either the 300mm x 600mm or the 600mm x 600mm as the large 600mm x 900mm slab may make the area look smaller. For large patios all 3 sizes look equally well so it is a matter of choosing which suits your taste. The design and shape of your patio will also influence whether square or rectangular slabs may look better.
But if you find all the options a bit much to choose from, thats what we are here for. We will call out and view your patio/garden area and help you choose what colour and size will suit the area best.
Granite is one of the best quality natural stone paving products that you can choose and it will stand the text of time due to it's naturally hard wearing nature. At Driveway Paving we understand that the laying of the stone is equally as important as the quality of the stone itself. There is no point in having a beautiful hard wearing stone that will sinks and hold water due to bad installation. We have a huge amount of experience in natural stone installation.
Installation of granite paving and patios
Prior to commencing work we will assess the existing ground and drainage levels and advise you if you need any additional drainage in the area of if the existing drainage will suffice. After preparing the ground and installing hardcore that will be compacted vigorously, we then lay the granite on a wet sand and cement mortar mix. The joints between the slabs are jointed with wet mortar mix also to guarantee no sinking can occur and to prevent troublesome weeds growing in the joints.
If you are interested in receiving a free quotation for installation of a granite patio or driveway or any other type of paving work, give us a call now on 019039026/0852175888 or email us at info@drivewaypaving.ie, or alternatively you can fill out our contact form and we will get back to you.
---
Another post you may like about Patios: Our guide to patio paving in Ireland!
---