Welcome to my blog POST on Garden Patio Paving !
I will discuss the options for your garden patio paving project that we can provide you here at Driveway Paving. So when it comes to garden patio paving options there are several varieties of paving stone and many colours and designs to choose from. Below you provide you with a summary of the types of paving stone we offer here at Driveway Paving and the colours they are available in.
Concrete slabs are a lower budget option for your garden patio paving project. They come in a wide variety of colours such as; Rustic, Buff (yellow), Charcoal, natural and Curragh Gold so you are sure to find the perfect tone to compliment your home. Natural Stone Patio Paving:

Natural stone paving is slightly more expensive but due to our expert laying process, you will have no weeds and thus a low maintenance patio for years to come. We lay the natural stone with wet and cement and joint it with wet mortar mix also so no weeds can grow through the joints. With natural stone you are guaranteed a durable, low maintenance patio. The types we provide are limestone, sandstone, granite and quartz.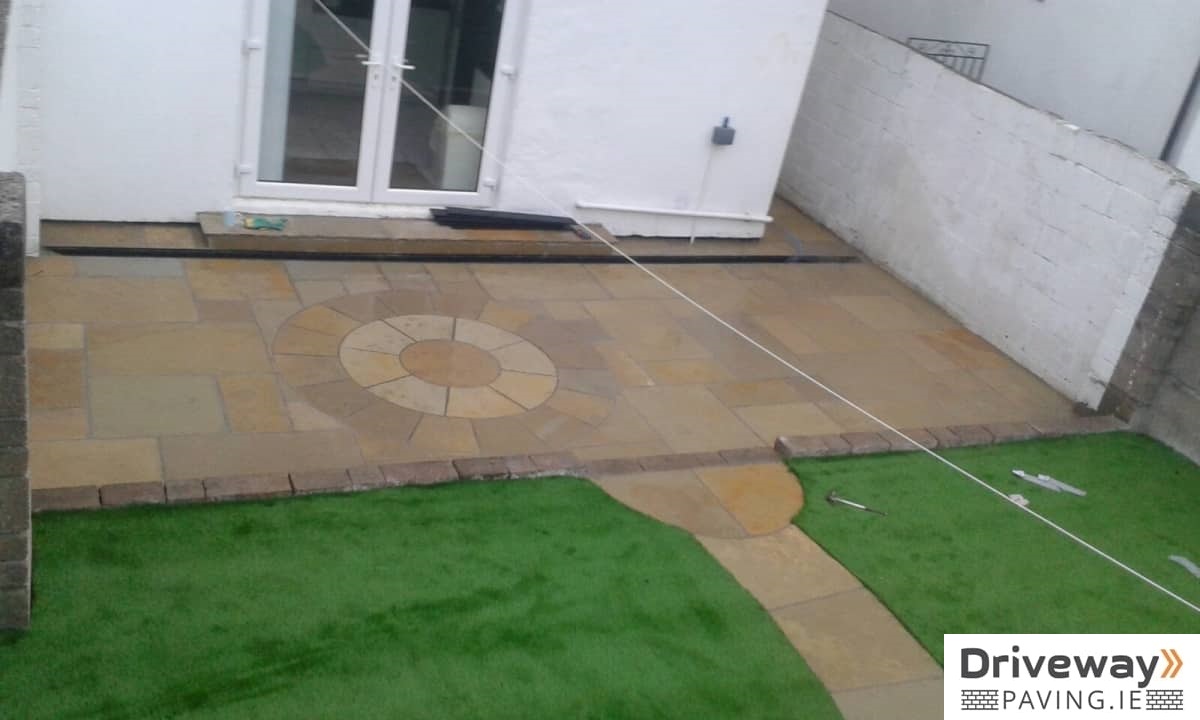 Limestone paving is available in Yellow, Grey and black. It is a low maintenance, long lasting and beautiful paving option.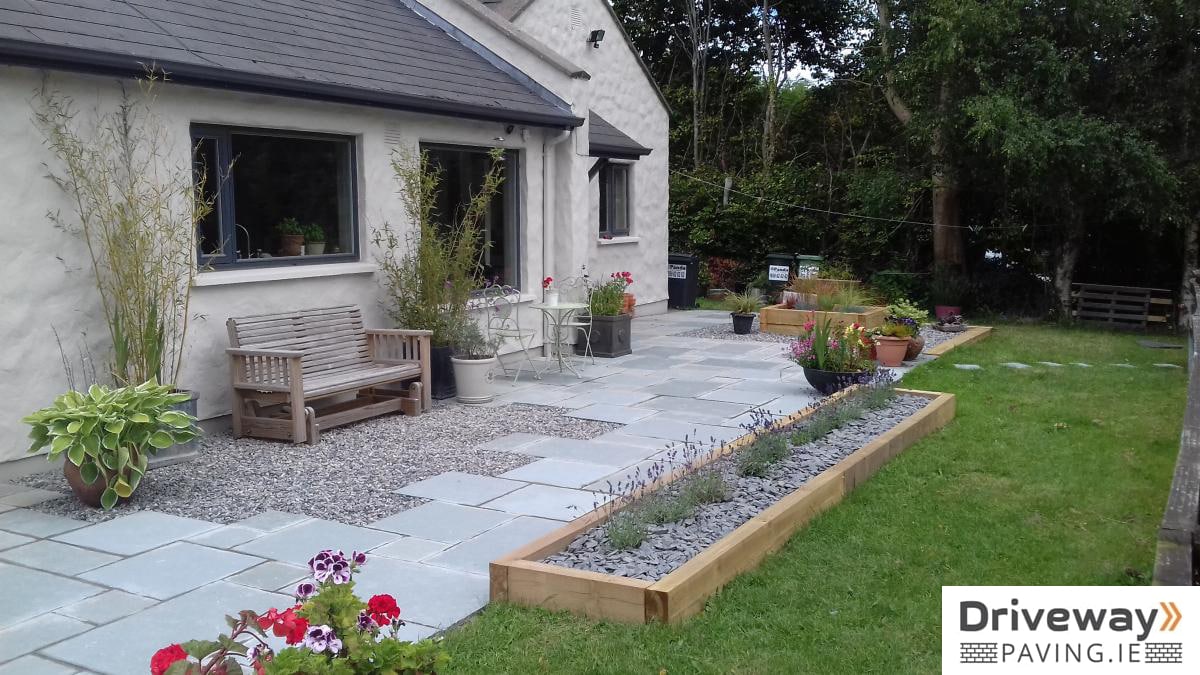 Sandstone Paving is available in a variety of colours; Mint, Grey, Raj Green, Modak, and more so you are sure to find a colour to suit your project. Sandstone is very attractive with earthy tones throughout each slab making it very appeallinh to customers who like a natural look.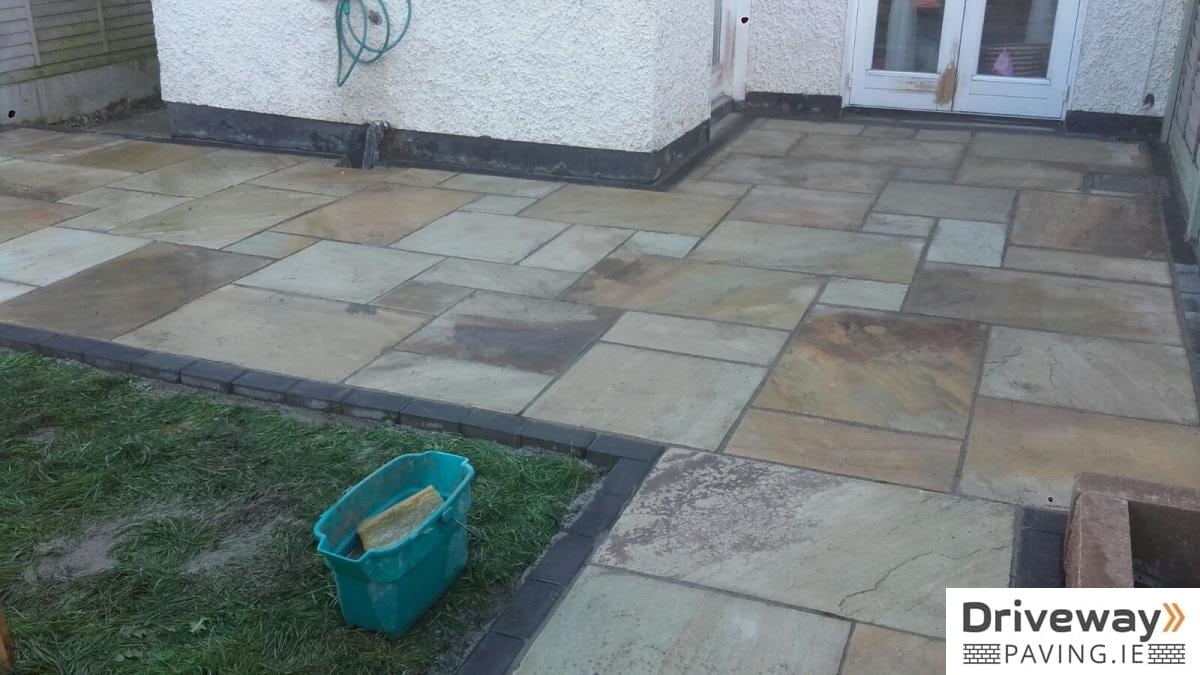 Granite Paving is available is Black, Silver and Yellow and is a very popular choice for natural stone due to its renowned durability.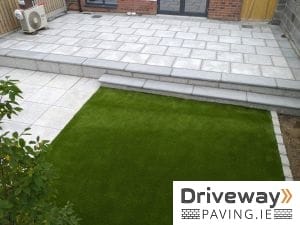 Quartz Paving:
Quartz Paving is on the higher end of the paving price range but it will add a special elegant touch to your garden. A very sophisticated patio paving option, quartz is also very durable.
Garden patio paving -supply
We understand that to complete a top quality garden patio paving project, there are 2 vital ingredients required. These are quality materials and expert installation. We have full control over the quality of our installation process and thus are confident we can provide great results time and time again.
So the other vital aspect is supply of quality materials. To ensure we meet this important factor, we only purchase from reputable and trustworthy suppliers such as Double L. From time to time we are approached by cheaper and less known suppliers. We get regular emails for direct supply from India, China and Italy. However, we stick to our consistent suppliers to ensure our quality won't suffer.
We understand that a quick short term saving on the product is not worth the risk of providing our valued customers with an inferior product and thus undermining our commitment to provision of both top quality material and expert installation. All our customers can rest assured that we won't cut corners and are fully commited to each and every one of our garden patio paving projects.
So I hope we have helped you understand some of your garden patio paving options. If you are interested in getting a quote for your patio, give us a call on 019039026 or 0852175888 and we would be happy to discuss your options with you. If you prefer email, you can reach us at info@drivewaypaving.ie or via our contact form. Alternatively you can use our newly installed whatsapp button for your convenience.