concrete driveway
At Driveway Paving, we can ensure a gorgeous patterned or imprinted concrete driveway with the durability, the cost-effectiveness, and the resilience to all types of weather that you expect with the kind of top-level service that you deserve. We are a Dublin-based company that was worked in Dublin, Kildare, and the surrounding areas.
Read on to learn more about our concrete driveway paving services, the benefits of a concrete driveway, and how we can help you from start to finish, all at an affordable price.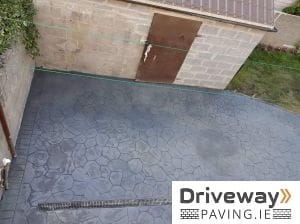 About our concrete driveways
Concrete, often mistaken for cement, is a composite material that's made up of a range of stone aggregate, usually bonded with lime-based products and water. Limestone and clay are often used as the cement portion, but this can include different stones, as well. Concrete is easy to pour and cured into a range of shapes, making it the perfect material for a driveway.
One it's installed, concrete is very durable and safe. There is little risk of potholes appearing, and the structural strength of concrete is amongst the very top when it comes to different materials used in driveways. It's highly resilient, weatherproof, and patterned concrete makes it aesthetically pleasing, too.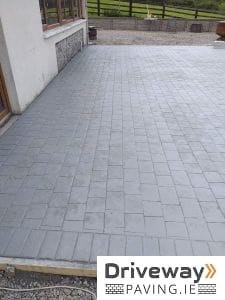 The benefits of concrete driveways
At Driveway Paving, we offer a range of materials that you can choose freely. However, few compare to concrete when it comes to structural strength and lifespan. Here, we'll break down some of the benefits of concrete for driveways to help you choose the material that best suits your needs:
Concrete is largely considered cost-effective, especially when you take the longevity of the material into account. If you have a concrete driveway installed, it's unlikely that you're ever going to have to replace it out of necessity in your lifespan.
As durable as it is, concrete is also resistant to many of the elements that cause driveways to break down over time. This includes the rain and wind. As such, it can last 50 years or more when well cared for.
A driveway made of concrete will not need very much maintenance at all. Keeping the driveway clean with a hose and a scrubbing brush is all that's required on a regular basis. Adding concrete sealer once a year can also help the driveway stand up to the harshest weather winters.
Concrete is incredibly strong and can thus withstand the weight of some of the heaviest vehicles. For industrial use, concrete can also be supported with steel to make sure your driveway stays in good condition.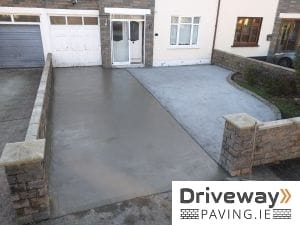 Like all materials, concrete does have its limitations. Some people don't like its appearance, though patterned concrete is adding some versatility there. Leaking fluids can cause stubborn stains that are hard to remove, too. Lastly, concrete is not a DIY-friendly material, so you should be wary of handling it. Leave it to the professionals like Driveway Paving, instead.
We can help you install your concrete driveway from beginning to end. We use only the best concrete suppliers such as Roadstone and Kilsaran to ensure the best quality finish.
How easy can it be to give your property the concrete driveway that it deserves? So long as we can arrange for a time that suits your needs, you don't need to worry about dealing with any of the hassle of the installation.
From beginning to end, our team offers a comprehensive service. This includes the following steps:
Consultation: We take a look over the property, listening to your needs, and offer recommendations on what we think the best options for you might be.
Design: We come up with complete project design documents that help us plan out the entirety of the installation process. If you're installing a concrete driveway alongside some of our other products, we will have design documents to help you see what they might look like, too.
Supply: You don't have to worry about finding the products needed for the project. We work with the best known and most reliable suppliers, finding the high quality concrete ingredients we need to make sure your driveway is of the highest quality.
Installation: Our team installs the driveway from beginning to end once we have found a schedule that works for your needs. We aim to offer as little disruption as possible, so we will plan this timetable out with you carefully.
Why choose Driveway Paving?
As an experienced Dublin-based contractor, we have earned a reputation for the quality of our work, as well as the professional nature of our services. We know that it's important to know that you have chosen a team that you can rely on. As such, here are some of the reasons you should consider us if you need a concrete driveway:
We're fully registered, licensed, and insured. We meet the standards of work necessary to operate in Dublin and will ensure that any costs accrued due to damages, unlikely as they are, are covered for you.
We're a member of the National Guild of Master Craftsmen, meaning we fit the high standards of the experienced skilled tradesmen who are considered masters in their field. All members of the team must continuously meet these high standards to maintain their membership.
We cover a wide service area, including Dublin, Kildare, and parts of Wicklow.
We strive to ensure the best standards of service for customers beyond our products. We aim to be as professional, as friendly, and as informative as we can be, so you rest assured that your driveway project is in safe hands.
Get in touch with Driveway Paving for the affordable, gorgeous concrete driveway your property needs
If you want to learn more about our concrete driveway services, or any of our other driveway paving services, don't hesitate to get in touch with Driveway Paving. With quality materials from the best suppliers, comprehensive design and installation, the highest standards of work, and friendly, professional service, we guarantee your satisfaction.
Take a look at our testimonials to see what our customers have to say or get a free quotation from us by calling on 019039026 or 0852175888.
You can also contact us via our contact form.
We look forward to hearing from you.