Before starting, let's explain what a patio is. The word is Spanish and refers to the inner courtyard. So, a patio is the outdoor paved area adjoined to your house, and generally, this area is used for dining or recreation activities.
Having a patio in your house improves your life in various ways. Starting from the pleasant feelings it creates spending time with your family there and ending with more practical benefits like keeping you fresh during the hot summer days.
The fact is that a patio with the right laying and construction processes – like adding a pergola – can be considered as a semi-indoor and a semi-outdoor space of your house. Automatically that makes it a multifunctional area with plenty of benefits.
Below are listed some of these benefits categorized in groups.
ADDING VALUE TO YOUR HOME
First of all, having a patio increases the value of your property. Especially if you are thinking of selling your property, before you offer it to potential buyers, you should consider laying a patio. The more spectacular ideas that are utilised for the design and construction of your home, your more the value of your home will increase.
In case your property is being sold on the marketplace, buyers who are interested will base the house value on the strength of the materials used and how they feel about the property.
Having a beautiful home space will make a buyer feel more secure and it will also help with negotiations for a more enticing selling price.
CONSTRUCTION-RELATED
A patio can extend your living area. It can work as an extension of your kitchen or living room. That helps to transfer activities that you do like dining or relaxing there. Extremely helpful for our large Irish families that want to keep their children busy.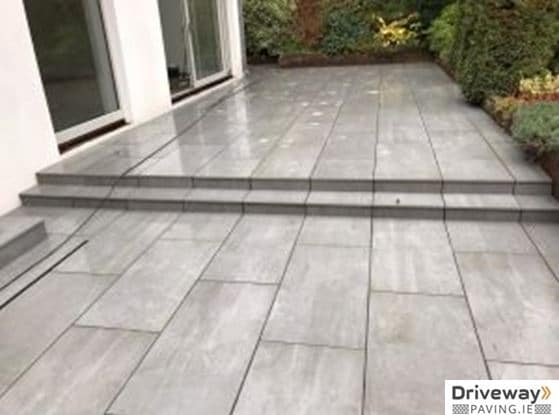 It is worth to mention that patios require low maintenance costs. They are made from strong and durable materials, and that makes them resistant to hard weather conditions. As a result, you rarely will need to do any maintenance process. Another added benefit is that by building a patio in your home, this will reduce the maintenance work that is required for your garden.
If you have an outdoor swimming pool, then patios flow best into the pool area. It is the best option for the incorporation of your outdoor living space with a pool area. Dirt that could come from the ground is avoided, and you can see clearly where your steps are while getting outside of your swimming pool.
HEALTH-RELATED benefits
Enjoying the sun on your chair or sunbed on your patio is the best source of vitamin D. We should get at least 20 to 30 minutes of sun exposure three times per week. This promotes bone cell creation, strengthens the immune system, reduces depression, and promotes weight loss. Promote your good health by creating a comfortable place around your house.
For a long time, grilling has been recommended by nutritionists as a healthy cooking alternative. This is because the fats liquefy and drip through the grates as meat sears and cooks. Offer your loved ones the best and use your patio space for regular BBQs.
Additionally, being outside in nature has numerous proven benefits for your health. Some of them are lowering your stress levels, fighting fatigue, and reducing inflammation throughout the body. By spending time on your patio designed with flower planters, water features, and even recreational areas, you can enjoy all your favourite outdoor activities while you breathe a little fresh air.
ENTERTAINMENT-RELATED
A natural consequence of the former is to contribute more to your entertainment activities. If you enjoy exercising or meditating outside, then your patio can be the ideal place for it. Moreover, if you have a large family with children and pets, then that space can be perfect for entertaining them and at the same time to keep an eye on them.
You can have BBQ parties that will stay memorable for everyone. Patios are ideal places for arranging parties with family members and friends. Thanks to the flat base that the patio surface creates it makes it easier to install the BBQ equipment and clean after the party. Moreover, your guests will stay cool and undisturbed throughout your party.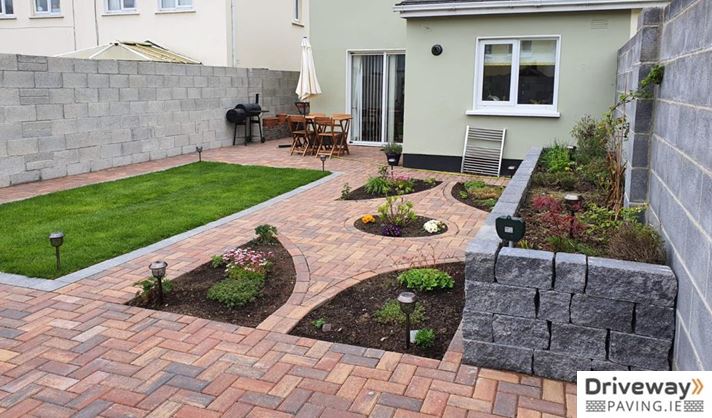 WEATHER-RELATED
Do you enjoy just watching the rain and letting your thoughts travel? Then a patio that has a pergola protecting from the rain on it is the perfect addition to your house. You do not have to stand or step on mud that is created as a result of the rain if you do not have a patio. If you enjoy reading, writing or working under the natural melody of the rain, then your patio can be utilized as an inspirational and creative area. Take advantage of your peace of mind and increase your performance by simply having the greatest patio, according to your standards.
On the other side, if the weather is hot and you cannot stand the direct exposure to the sun, then again your patio is there to make the sunny days more pleasant. A patio can cool down the heat you feel outside, and while seating under the shade of a pergola, you can continue your activities without any disturbance.
LEISURE TIME ACTIVITIES
Except for entertaining you, the construction of your patio could be itself your hobby. For DIY project lovers, that is the perfect option to spend their leisure time. Simultaneously, they contribute to their household by creating a lasting construct and saving money from the yearly budget.
The patios' construction can be great for homeowners who want to put their creative and imaginative sides on display for the world. If you enjoy more artistically creative activities, then you could prepare the drawings of your outdoor project yourself and give them to an experienced contractor to bring to life your vision. There are many exciting materials and colour options available. You can get absolute design freedom and combine different materials, shapes, colours, designs, and techniques. This can lead to an eye-catching patio layout that you do not come across every day.
PERSONALIZED
Usually, houses are built fast, and you do not have many options for restructuring after the completion of the process. Or if you decide to change something, then it will take a long time, and the expenses will be high. It is not the same with your patio, there you can have your personal touch and modify more often if you choose to. Your patio can reflect your personality by designing and decorating it according to your taste and requirements.
In conclusion, a patio can have multiple uses. It is not a place of your house that is limited to be used only on specific occasions. On your patio, you can have endless activities; and every time to satisfy a different functional or emotional need as we seen above. Take care of that part of your house and every time decorate it accordingly to the activity you want to organize there.
Here, you can have a look at some of our patio projects in Dublin.
Would you like to know the cost of installing a patio? Have a read of our patio cost guide here